If Switzerland is at the top of your skiing and snowboarding bucket list, you're not alone. With an alpine history extending all the way back to the 18th century, they know mountains – and there's plenty of them to explore.
So when there are endless resorts to choose from, how do you choose the perfect one for your next ski holiday?
The Jungfrau region is our pick. Easy to get to, easy to get around, a huge variety of off-snow and off-snow adventures, and jaw-dropping views to boot. It's one of the country's best-kept secrets – but once you've been, you'll want to go back time and time again.
Here are seven reasons you can't miss the Jungfrau ski region.
Easy to get to on the lush train system
To get to the Jungfrau region, fly into Zurich, where you'll jump straight on the train and head about three hours towards the mountains. And this isn't just any old train trip – it's a Swiss train trip. Punctual, reliable, spotless trains (often with built-in chargers for your phone and extra-comfy seats), complete with views out of the window that will have your jaw on the ground.
The NEW Eiger Express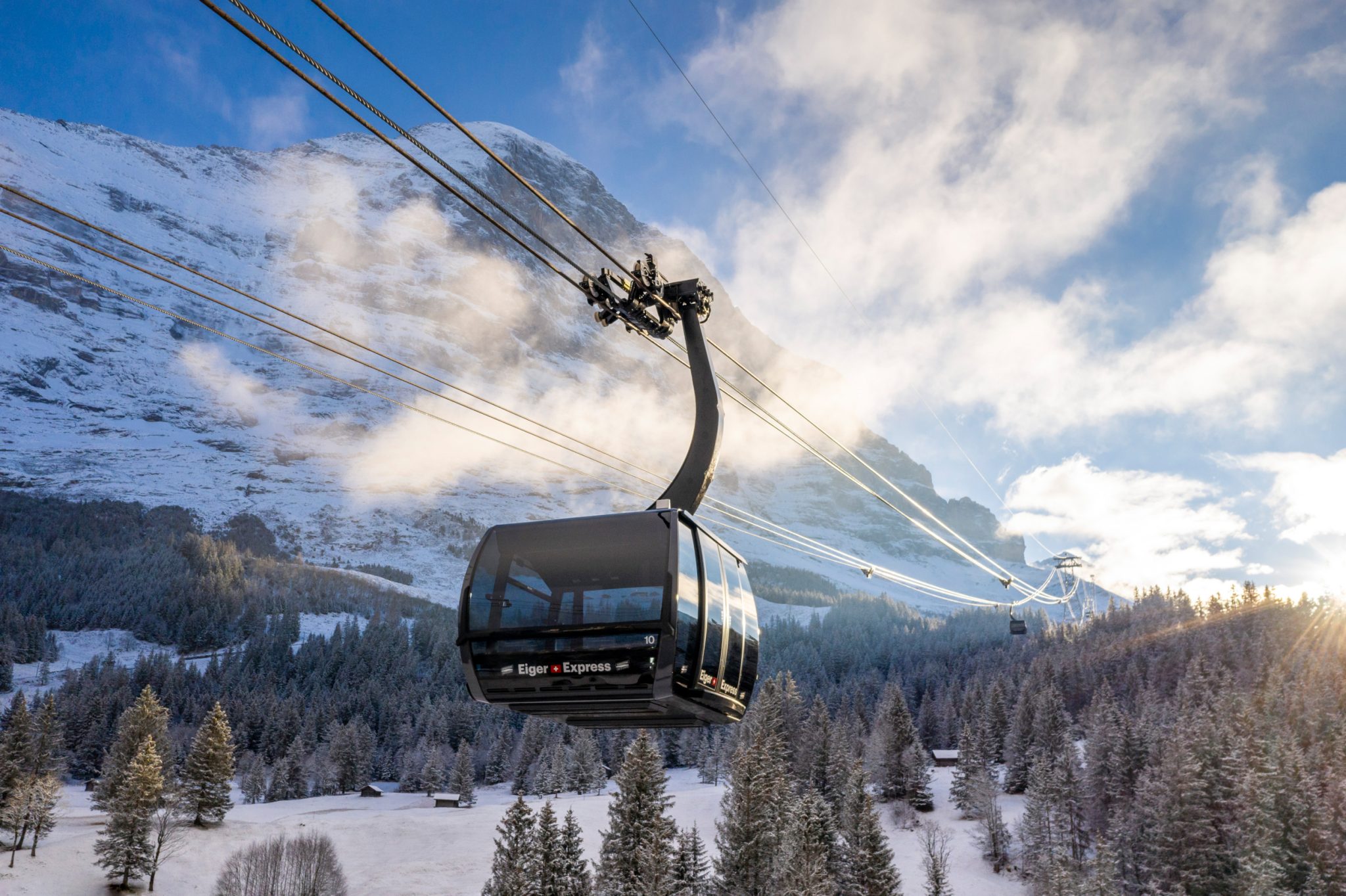 There's a brand new gondola in town. Having opened in 2020, the Eiger Express goes from Grindelwald Terminal to station Eigergletscher in just 15 miuntes – shortening the previous journey by 45 minutes, and giving you a shortcut to the ski slopes, or onwards to Jungfraujoch – the Top of Europe (more on that later). Bonus are the views over the Bernese Oberland's terrain, and the fact that it transports 2200 people per hour, making lift lines a thing of the past.
Skiing by the best mountain ranges in town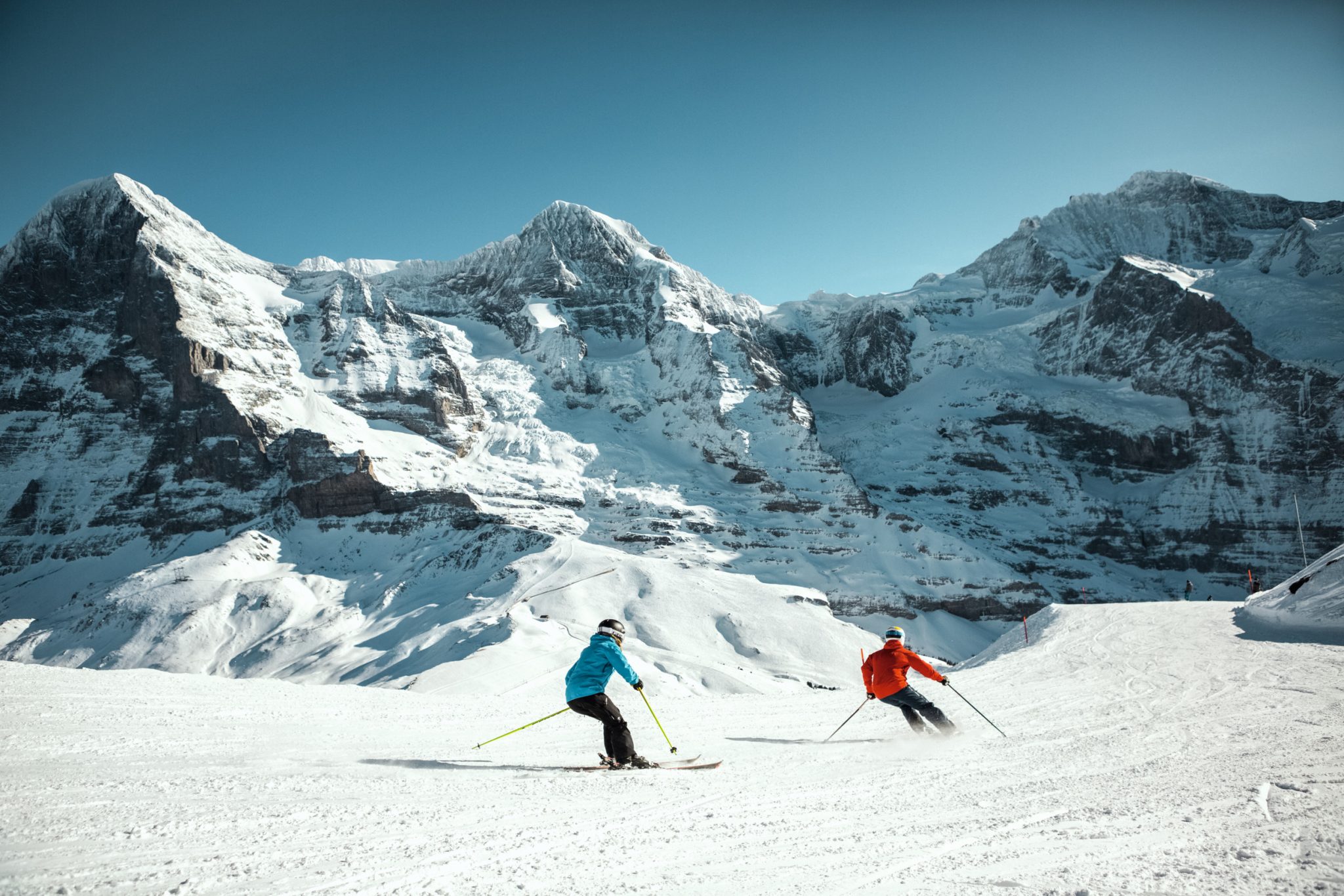 Jungfrau is helpfully home to one of Switzerland's biggest ski areas, with 206km of groomed slopes and 50 lifts spread across two valleys and three ski resorts.
The ski season starts in early December and finishes in late April, with your Jungfrau Ski Region Sportpass including lift access to all three resorts – Grindelwald-First, Männlichen-Kleine Scheidegg, Mürren-Schilthorn – as well as train and bus transport from 45 destinations.
This is the kind of place where you want to bring a Go Pro, as you'll be skiing past the Eiger, Mönch and Jungfrau mountain peaks as you make your way down the wide-open, glorious slopes.
Travelling with non-skiers? Get them sledging on the region's 50km of sledging runs, including the world's longest – a 15km run from the 2680m summit of Faulhorn to Grindelwald.
Taking on the Lauberhorn racetrack or terrain parks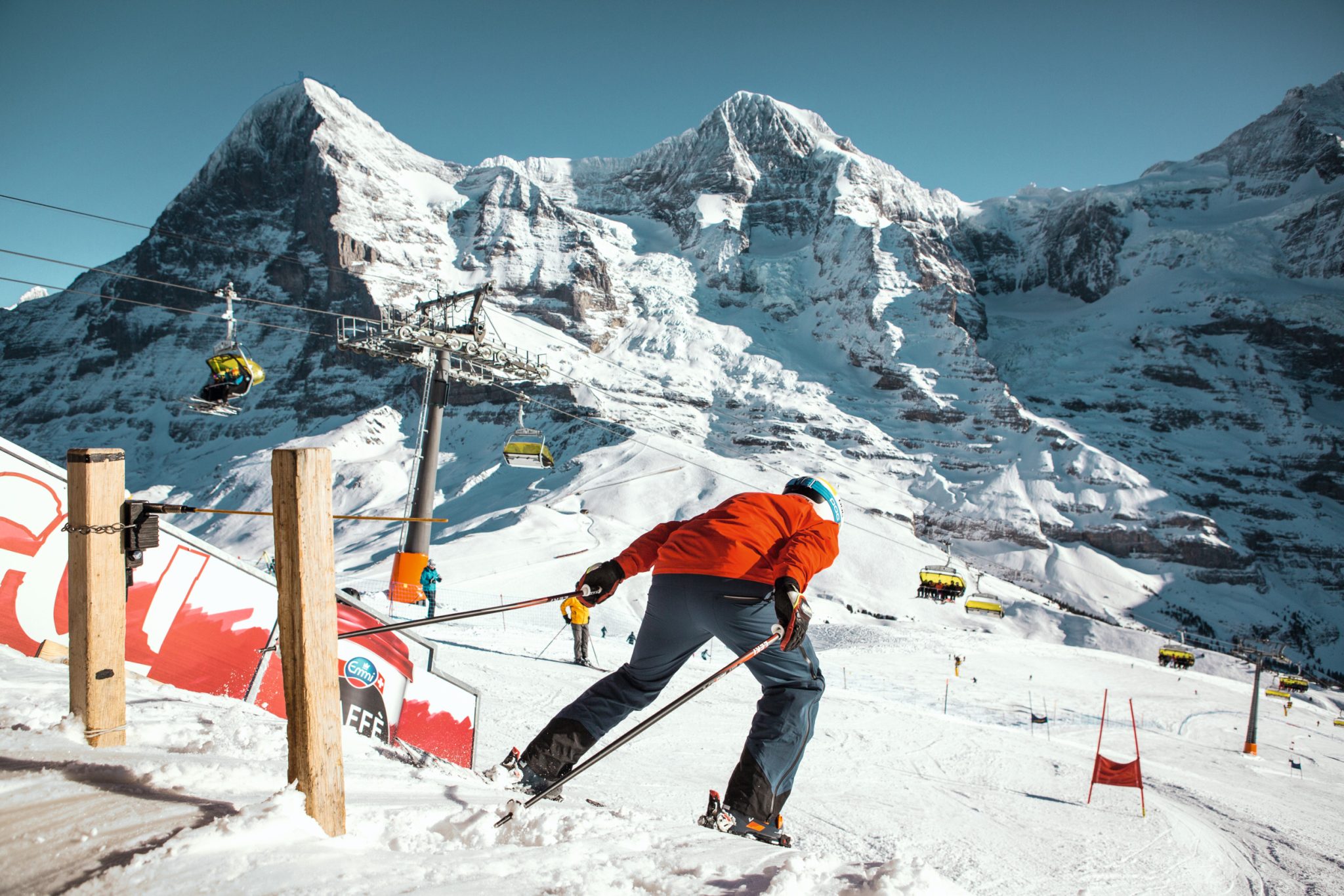 In mid-January every year, the Jungfrau region hosts the Lauberhorn in Kleine Scheidegg, the oldest, fastest and longest ski race on the World Cup calendar. With thousands of people cheering on the athletes, there's plenty of schnapps and gluhwein on offer, along with slopeside pasta and fondue. Or, if your holiday is planned for a different time, you can stop by Kleine Scheidegg anyway and take your own lap down the Lauberhorn.
More of a park lover? You're covered in Jungfrau. Head to the Grindelwald-First snowpark for a 130m half-pipe, advanced and beginners' parks, a freestyler's ski-cross course and a bag jump that's available to all for practising flips and spins. Or go to Mürren for rails, kickers and boxes in its Skyline Snowpark.
A trip to the very top of Europe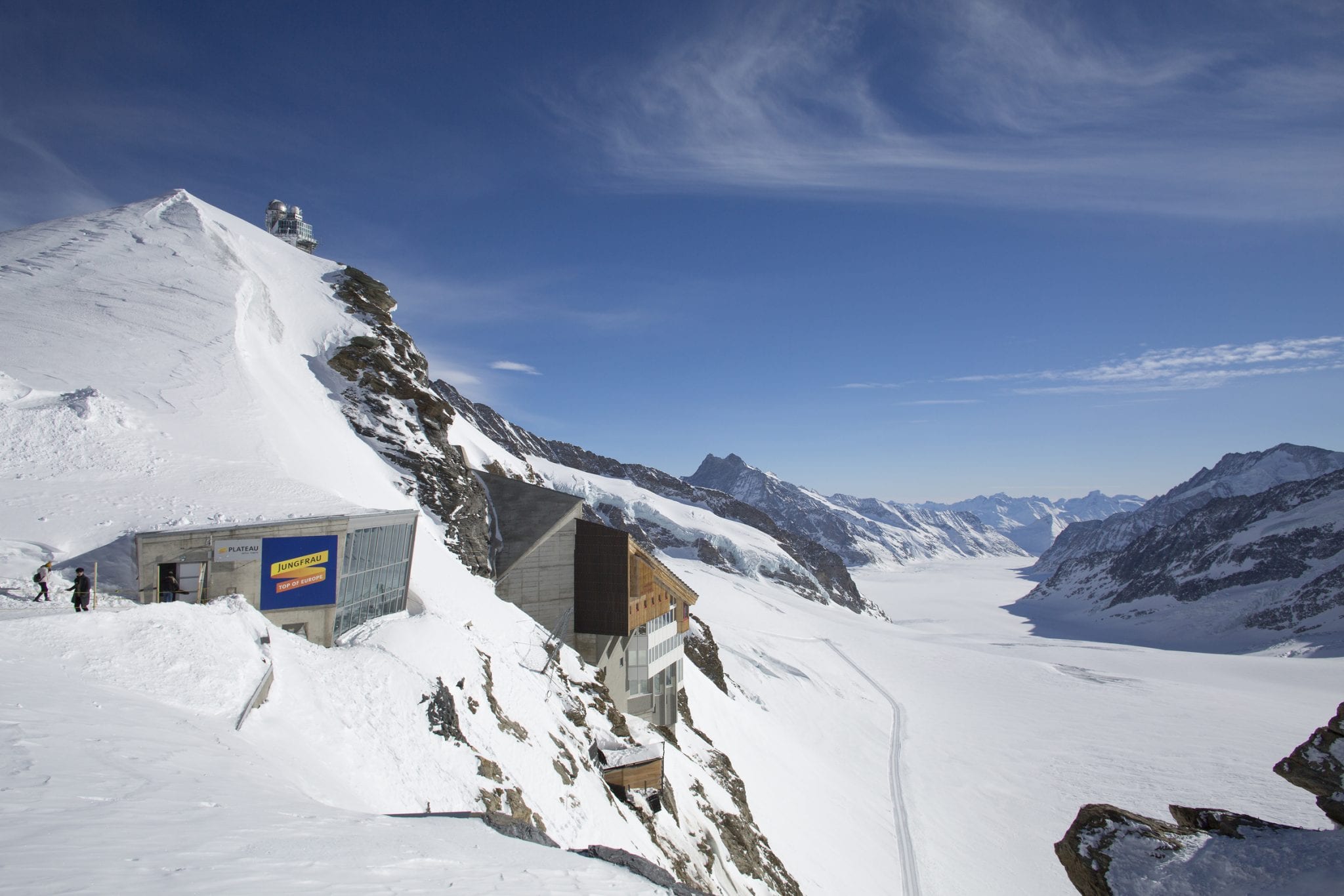 Jungfrau is home to the highest-altitude railway station in Europe, Jungfraujoch – known simply as the 'Top of Europe'. But that's not the only claim to fame. Once you've taken the train up, you can sample sweets at the highest chocolate shop in Europe, go shopping at the highest-altitude watch shop in the world, send a postcard from highest-altitude post box in Switzerland, and take photos of Aletsch Glacier, the longest glacier in the Alps.
All those traditional, picture-perfect Swiss villages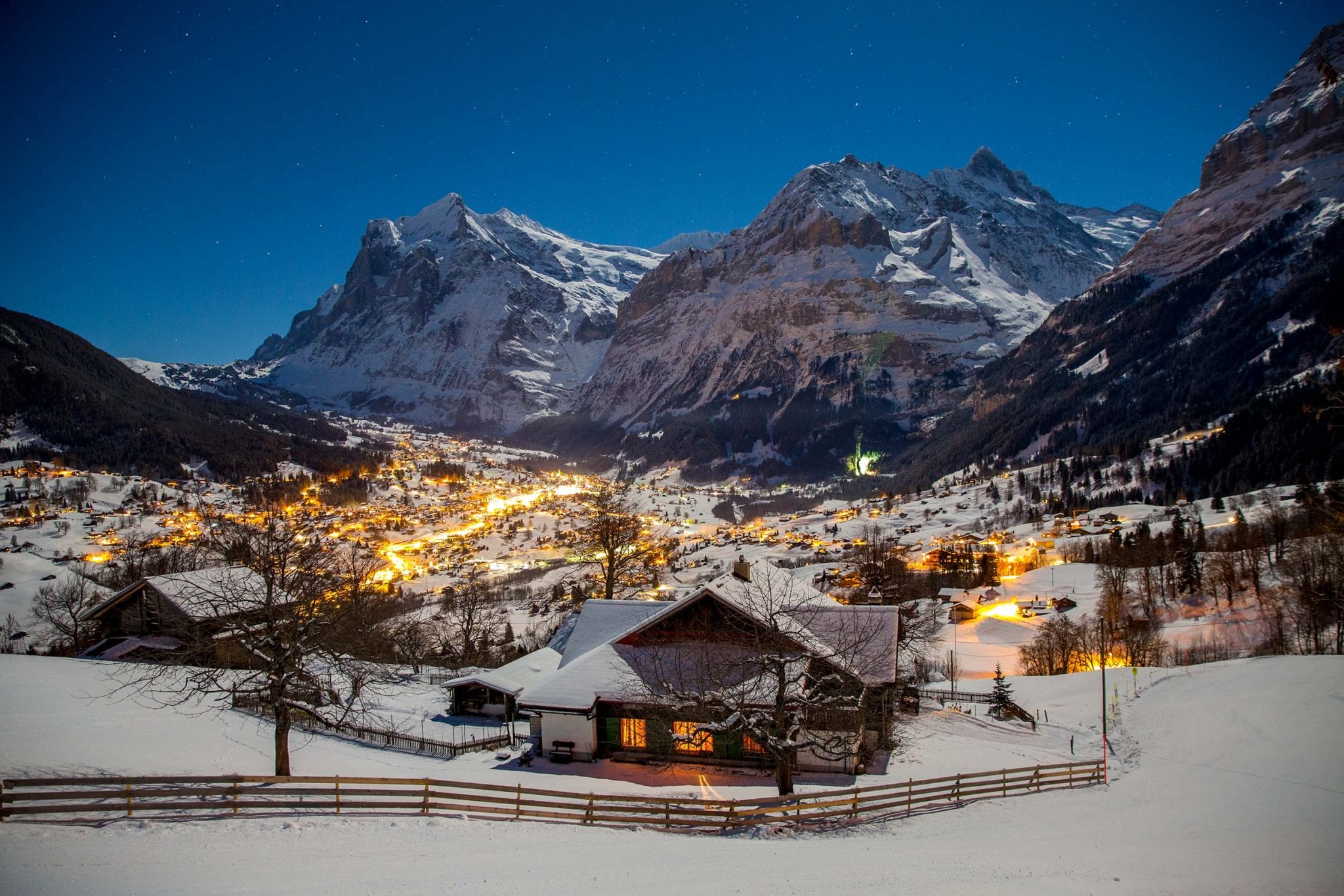 If you want charming, you've got it here. Choose from local villages Grindelwald, Wengen or Mürren, and be prepared for feeling like you've walked into a snow globe.
Grindelwald is surrounded by views of the Eiger north face and the Wetterhorn, and offers a variety of shops, restaurants, ski rentals and a supermarket – plus easy access to 80 kilometres of winter walking trails.
Mürren lies at 1650m above sea level. A town of authentic wooden chalets, and all with a view of the Eiger, Mönch and Jungfrau, it's just a cable car from town up to the summit of the 2970m high Schilthorn.
Or there's Wengen. At an altitude of 1274m, this historic village boasts above-average hours of sunshine and is beautifully wind-protected, making it the perfect place to wander and admire the traditional timber houses.
Both Mürren and Wengen are car-free, and easily accessible from nearby railway stations. Each also have ski-in, ski-out accommodation options for those looking to make their trip that little bit easier.
Bargains still to be found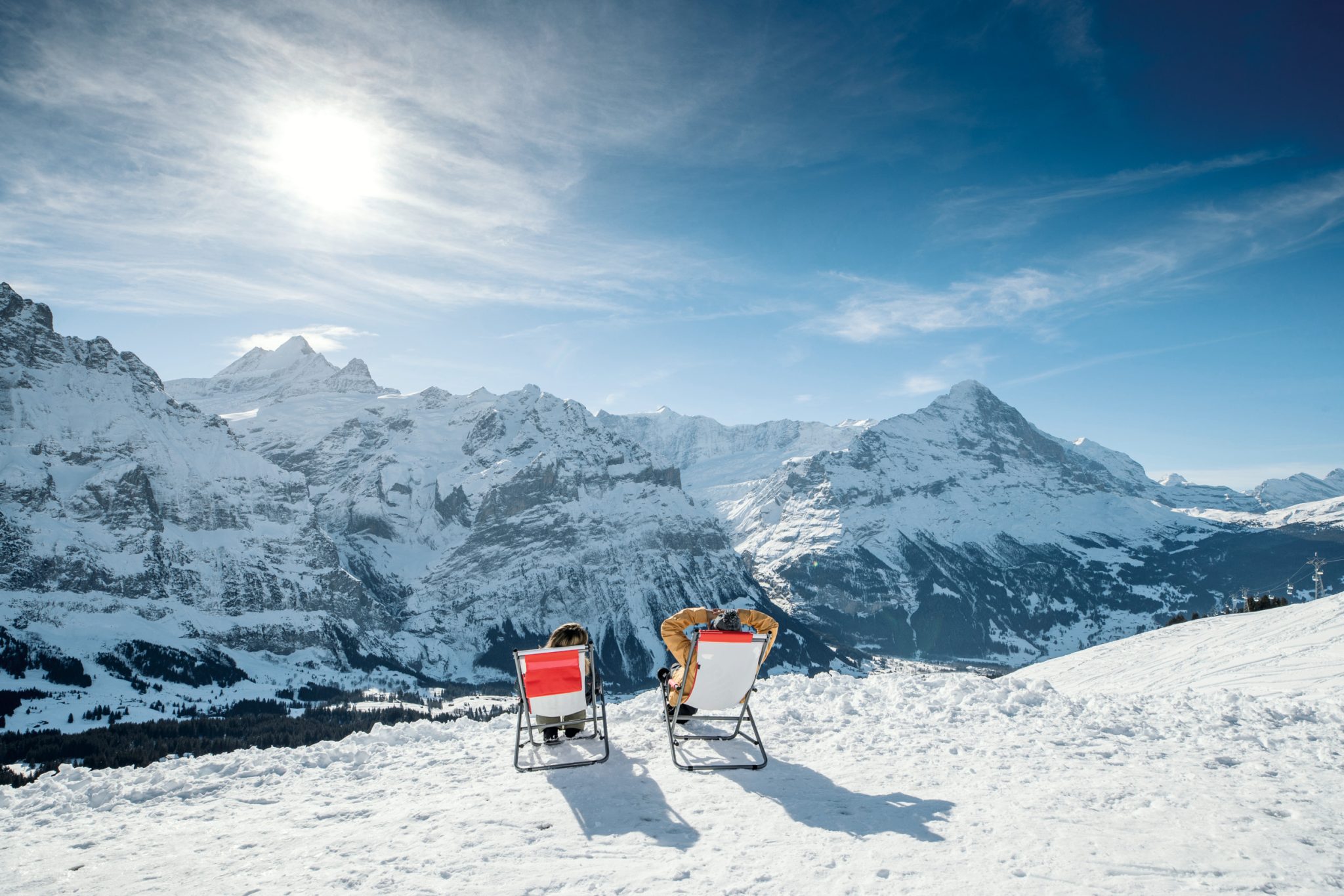 Word to the wise – a trip to Switzerland doesn't have to be as expensive as you imagine. The hotels in Switzerland go into low season in mid-January, so if you're travelling at that time they can be quite well-priced.
A lift ticket to the resorts in the Jungfrau region starts from just 65 francs (around AU$99). Online discounts apply for ski passes booked at least 21 days in advance, and free day or afternoon ski passes are also offered for up to three children aged 6-15 if one adult buys an identical pass at list price.
Find out more about the villages and ski areas of the Jungfrau region by clicking here.