I didn't come to Queenstown to have fun. I came battered and bruised from an insane work schedule that saw me in five different cities over the course of five weeks. I'd seen a lot of hotel rooms, and a lot of airplanes, and was feeling increasingly down about it all and just wanted sleep.
Travel isn't necessarily a 'special' thing to do anymore, so it's easy to feel like you're just a number. The days of those extra little touches are mostly gone. Now it's all about paid snacks on domestic flights and giant hotels with staff that might never recognise you, no matter how many times you walk through the front door.
The freshly renovated Kamana Lakehouse was a balm for my weary soul; the kind of place you walk into and feel instantly at home, if your home happens to be an ultra-luxe lakehouse with jaw-dropping views and the nicest staff of all time. As a spot that's only just coming onto the Queenstown radar and quickly rising up the TripAdvisor ranks, I'm getting in early to call it – this very well could be the town's best-kept secret.
The views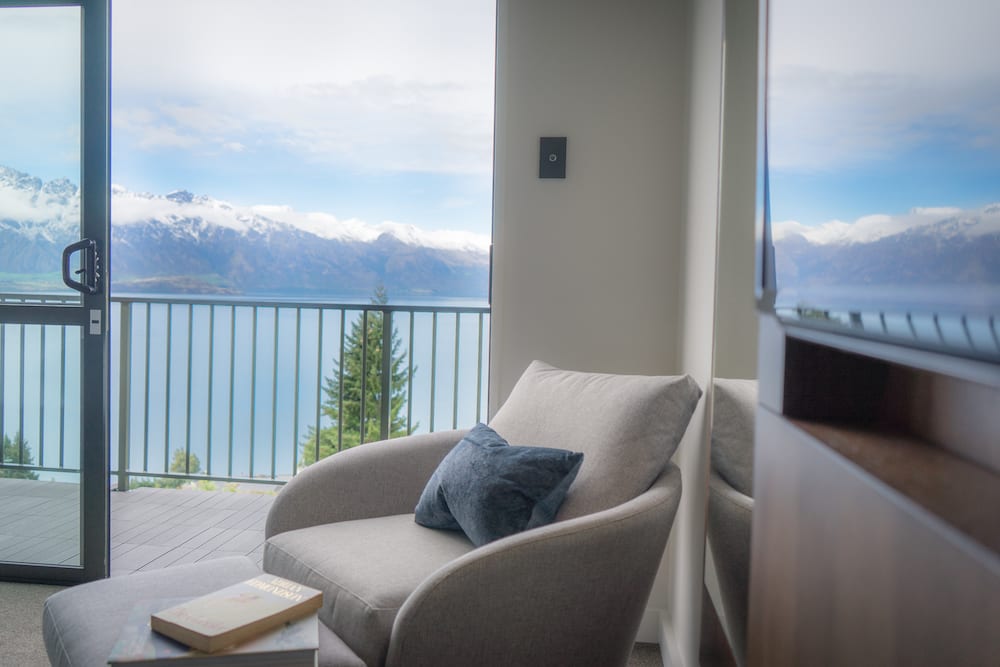 Queenstown is all about the lake views and Kamana Lakehouse delivers on this one BIG TIME. You'll walk through the lobby into the Nest Restaurant & Bar and you will never, ever want to leave. As the highest situated hotel in Queenstown, they offer up these wide, unspoiled, panoramic scenes of Lake Wakatipu and the surrounding mountains.
The best part? If you can't swing a stay at the hotel, book in to the Nest restaurant for breakfast or an early dinner, where you can still enjoy all the views on offer with minimal crowds.
You'll get some element of lake views from every room on the property, but if your budget allows for it, opt for a Tahuna Lakeview room with full and glorious views from the outdoor patios.
The people
There are only 73 rooms at this boutique hotel, so service is incredibly personalised and everyone seems stoked to be there. The front desk receptionists will remember your name and exactly what you're up to that day; the server at breakfast will be actively invested in ensuring you get a nutritious meal to kick off the day; and at the end of the day, the bartenders will make you the perfect cocktail before suggesting where to kick on with the rest of your evening. The staff will even take your photo on that incredible balcony, because of course they know all the best angles to get that ultimate Instagram story.
The après hour.
There's no real need to head into town, because the bar at Nest is exactly where you want to be when the evening rolls around. With luxe finishings, these incredible fireplaces that hang from the ceilings and comfortable couches, you can settle in to your own table or hang out and chat to other guests.
If you like gin, you're particularly in luck. They serve up nine different kind of Kiwi gins along with the rest of the cocktail menu, which is big on celebrating local spirits and flavours. Then mosey onto the dinner menu, which is a mix of Mediterranean-inspired flavours such as the Southern Alps slow-cooked Merino lamb, charred banana prawns, aged scotch filet or my personal pick… a cheese plate. Because you're on holidays. Of course.
The ski locker.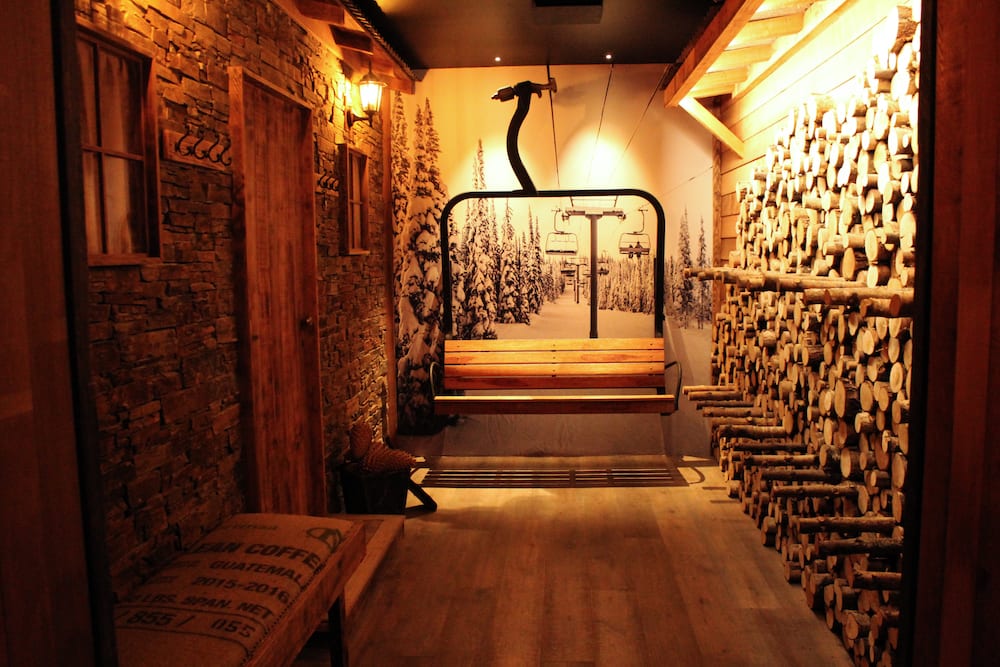 You know you've landed in winter paradise with the Kamana ski locker. Kitted out with an old chairlift from Coronet Peak, plenty of boot heaters and even mulled wine served up as you're putting your skis away, every skier and snowboarder will feel right at home here.
The rooms.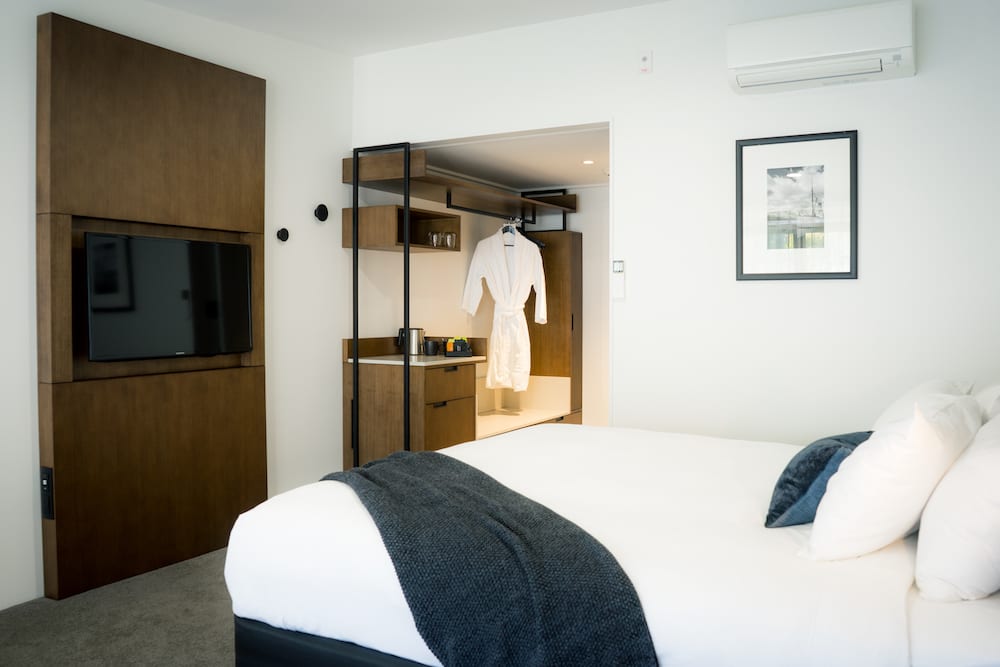 You know how I came to Queenstown to rest instead of party? I rested so well that after a 10 hour sleep in the million-dollar bed, I was up and ready to party again. Forget about that old-school ski lodge feel – the rooms are beautifully designed, with T2 teas, Bluetooth speakers and soft, modern decor.
The location.
Based in Fernhill, Kamana has the perfect location: tucked away up on a hill in a mostly residential area, with nothing but the silence of the lake and the quiet mountains to take in. It's about a five minute drive, or three kilometre walk, from the centre of town – so you're close enough to the action when it's time to head in for dinner, drinks or shopping, but far enough away from the hustle and bustle to feel like you're truly slipping into holiday mode.
We suggest strolling down to town via the scenic walk and getting an Uber or bus back to avoid schlepping up a hill – the bus stops right outside the hotel. If driving, it'll take about 25 minutes to get to Coronet Peak and about 40 to get to The Remarkables, or just over an hour to reach Cardrona.
The extras.
Free wifi. Free parking. The most delicious breakfast ever, where you can grab an incredible hot brekkie or load up on healthy bits and pieces for a day of skiing or boarding, such as housemade protein bars and Otago jams.
Kamana are also taking part in a stack of sustainable practices such as providing New Zealand-made, refillable luxury bathroom amenities instead of single-use toiletries, introducing food wastage management initiatives and offering refillable glass water bottles instead of plastic.
The bottom line.
Queenstown has become a pricy destination, and there aren't a lot of places left where you can truly get some bang for your buck, or at least stay somewhere with a unique kind of feel. Kamana Lakehouse will leave you feeling like you've truly managed to relax on your holiday, while also being close enough to all the Queenstown action – and it averages out at about NZ$500 for two nights, for two guests, in a King room.
Natalia was a guest of Kamana Lakehouse.