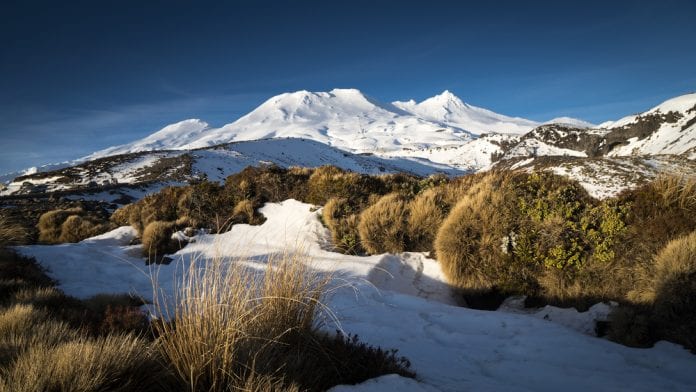 The tiny resort town of Ohakune at Mt Ruapehu in New Zealand is a long way from the Scottish Borders as long time ski instructor, Kat McKenzie, found out.
The wee lass is now in her twelfth season at Turoa and calls the carrot capital of New Zealand home each southern winter. She is the Team Leader of Turoa Ski and Ride school and this is her guide.
Why Ohakune and Turoa
I had already done a winter season in Wanaka in 2005 and when I wanted to come back to New Zealand I just applied to every resort that was hiring. 
I got offered a sponsored visa at Turoa so thought I would explore the North Island as I had visions of saving my working holiday for a later date when I would be ready for a summer. I fell in love with Turoa and Ohakune straight away and if anything it fed my appetite for winter as I have been doing back to back winters ever since.
Favourite run
Tough one, though as a general rule I would say west is always best. On a spring day when the conditions soften and there isn't a chair lift in sight, catching Layback as the sun hits the sea past Taranaki is always a hit.
Where do you head on a powder day
Back to Niseko Japan ?.  As we don't have any trees at Turoa chairlift time is perfect for making a quick decision on where to head so you can make the most of any freshies.  Depending on which way the storms come in I might be heading out past the old T bar line or into the fingers.
Best après
A piece of my heart has always and will always belong to the Tuora Lodge which is an Ohakune institution.  It's a great place to shoot pool and chill while enjoying an after work beer but can always be relied on if you need to blow off some steam and fancy a wild night out.
Best on mountain dining
Anything on the deck of the Snowflake on a sunny day is bliss.
Best village dining
It's got to the Blind Finch in Ohakune.  The food is always excellent and they do fabulous cocktails.  As its small it always feels cosy and it's a great place to catch up with friends or start a night with the girls. I recommend the margaritas and love me long time fish burger.
Best hot chocolate
I am bias but I would have to say the Turoa Ski & Ride School kids center ?
Best breakfast
Old Coach Road café does a killer bacon butty.
Must do snow activity  
Anyone who has the skill and equipment and doesn't take a hike to the top to view the incredible crater lake at Mt Ruapehu is missing out. Ski Patrol are always based at the top of the top chair and can advise any budding hikers of conditions and weather.

Best non ski activity
There are some incredible hiking trails around the Ruapehu region where you start in dense bush and then suddenly stumble across a clearing where a picture perfect view of the mountain appears from nowhere. The new Carrot Park in Ohakune is the perfect place to take the kids for a run around and some fabulous photo opportunities.
Where do you take visitors to impress them?
Out to the viaduct on the Old Coach Road biking trail and the 360 view of mountain to coast from the mountain road at sunset is also a winner if you get a clear evening. A trip to the famous giant Ohakune carrot is always a people pleaser too.
Where do you take a date?
The Matterhorn Restaurant at The Powder Keg Ohakune. The lamb shoulder and steak sharing dishes are divine.
Best for families
100% a day on the mountain which is fun at any age and skill level right from sledding or sightseeing to exploring some wild terrain skiing or snowboarding. Failing this a few hours at the Vertical Climbing Wall Ohakune will tire the kids out and give adults some fun challanging each other on the timed climb wall.
What should visitors not leave without doing? 
Seeing the sun Set on Turoa and hearing a kiwi chirp in the native bush at night 
What item should visitors take back with them? 
You can't beat a stunning photo from this unique area and an Ohakune carrot peeler/bottle opener/momento/magnet from Golden Time take away.
Any other tips
Make sure you enjoy indoor and outdoor delights, if you get a classic wet and wild North Island day take a trip to the hot pools and enjoy the nightlife, the sun will come out tomorrow.