When you're an adult that's hooked on snow, it's kinda nerve-wrecking to take your kids on a ski and snowboard holiday.
What if they hate it – every minute of it – and it ruins the family holiday? What if they have a bad experience and need lifelong therapy sessions? What if they refuse to ever go back to the snow again, and you're destined to a future full of beach holidays?
We don't want that to happen to you – so we've gone to the experts. Australian ski instructor, Josh Earle works at the home of kid skiing heaven, Club Med Tomamu.
He knows how to get them stoked, keep them stoked and have them coming back for more snow holiday fun, time and time again.
These are his tips.
Get the stoke levels high early
You might talk about skiing and snowboarding all the time, but do your kids really understand what it entails? A little bit of preparation can go a long way towards preventing confusion and potential meltdowns.
"Get little ones hyped by watching YouTube videos of other kids skiing, or even skiing and snowboarding tutorials for kids. Plus all the other fun things they can do in the snow as well, like snowball fights and amazing snowman creations," Josh says.
Get packing together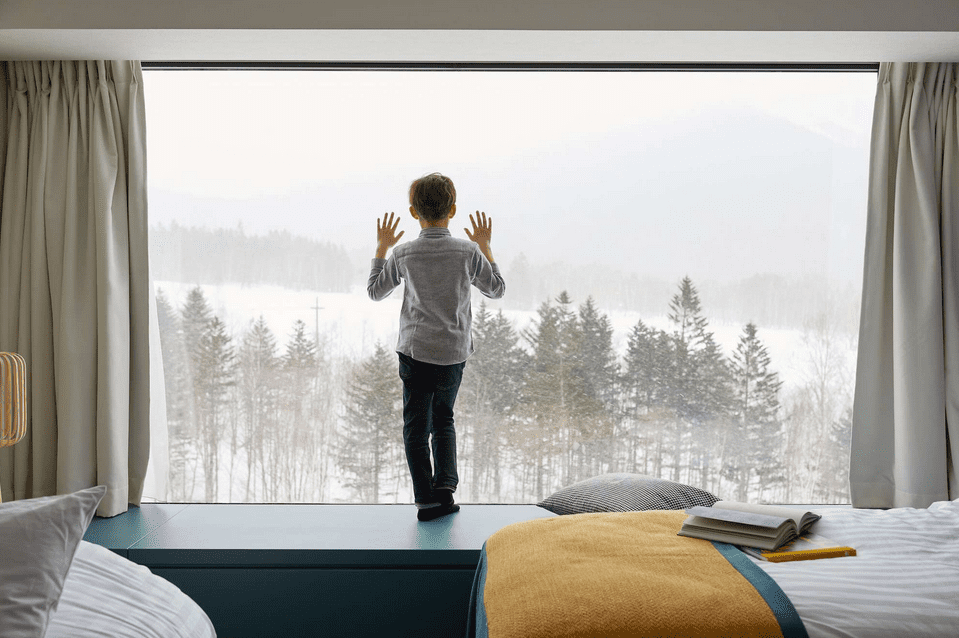 "Laying out and preparing all your gear is a great way to get excited," says Josh. "Have a check list and tick off all your gear together – socks, jacket, pants, thermals, beanies, gloves."
You can even take kids to the shops to choose some of their own ski gear, like a jacket in their favourite colour, or a cool themed helmet cover. Everyone knows that unicorns and dinosaurs go faster.
Bring spares
Whether you're dropping the little ones off at ski school or taking them up the mountain with you, it's worth packing extra bits just in case the weather turns. After all, nothing brings tears on faster than wet, soggy gloves.
Spare midlayers, gloves and socks for kids, along with water, SPF lip balm and sunscreen are a must. "A banana is a perfect midday snack to keep the energy levels high," suggests Josh.
Take them somewhere that's paradise for kids
The family-friendlier the destination, the better. Each Club Med resort in Japan and France is different but all include a big calling card that will appeal to small ones – such as the wave pool at Club Med Tomamu, Hokkaido or the treasure hunts and circus stunts organised at Grand Massif Samoëns Morillon, France.
Club Med packages include accommodation, dining, daily lift passes, group lessons, kids club, après ski activities AND evening entertainment. This means that the kids will be taken care of on the slopes by day, and getting dressed up in costumes and performing by night (while you indulge in the open bar, also included in the package).
Outsource to the experts
While it's awesome to ski as a family, the ski instructors are there for a reason. With years of experience behind them, they know exactly how to catch a kid's interest when it comes to the slopes.
"From what I've seen over the last eight years, kids definitely progress much better in ski schools," Josh says.
"As weird as it sounds, a lot of kids might not be themselves around their parents on the slopes. They tend to relax around instructors and their personalities come out, which gives us something to work with. We then figure out what really interests them and tailor the lesson around that."
Play games!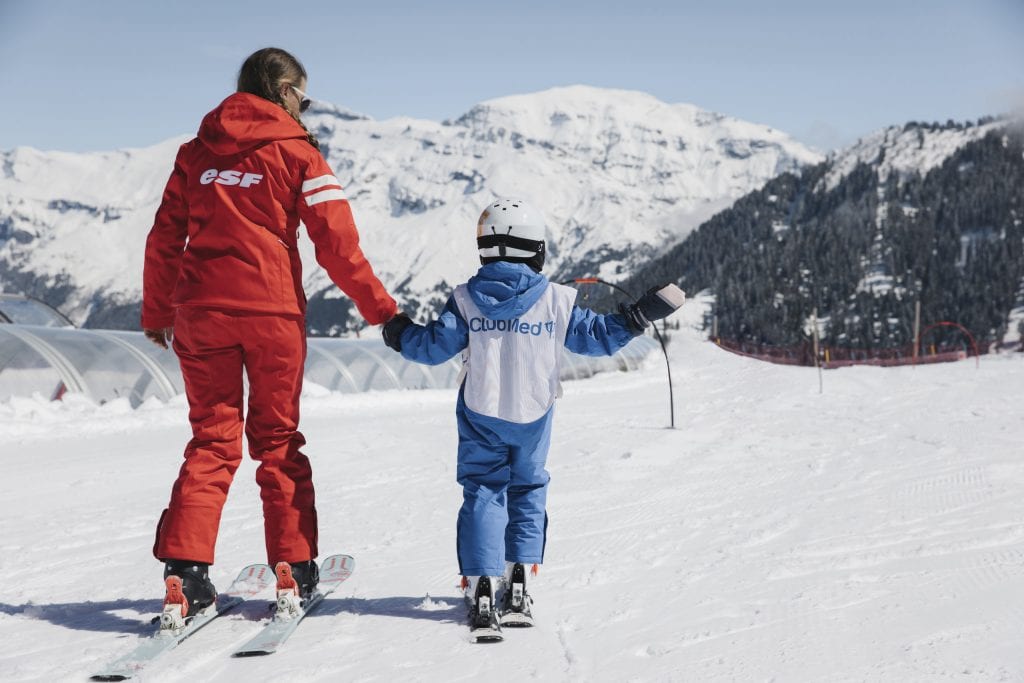 "I have about 35 different games and challenges to use for different situations," Josh says.
"My favourite is the skiing version of tip. One person is 'it', and has to catch the other. This encourages both skiers to ski a bit faster and do things they wouldn't normally do, like make a turn, go down bumps or do a little jump. The whole time they don't realise the amazing skiing they've just done because they're focused on not being tagged, or tagging."
Other options? Play ski bingo (you saw a snow covered tree, you saw someone fall, you fell down, you skied in trees, you tried a jump), red-light green-light, or I-Spy while on the chairlift.
Progress slowly
If you are taking the kids out on your own, try to make it the smoothest experience possible. Keep it fun and light, ensuring that everyone has a great time.
"Don't force the kids to stay out in the cold," Josh adds. "Try not to shame them or get frustrated when they don't pick it up straight away. Just progress bit by bit and always leave them wanting a bit more. It is better to leave the slopes hearing 'mummy can we come back next year' than them never wanting to try it again."
The ultimate tip for tears: diversion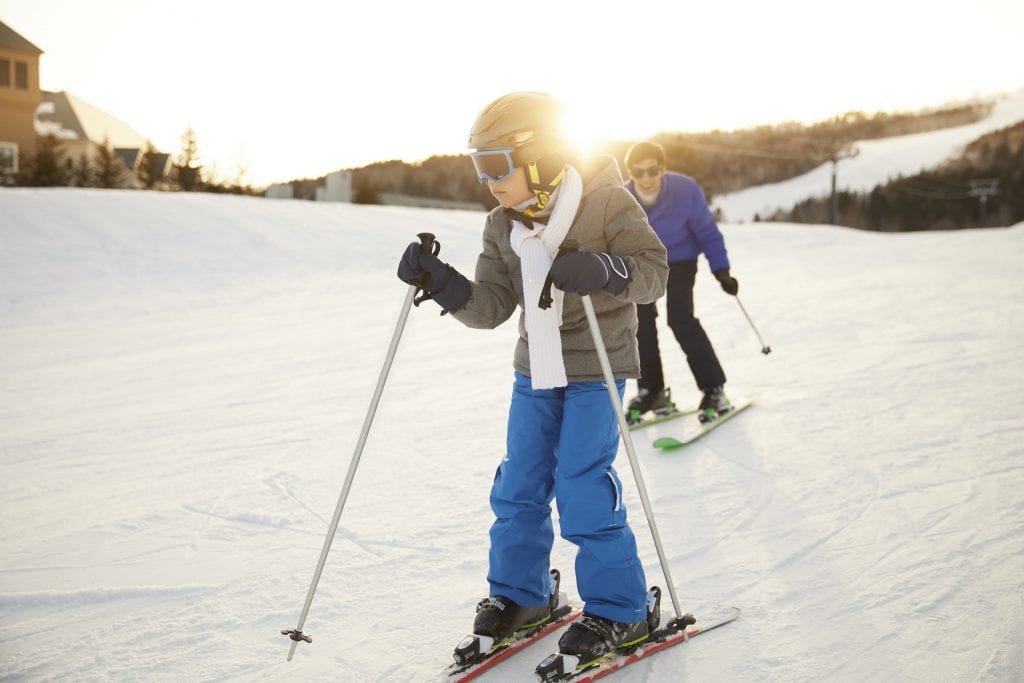 Josh has the ultimate method for dealing with littlies that might be upset on the slopes. "We just make skiing so much fun that they forget all about it. I'm talking about making animal noises; list your top 25 favourite candies; heading down the slope belting 'Frozen' at the top of your lungs, just to get a smile."