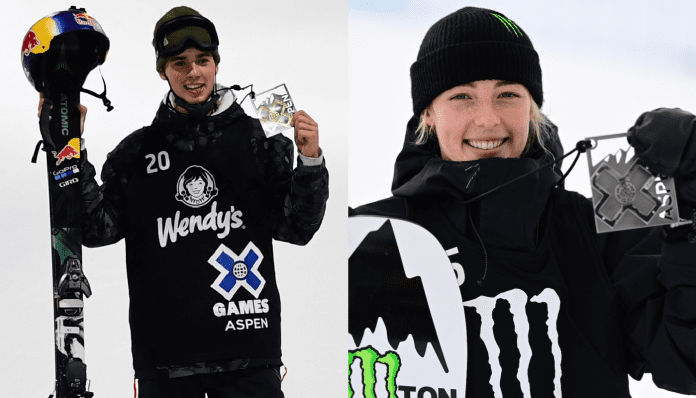 It's been a big day for New Zealand at the Aspen X Games as Nico Porteous and Zoi Sedowski Synnott win gold and silver respectively.
Skier Porteous scored the top spot in the superpipe in a first for his home country, making him the only Kiwi to have ever won an X Games Freeski Superpipe gold medal.
As the youngest in the field at 19 years old, Porteous' third run jumped him from fourth place to the top spot with back-to-back 1620s and an alley-oop double. He is the first freeskier to land this in a halfpipe competition.
"It has been a lifelong dream for me, so it is pretty surreal right now and pretty out of this world," said Porteous after the event.
"That run has been in the works for the past year and half. I dreamt that run and have worked really hard at it, and gave it my best shot to make it become a reality."
His coach, Tommy Pyatt, revealed more about Porteous' success.
"There were two main factors that resulted in tonight's success, the fact that Nico had almost landed the complete winning run numerous times in training over the past two weeks and that without the crowd Nico felt there was less pressure on him, which allowed him to ski at his best," said Pyatt.
Porteous was joined on the podium by Aaron Blunck with the silver medal and Birk Irving with the bronze medal, both from the USA.
Silver for Zoi Sadowski-Synnott
Meanwhile Zoi Sadowski-Synnott claimed silver, the fourth X Games medal of her career,  in the Snowboard Slopestyle event earlier in the day.
Her three-part rail section consisted of a 50/50 gap to back board, front lip to switch and a switch front blunt 270 out on the flat bar. In the jump section, Sadowski-Synnott went huge, performing a switch back 900 mute grab into a back 900 melon grab then into a cab under flip 540 and a crippler on the transition features.
"Practice was going well but not the best, I was struggling with speed between the first and second kicker" said Sadowski-Synnott of her preparation.
"Going into the first run, I didn't feel totally prepared but was ready to put down my back-to-back 900's. In the first two runs I was struggling with speed and not pulling it all together. On the third run I pulled it back to land a run and then put it all together on the final run."
Jamie Anderson from the USA took the gold medal and Laurie Blouin from Canada took bronze.
Sadowski-Synnott has also been invited to compete in the X Games Snowboard Big Air event which is taking place at 11.45am Sunday morning (AEST).