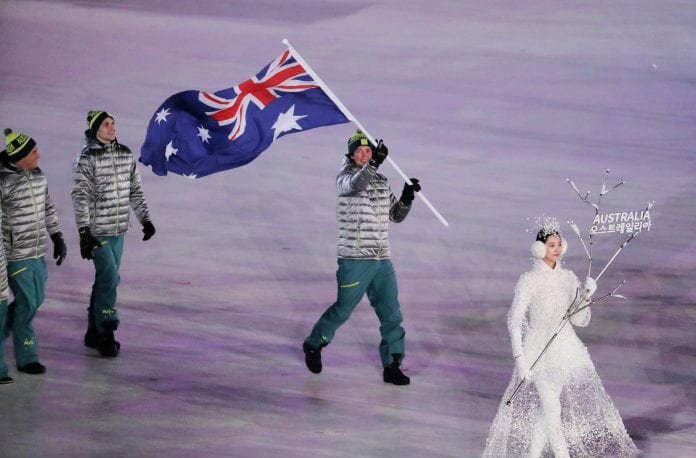 Australia's Winter Olympic hopefuls have been celebrating a stellar FIS World Cup podium season in the lead up to the Beijing Winter Olympic Games that will commence in one year from today.
The Aussie team has secured medals in skier x, moguls, aerials, snowboard halfpipe, snowboard slopestyle and bobsled so far this season with still more competition to come. This season and next FIS season will determine which Australian athletes will be chosen to represent their country in China.
The Beijing 2022 Games will run from 4-22 February 2022, featuring 2800 athletes competing across 15 disciplines in 109 medal events.  The Australian Team could number more than 50 athletes with big medal hopes.
To date Australia has won 15 medals at the Winter Olympics – 5 gold, 5 silver and 5 bronze.
"Right now across the country and around the world, Australian athletes are training and competing in pursuit of their Olympic dream," said Chef de Mission for the Australian Olympic Team for Beijing, Geoff Lipshut.
"From athletes aiming for their fourth Games like Scotty James and Britt Cox to those striving for an Olympic debut, I'm excited for Australian winter athletes to reach this milestone on their Olympic journey."
With a wealth of experience at the highest levels of winter sport as CEO of the Olympic Winter Institute of Australia and a team official at seven Olympics since Lillehammer 1994, Beijing will be Geoff Lipshut's first Games as Chef de Mission.
Women's monobob (one-person bobsleigh) is making its Olympic debut in 2022, as well as  mixed Snowboard Cross and freestyle skiing big air.  Australia is also looking to send its first ever curlers to an Olympic Games – mixed doubles pair Tahli Gill and Dean Hewitt.
Young athletes hoping to make their first games include 2020 Youth Olympic Games gold medallist Josie Baff and 15-year-old snowboarder Valentino Guseli.
AOC Chief Executive Matt Carroll encouraged Australians to continue their support for Australian winter athletes.
"The PyeongChang Winter Olympics in 2018 saw a cumulative audience of more than 16 million Australians watch the Winter Olympics on Channel 7," said Carroll.
"With a similar time-zone, I look forward to Australians getting behind their Team not only in 12 months' time in Beijing, but following their qualification and competition over the next year to reach their Olympic goal."
Triple Olympian mogul skier Britt Cox is celebrating one year to go in the snow, competing at the FIS Freestyle World Cup in Deer Valley, Utah this week.
"It would be a real privilege to represent Australia at a fourth Olympic Games," Cox said.
"This Olympic cycle has been drastically different for me, in both how I've grown personally and adapting to the challenges of the pandemic. The last year has taught me to truly maximise every opportunity I do have to click into my skis as I strive to become the best skier I can be in a year's time and I'm so eager for the opportunity to test myself once again on the biggest sporting stage."
The AOC is also launching its Beijing 2022 hashtag #ChasingWinter, showcasing winter athletes' pursuit of their winter dreams.
#ChasingWinter will bring together content over the next 12 months showing athletes embracing the thrills and spills of their own unique Olympic journeys, highlighting athletes' resilience in the face of challenges in the snow, on the ice and in the air.