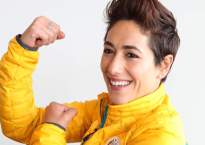 Lydia Lassila DIALS IN PRE SOCHI
"I feel great. I'm in really good condition all round. I am tested physically, emotionally and mentally everyday but have managed to keep on top of everything. I went into Vancouver as #4 and I'm going into Sochi as #4 as well.
Like before Vancouver, I haven't placed priority on World Cup as the Olympics is what I am focused on. I think the pressure is the same as it has been for all the Olympics I've been to. I really want to give my best performance and I guess that's what matters to me most.
Lydia's career highlights
1st – 2014 World Cup (Val St. Come, Canada)
2nd – 2013 World Cup (Beijing, China)
World Record 220.91 points, Deer Valley, Utah, USA 2010
Olympic Record 214.74 points Cypress Mountain, Canada 2010
Gold Medal, Vancouver Winter Olympics 2010
This will be my fourth Olympics. I think that is a great effort in itself so I guess we'll wait and see what I feel like after Sochi.
We're looking good as a team [Australian aerialists] and I think everyone does what they can to prepare as best they can. This team is as strong as it's ever been so I think our chances are good."
We have had a lot of champions in Aerial skiing and over the years we have built a great program for new athletes to follow and hopefully make it to the top. That mixed with great talent and great coaches has given us the best chance for success given we have limited facilities and training resources on home soil.
The male aerialists inspire me. They impress me everyday and for my whole career, I have tried to meet their standard!"
Will you be happy with less than gold?
"Absolutely. If I perform the way I know I can then I'll be happy!"
https://vine.co/v/MuJYvnLrhQt
Aerialist Travis Gerrits makes a meal of Vancouver Gold medalist Lydia Lassila and posts it on Vine.