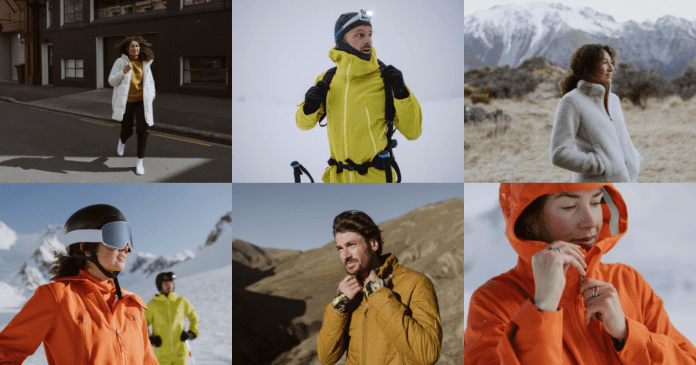 New Zealand's original merino brand, icebreaker, have upped the ante for snow sports lovers with a new range of base, mid and outer layers using natural fibres to take the plastic out of ski wear.
Stand-outs from the range include the Shell+™ jacket, icebreaker's first 100% natural outer layer that's water repellent and wind resistant, and the MerinoLoft™ natural puffer jacket that uses merino wool for insulation whilst being entirely machine washable.
Then there's the RealFleece™collection featuring jackets, vests and accessories using cosy brushed merino fleece that's soft to the touch, whilst insulating base and mid layers in the new collection help to create a complete natural layering system. The secret is in the layers that lock together like a single lightweight garment to help you perform naturally better, whatever the activity.
Shell+ outer layer
Shell+ is icebreaker's first ever 100% natural outer layer that's water repellent and wind resistant. Made entirely from natural fibres that are pre-stretched, woven together, and then released to create a super dense fabric, Shell+ is a natural alternative to synthetic jackets that helps keep you protected from the elements. With a cool colour palette for both men and women, the Shell + is the all natural way to hit the slopes this year.
The reinvented puffer
MerinoLoft™ is the new natural alternative to the puffer jacket. Using natural merino wool insulation, MerinoLoft™ offers a high warmth-to-weight ratio to help keep you warm during cold-weather activities.
For AW23, MerinoLoft styles feature the Shell+ outer layer, offering a more natural water repellent and wind resistant puffer jacket. Best of all, it's machine washable for easy care.
RealFleece
RealFleece™ is a cosy fleece fabric made from the real thing. Constantly struck by the irony that most 'fleece' products are made from plastic, icebreaker set out to create an authentic brushed natural fibre fleece that's warm and soft to the touch.
RealFleece products are made from merino wool fibres loosely spun into a fluffy and textural yarn, creating the soft fleece-like pile. Plant-based TENCEL™ Lyocell is then used to tightly knit the base lining of the fabric, securing the yarn and together creating the soft, cosy shearling fabric.
But wait, there's more
With a long standing commitment to sustainability, this season also sees icebreaker partner with textile recycling company UPPAREL for the first time in Australia and New Zealand.
With recycling bins available in icebreaker Touch Lab stores from 27 March, an UPPAREL first for New Zealand, consumers can donate pre-loved clothing to be turned into a unique recycled fibre that is used to create products such as home insulation, couch cushioning and pet beds.
Any donation made at icebreaker stores will receive a $10 store credit.