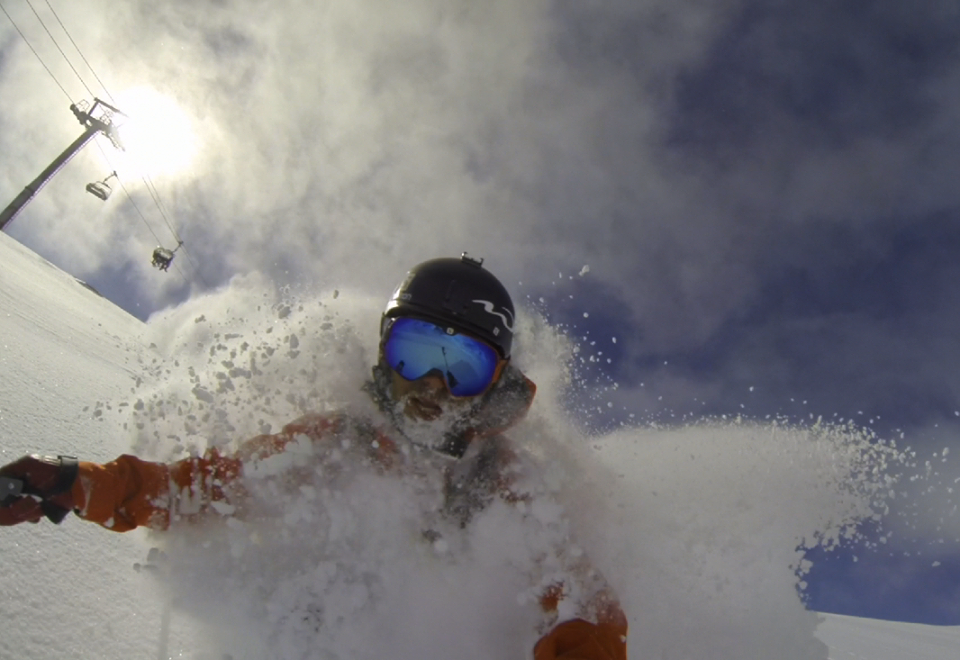 Feel exhausted by the photos of all the powder skiing breaking the internet this week? Intimidated by the level of pow?  Don't stress, Mike Douglas has got you covered.
As the founder of Salomon Freeski TV, creator of twin tips and with the moniker 'the godfather of skiing', Mike Douglas skis powder with effortless soul.
It is impossible not to envy his style and powder grace, especially when you're star fished on your back trying to wrestle with a metre of powder to get yourself back up. This guy eats mountains of powder for breakfast then serves it up again for lunch.
Kevin Fogolin (@kevinfogolin) captured Mike's legendary powder turns on Instagram in Whistler this week.
So we asked Mr Douglas, what's his secret? What simple tips can he give us to ensure we conquer the powder and enjoy it.
Here's Mike's four tips of powder wisdom.
Get yourself a pair of wider skis with Rocker – Salomon QST range works well.
Keep your feet close together – think platform (with both skis)
Try to get an up and down rhythm going with your turns. Sink into the turn then spring up to shift the skis into the new turn.
Don't be afraid of falling – it's soft for crying out loud!
I can personally attest to number four on too many occasions, and he's right, it is soft.
Need more tips?
Freeride World Tour athlete, Australian Nat Segal, says "When I ski powder I try and let my skis run, I still make turns but they are more small deviations to control speed. Speed is your friend in powder – as long as you re in control! Once I'm on a good pitch of slope then I just let it rip."
Her sister, X Games Gold, Silver & Bronze Medalist and Winter Olympian, Anna Segal says "I just try to always think "Shin pressure and hands forward."
Still need more? Check out this video for a short powder skiing tutorial.
Now, bring on the pow!