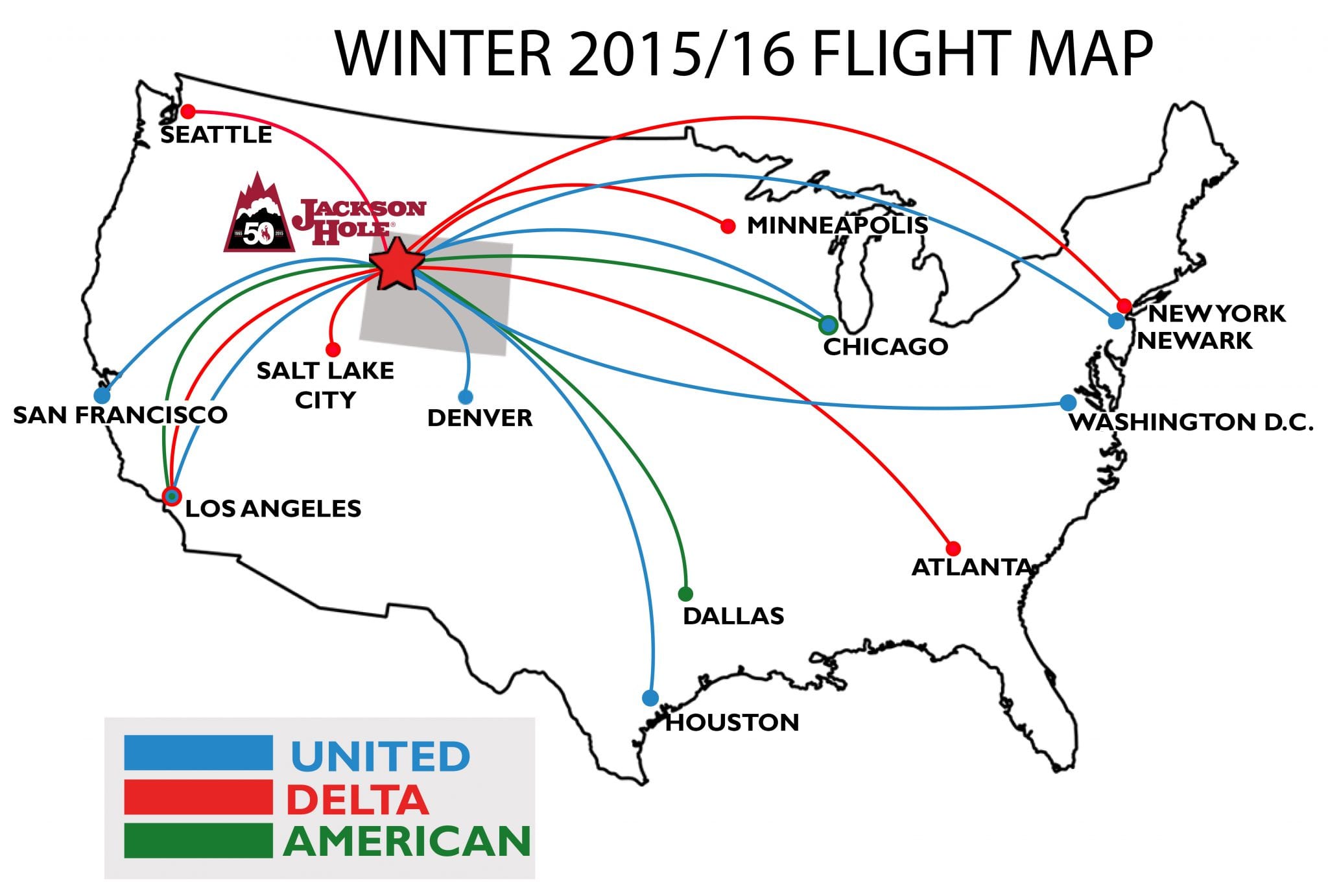 Good news for Australians looking to ski at Jackson Hole for the mountain's 50th anniversary season in 2015/2016.
Following a successful winter season which included an increase in air seat capacity and visitors through the JH Airport, and an increase in local sales tax collections, Jackson Hole Air Improvement Resources (JH AIR) is pleased that American Airlines will provide new service from multiple cities, and the expansion of United and Delta will expand service from East Coast markets for Winter Season 2015-16.
New jet service provided by American Airlines will include two markets; Chicago and Los Angeles.
In addition, American Airlines will add a second daily flight from Dallas/Fort Worth, Texas.
Delta Air Lines is adding service from the John F Kennedy Airport in New York – providing Saturday service in December, February and March.
United Airlines will expand service from Newark – providing daily service for every month, but January.
This new and expanded airline service will complement non-stop service American from Dallas Fort. Worth, Delta Air Lines non-stop service from Atlanta, Los Angeles, Seattle, Salt Lake City and Minneapolis, and United Airlines non-stop flights from Washington Dulles, Houston, Los Angeles, San Francisco, Chicago and Denver.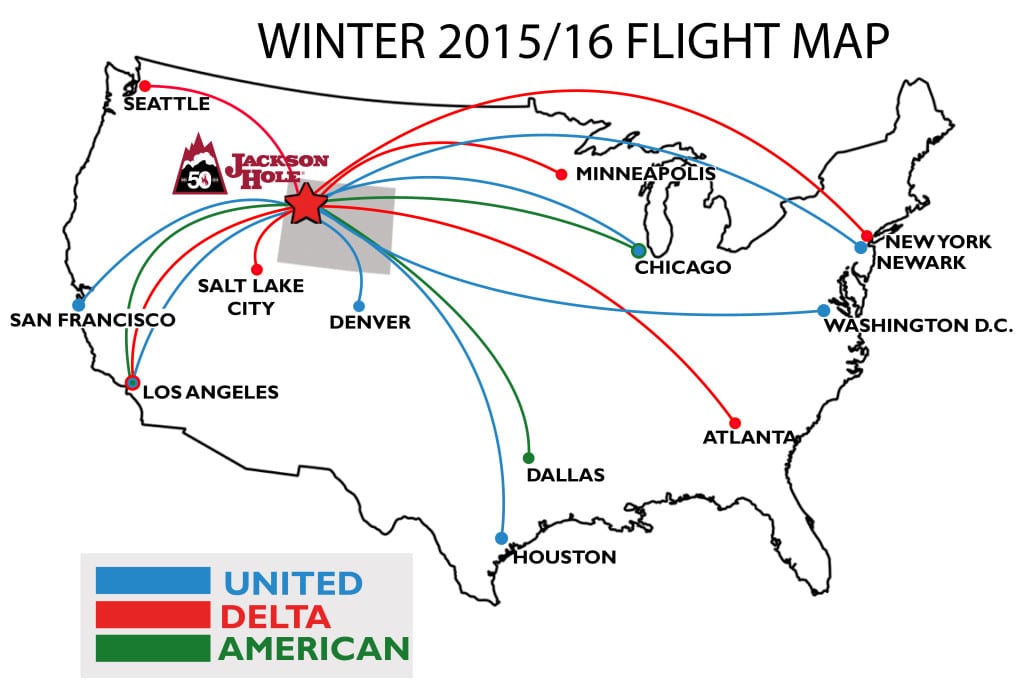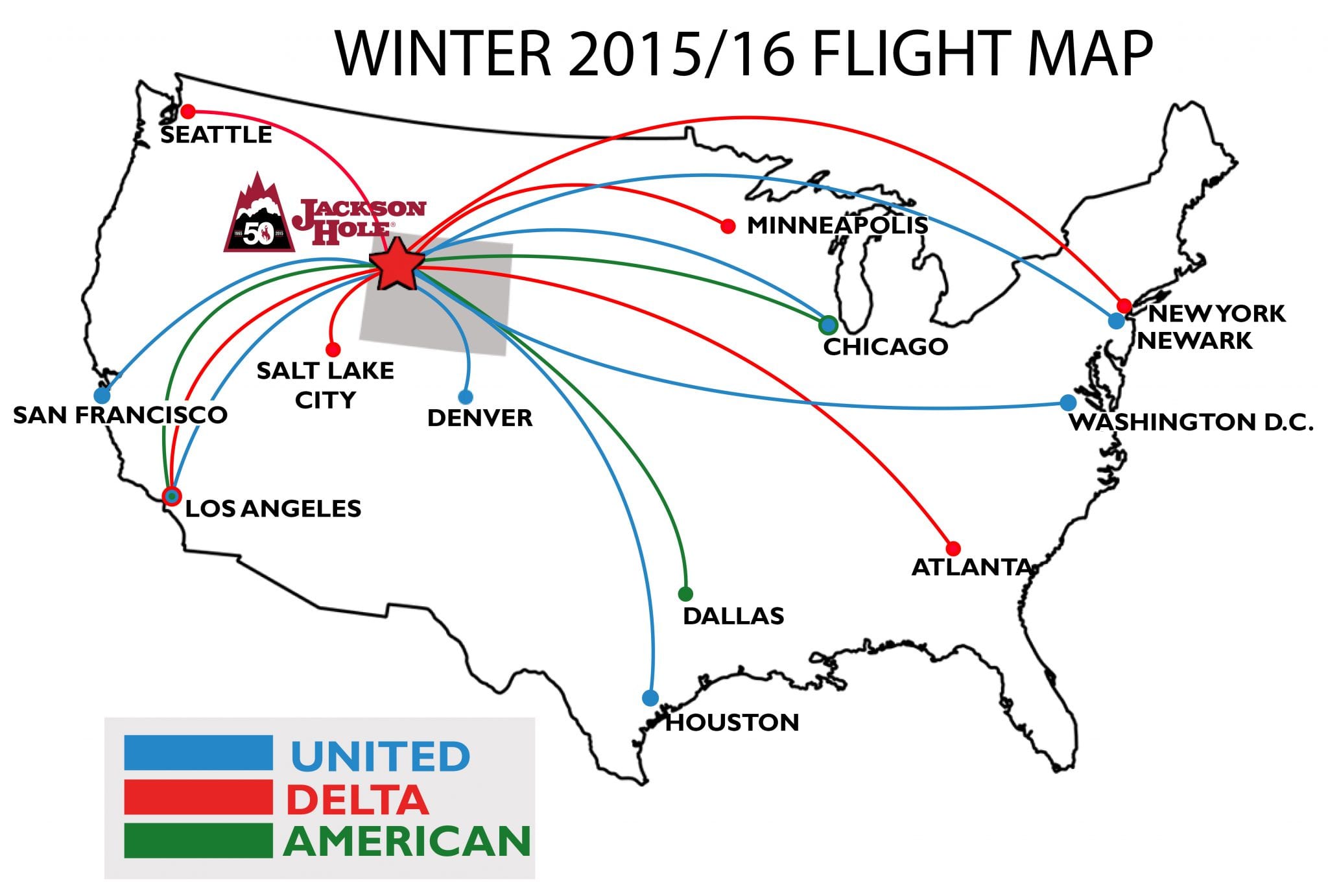 "More and more people are coming to Wyoming to enjoy the world-class skiing, Yellowstone & Grand Teton National Parks and western way of life. The broadening of airline commitment reflects the increasing desire by the public to visit Wyoming for recreation and business purposes, while providing our Wyoming citizens some great choices in air travel.
These new flights make Wyoming more accessible to travelers in the U.S. and travelers from abroad, and we welcome every guest," Governor Matt Mead said.
"We are excited to see American Airlines back in the Jackson Hole airline mix in a more significant way," stated Mike Gierau, Co-Chair JH AIR.
"Overall, our winter airline schedule, including Delta and United Airlines, reflects a step up in aircraft size and frequency beginning December 3, 2015.
We understand the customer preference is to vacation during the holidays seasons, but with the marketing focus by JH Travel & Tourism, JH Chamber of Commerce, JH Mountain Resort and JH Central Reservations toward stimulating off peak periods, we expect to absorb the increase in seats and spread visitor demand throughout the season, Thanksgiving through April 4, 2016."
Pete Lawton, JH AIR Co-Chair added, "Our market research (captured as guests depart through the JH Airport) showed steady improvement in all areas – and for the first time since 2008, our airline winter enplanements exceeded our benchmark season, adding an additional $10 million increased local expenditures, with guests staying in Jackson and Teton Village in equal numbers.
According to the research, the JH Airport experience has improved exponentially following the completion of airport construction in December 2014. We have world-class airline partners, providing 1-stop international world-class connections into a world-class airport. Jackson Hole, in every way, is a world-class destination," concluded Lawton.
"The additional flights are wonderful news for the community and confirms the investments made by the Airport Board in the terminal, making it one of the finest facilities in the country," says Jackson Hole Airport Board President Andrea Riniker.