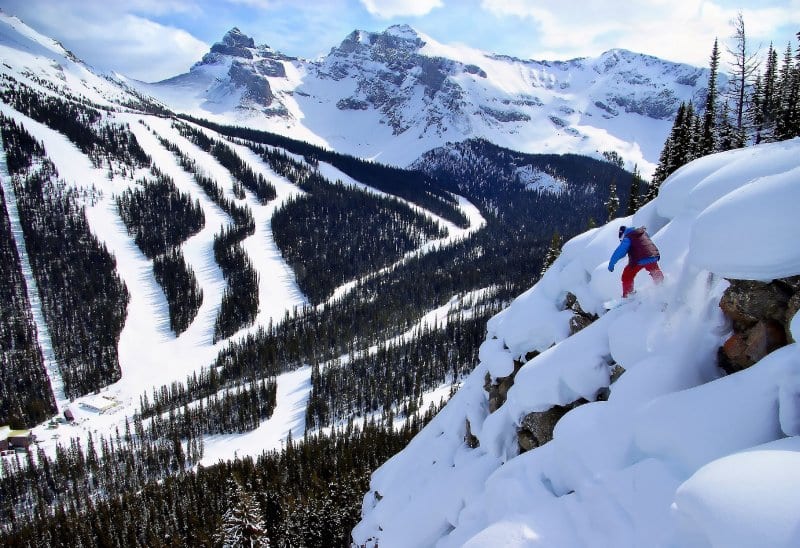 Sunshine Village in Banff National Park receives approval from Parks Canada to construct a new lift in time for 2015/16 ski season.
Sunshine Village in Banff National Park has received approval from Parks Canada to construct a new high-speed quad chairlift to replace the existing Tee Pee Town double chair that was built in 1979. The new chair will include heated seats, footrests and orange bubbles for wind and weather protection and will be the first chairlift of its kind in Canada.
"We are thrilled to announce that construction has started on the "hottest chairlift in Canada", said Dave Riley, Chief Operating Officer for Sunshine Village. "Sunshine is committed to delivering exceptional guest experiences and this addition to the resort will clearly demonstrate our focus on providing comfort and value to our guests".
Construction is already underway on towers one through six as well as the lower terminal foundation and will be finished in in the coming weeks, before the winter snows arrive. The balance of the construction work will be completed in the spring of 2015, over the snow to protect the fragile high-alpine vegetation. The chairlift will be fully operational for the 2015/16 season.
Construction in Banff National Park requires extensive environmental analysis and use of the best methods available in order to protect the natural resources. Environmental mitigation techniques include helicopter construction, use of a low-impact "Spyder walking excavator" which is designed to minimize vegetation disturbance, rare plant surveys and protections systems, temporary wildlife mitigation fences and removal and replacement of topsoil and vegetation where excavation for foundations is necessary.
As a unique measure, all excavated soils are being placed in hundreds of tote bags to prevent soil from spilling onto surrounding vegetation. The bags of soil will be flown out with a helicopter. "Our first priority is the integrity of the natural environment and we are very confident in the systems and practices we have developed in connection with the project", said Riley.
The new lift is supplied by Doppelmayr, an Austrian company, with major components coming from Canada, USA, Germany, Austria, and France. The construction crew is located in Kelowna, Canada. It will have an uphill capacity of 1,200 people per hour, and climb 397 vertical meters over 1,334 horizontal meters.
After an amazing summer filled with blue skies, warm temperatures and numerous wildlife sightings, earlier this week Canada's Big 3 resorts of Lake Louise, Sunshine and Norquay saw the first snowfall of the season, a gentle reminder that winter is coming.
October 31st is the anticipated ski season opening at Mt. Norquay and November 7th will see the Lake Louise Ski Resort and Sunshine Village re-open for 2014/15 winter operations (weather permitting of course).