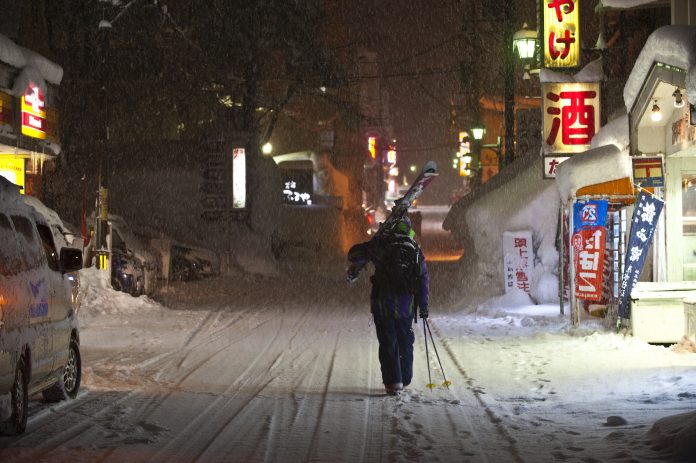 Mel and Oscar hit six ski resorts in the Myoko Niigata region of Japan. This is what they found.
The first thing that will blow your mind in Japan is the culture. That pixie-like voice on the PA system as you walk through the airport, the crazy efficient train ride into town, and the jaw-dropping amount of vending machines. The people, architecture, clothing, colours, bright advertising are all fantastic.
We fell in love instantly with this place and that was just on our one night layover in Tokyo before heading to Myoko Kogen region in Niigata for a ski and snowboard trip in the famous Japanese powder.
It's a super easy commute, we headed out first thing in the morning and jumped on the Shinkansen (the bullet train) to Nagano, before swapping to a local train to Myoko Kogen Station. All up this took a relaxed two hours.
Once we made it to our accommodation, Hotel Myosen, we were treated with a gorgeous traditional tatami mat haven, where we setup camp for the week.
Routine quickly followed, we would start each day in Panorama for a classic Aussie barista style coffee to kick start the day.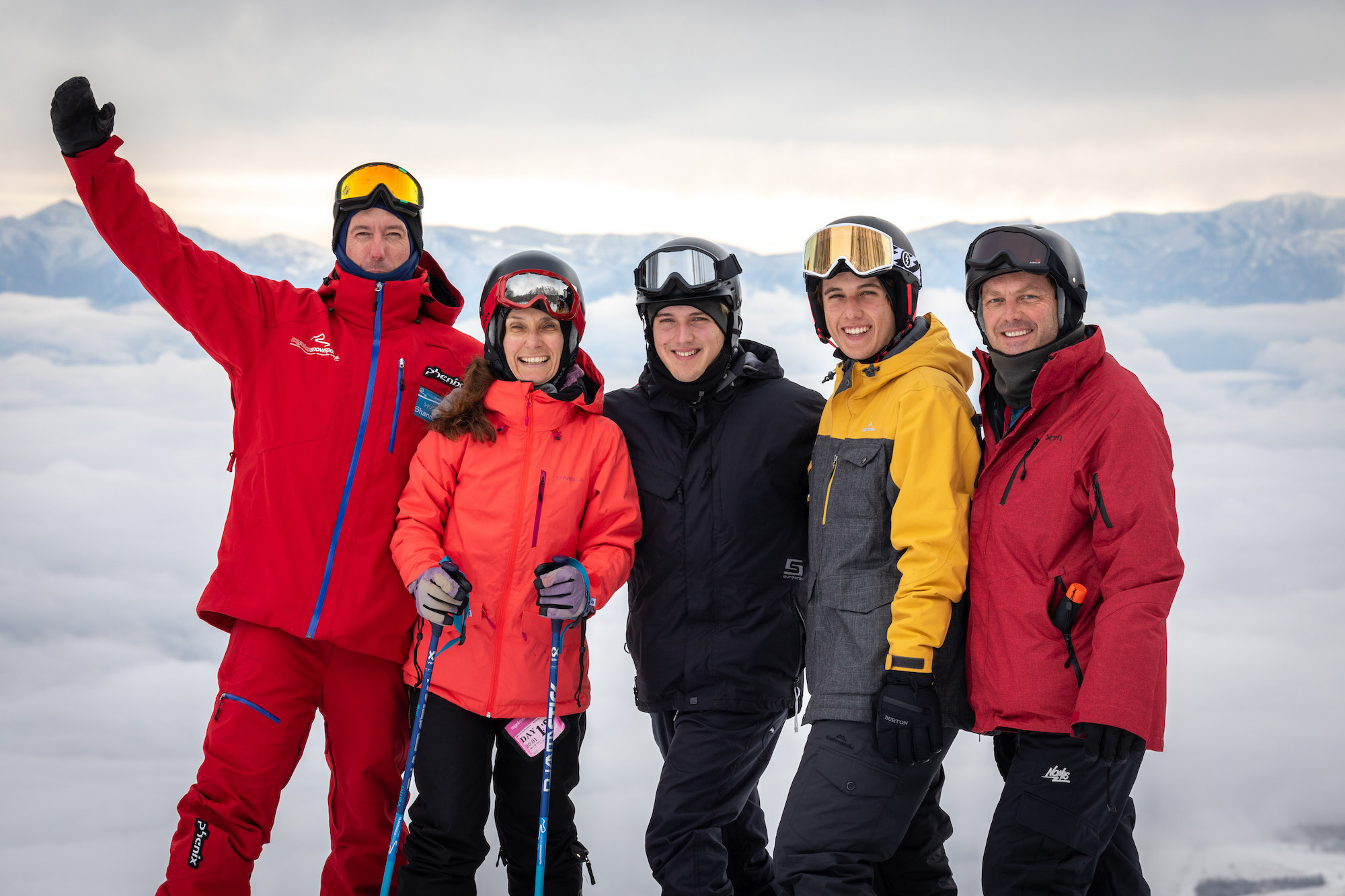 To help lighten the load, we hired our skis for the week from the crew at Myoko Snowsports. This meant we didn't have to lug around a heavy ski bag, and my mate George was so impressed with his skis that he went on to buy a pair afterwards.
The Myoko region is magical. Each day we were blessed with deep powder or blue skies. We would decide at dinner what tomorrow's adventure looked like and which resort would be best based on the conditions.
In Myoko Kogen we were constantly told to look at the snow forecast and triple it.
They were not wrong.
Truth is there are so many resorts to explore from Myoko Kogen that we were spoilt for choice, here are our favourites:
Akakura Kanko and Akakura Onsen, home base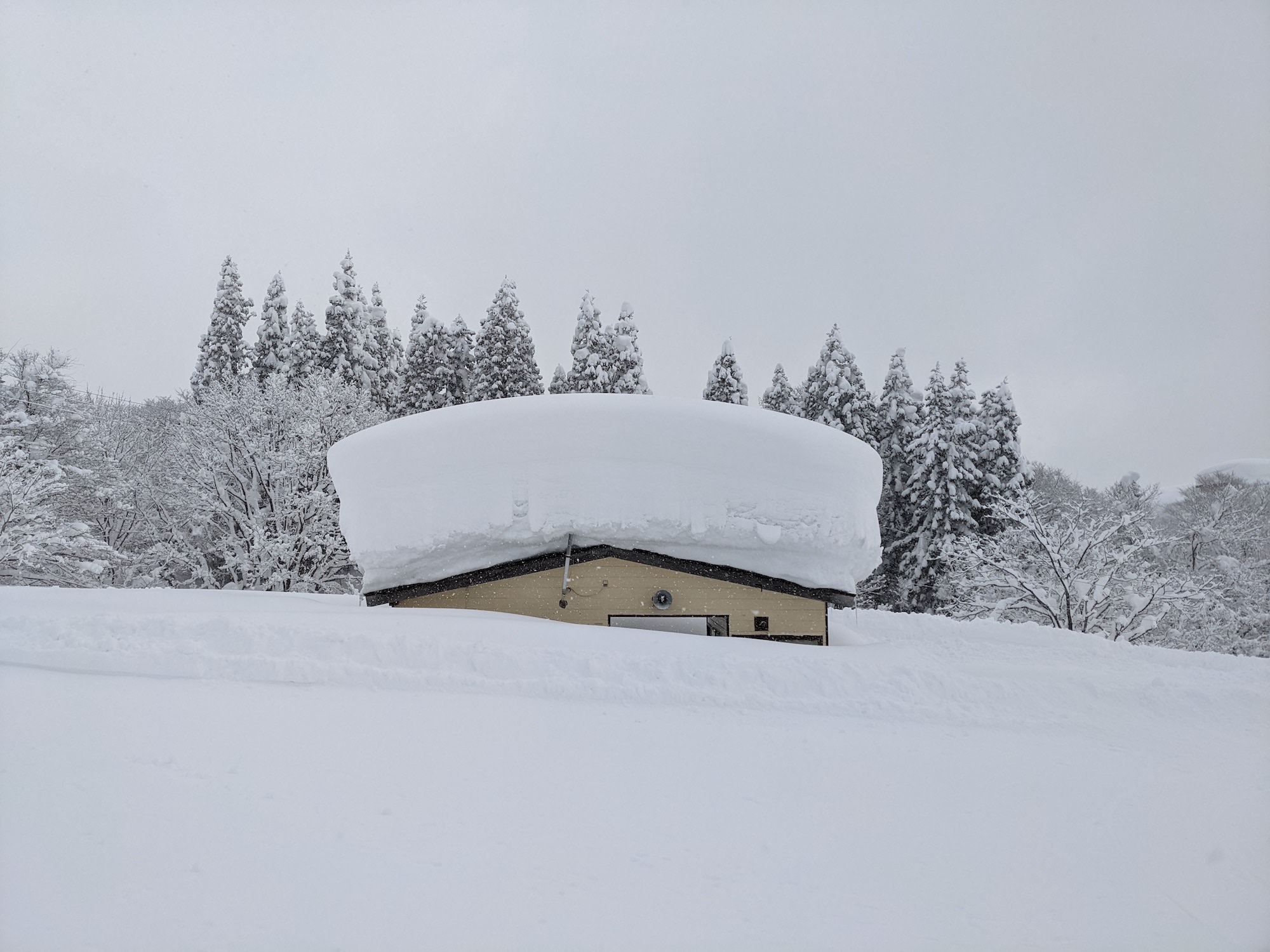 Our first day was spent exploring these two resorts at our doorstep, and getting our ski legs back. Once our limbs were back in action, we headed up to the 'top trees' and was fully infatuated for the rest of the day.
We literally lapped this one chair for four hours, scoring new lines and discovering fun little tree lines. When we eventually were forced to retreat, now running off only pure adrenaline, we knew it was time for a good quick feed.
This was where we found the best ramen bowl of our life. Located just below the top station of the gondola, the miso ramen here was absolutely to die for. We came back for the exact same bowl on our next day on this hill.
Ikenotara, possibly the most underrated resort in the region
Seriously one of the best days skiing ever. We felt like we had every tree run to ourselves, the perfect combination of cruisy undulating terrain, with limitless natural features to play on. Even at the end of the day we were still finding fresh turns and new trails.
Trust me, you won't regret checking out this little secret. There's a decent 4km run and the vertical is 760 metres all accessed by a quad chair and five doubles.
Lotte Arai Resort, one of the top resorts on our visit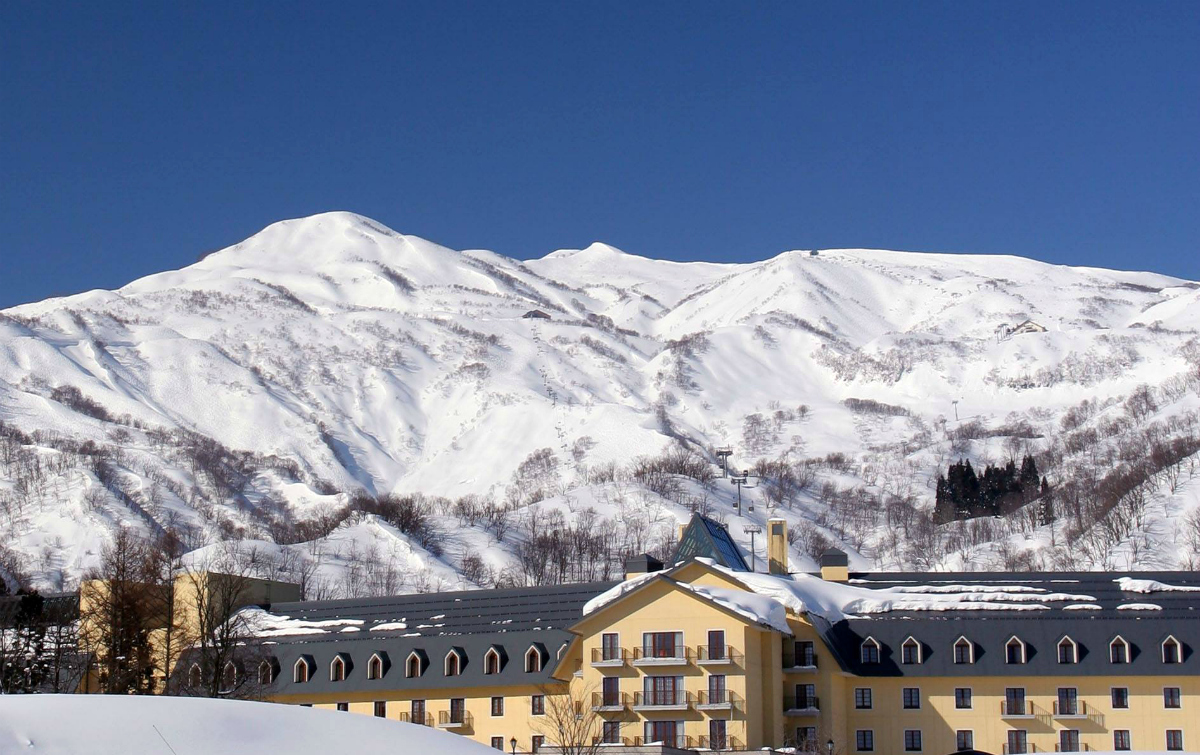 Arai, as it's known to the locals, is a lift accessed backcountry big mountain resort filled with big bowls and steep terrain.
This day we managed to accrue about 15 mates who were all fired up to hit the slopes. It was a perfect blue bird day, and we were shown around Arai by one of the ski instructors from Myoko Snowsports. Having a guide enabled us to discover some of the local spots that we would have never been able to find on our own.
This mountain did not disappoint with 950 metres of vertical (1100 metres if you hike the ridgeline). We arrived and went straight up to the peak of an endless gondola. It's not until you get to the top that you can appreciate the size and epicness of this resort.
We hiked up to one of the back bowls, an easy short hike, and dropped in to an epic run filled with pockets of powder. We kept traversing across cat tracks and dropping into bowl after bowl.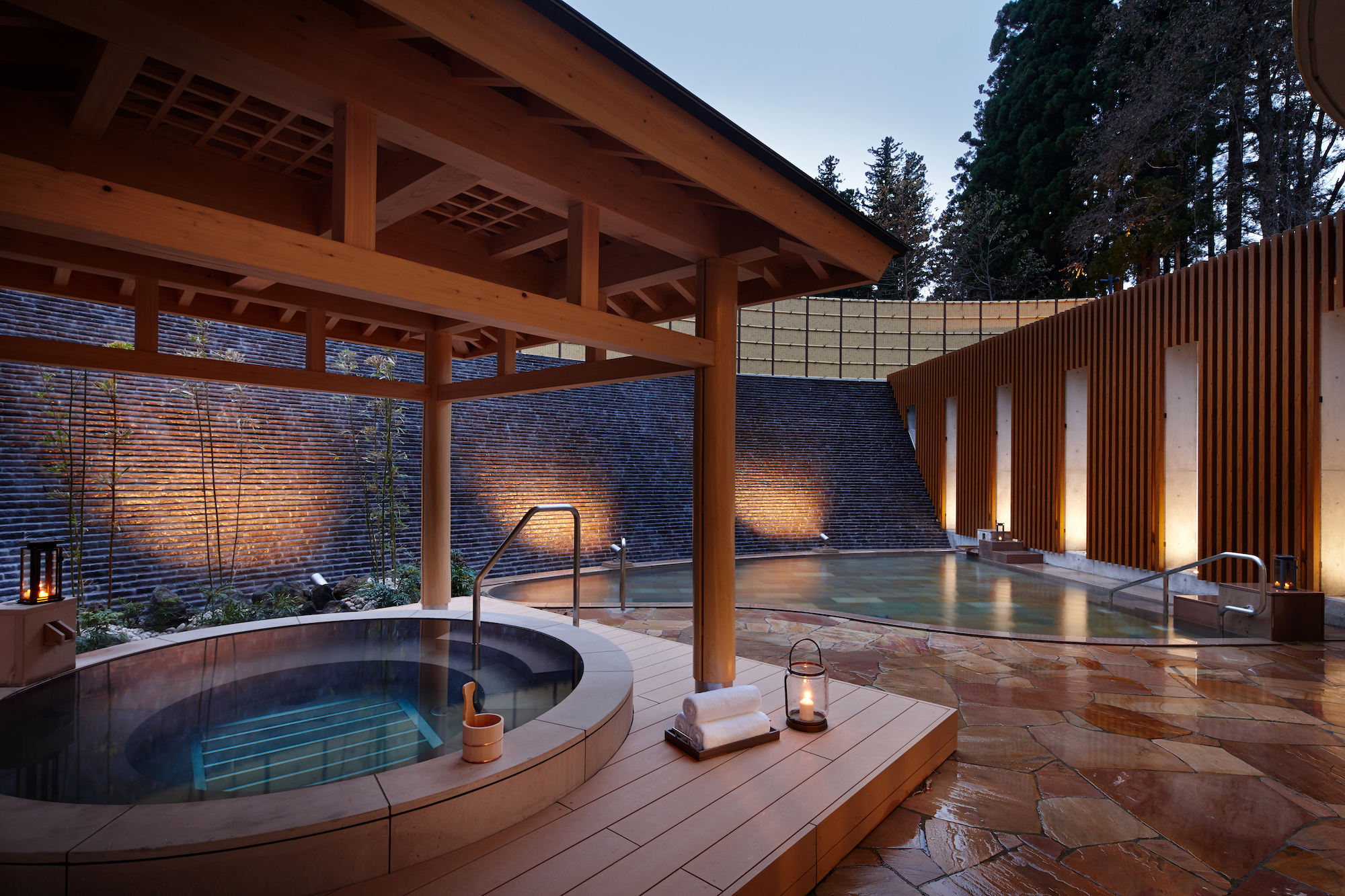 Just when we thought the day couldn't get any better, we found the onsen in the hotel at the base of the resort. This was no standard onsen; after ditching our clothes we were treated with a full bathing experience to remember.
Suginohara, the real 'Japow' experience
Definitely the deepest day of our trip, and an easy 15 minute bus ride from our hotel. This place has it all, fast gondolas to get you up the 1124 metres of vertical, perfect catchments to score some powder, crazy long runs (longest is 8.5kms) and a bunch of on-mountain restaurants to choose from. This resort seriously lived up to the hype.
Seki Onsen
If you want really old school Japan then Seki will deliver. It's a family run resort (the Dad is in the ticket office and Mum cooks on mountain lunch, the son and daughter-in-law are also everywhere). There's just two lifts but it's a total legend of an area for deep snow and powder skiing for advanced skiers and boarders.
Nearby
Madarao and Tangram, the golden duo
Madarao and Tangram are accessed on the one lift pass and a thirty minute taxi ride from Myoko Kogen. They're not technically in Niigata but close enough to include on your Myoko snow trip.
We got out early and arrived ready for the first chair.
Starting at Tangram. If you're new to tree runs and powder, you need to come here. The tree runs at Tangram are 'gladed' in summer, so you're treated with perfectly spaced trees to enjoy jibbing and popping around all the nature features. Even the terrain seems to be designed perfectly to play in, with natural halfpipes dotted around the resort.
To reach the top of the mountain at Madarao, you'll need to take a Japanese icon; a pizza box chairlift. Not for the faint-hearted, this single person lift sits you square on a one-by-one foot platform, only held up by one pole.
From the top, we were treated with another epic view (another day in Japan, another stunning view).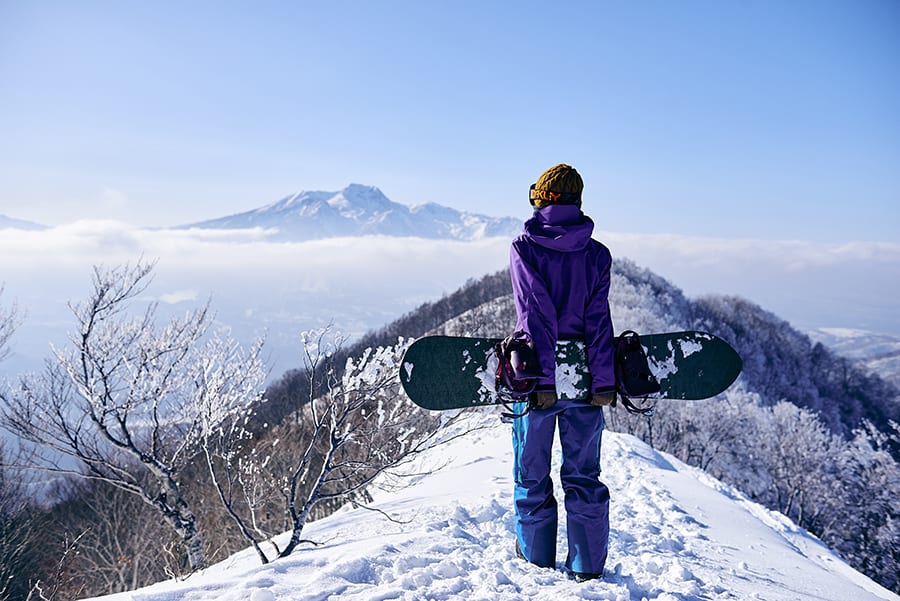 In Japanese fashion, we all finished the day with a cold Asahi out the front of one of the on-mountain restaurants. We kicked our feet up and soaked in the last couple of rays for the day, all still buzzing from another beautiful day.
Myoko seriously didn't disappoint. If you're after a taste of the Japanese culture, paired with a side of deep powder, this place will bring you the goods. Watch out Japan, we'll be back.
The Enjoy Niigata website has some excellent information about visiting the Myoko area.