Tareesa Straatman is a snowboarder, a really good snowboarder. An examiner and trainer with Australian Professional Snowsports Instructors, she's also the Snowsports director of GoSnow ski and snowboard school in Niseko, the official school for the Hirafu area and school of choice for the new ski in ski out Skye Niseko. 
Put simply, she knows her snow stuff.
For the past eight years Tareesa has been shredding the big powder lines of Niseko and beyond and calls Hokkaido her winter home. This is her Insider Guide to powder paradise.
Why Niseko
I had worked in a number of ski resorts in both Australia and the Northern Hemisphere for a good twenty seasons before coming to Japan. Over the years, Japan and Niseko's infamous powder & culture started coming on the radar as new destination for foreigners to come and work.
In 2010 I was heading back for my 6th season at Whistler and decided with the Olympics on that year, that I would give the hustle and bustle a miss and do something different.  That was 8 years ago now, and I haven't looked back since.
Favourite run
My favorite run in the North Face bowl from the top of Annupuri Peak. It is a lesser known area, which is easy to get lost if you don't know where to go, this seems to keep a lot of the traffic out and I can usually head up there late in the afternoon and get fresh, super dry tracks all the way down. 
Where do you head on a powder day
Niseko is actually a really huge resort which is made up of four inter-linked ski resorts, on top of this there is also around 50% of the Annupuri mountain which is accessed via the gate system & opens up a whole world of easily accessible back country. On a powder day, I am usually looking at the wind & snow stability and choosing one of the many runs on offer out the gate system.
Après
Mick's Wine bar next to the traffic lights in Hirafu Village. Mick has an abundant range of imported rare wines, his knowledge & passion for wines and craft beers is always a great experience to be involved in after a long day on the mountain and he does a great cheese platter too.
Favourite on mountain dining
Boysa which is located above the Holiday Pair Lift on the Hirafu Gondola. They offer traditional Japanese meals, like Udon, Ramen & Katsu-don.
Favourite village dining
Ebisutei in the lower village is an amazing Japanese Izakaya. The owners and the staff are all locals, and very welcoming, their sushi platters and special salad shouldn't be missed either.
Must do activity
Onsen, Onsen, Onsen! It's by far the most uniquely Japanese and special experience you can have. There are so many beautiful hot springs in the area, with different mineral properties & health benefits. You could onsen every day and a new location and would experience something different each time.
Best Breakfast 
Ginger serves up the best western style breakfast in my opinion. I am always a sucker for an Eggs Benedict, and they always cook it just right.
Where would you go for date night?
Probably Micks wine bar for cheese and wine followed by a nice meal. Depending on what you're in the mood for there are a lot of different styles of food available ranging from Japanese, Mexican, Indian, Italian. Or if it was a powder night, I'd head to the slopes for some night lit tree riding powder laps.
Best day side trip 
For me it's all about making day trips to hike the many easily accessible backcountry mountains in the area, Shirebetsu-dake, or Chisenpuri-dake, Nitonapuri-dake to name a few offer amazing views of the ocean and mountains for anyone willing to put the effort in.
If hiking isn't for you the coastline taking the drive through to Iwnai to the rugged coast line of Shakotan Peninsula is absolutely so stunning, and such a dramatic change from the mountains of the Niseko area.
Best shopping
Rhythm located on the Hirafu Main Street (Hwy 631) has a huge range of ski/snowboard equipment and accessories.
Where do you take visitors to impress them?
Anywhere outside. The landscape of this area is absolutely stunning, especially on a day the peak is out. If they can ride, a trip to the Annupuri Peak is a must do.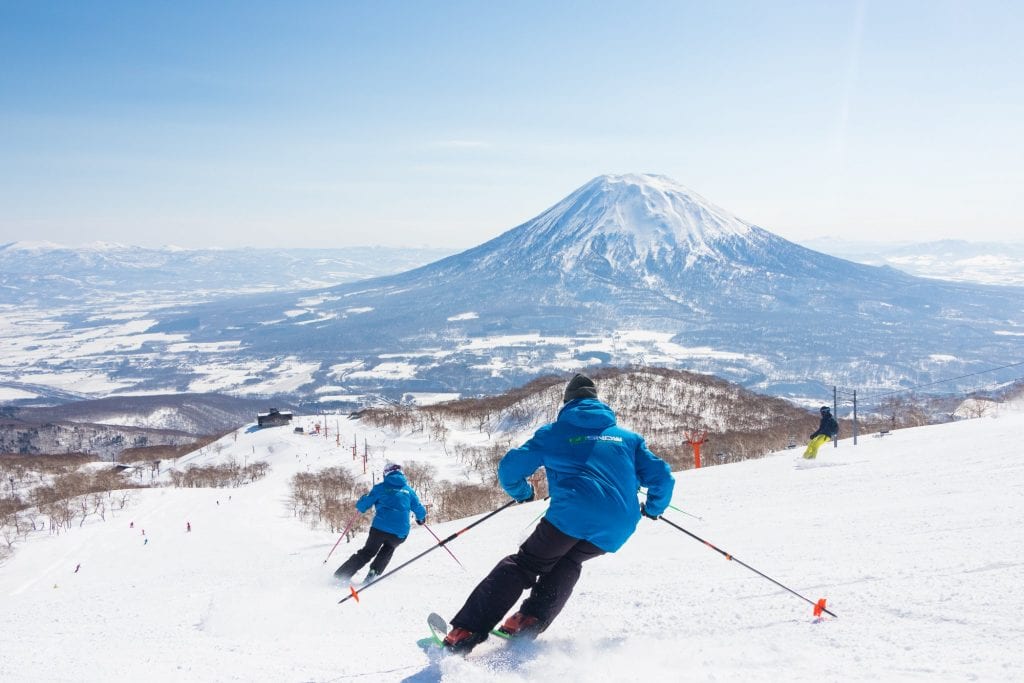 Best activity for kids
NAC climbing center is a great place for families to go if the weather isn't great or you have had enough of skiing but the kids still have some energy. They have a great bouldering and climbing course as well as an indoor play center. Mum and Dad can chill out and enjoy a little après and take in the views of Mt Yotei too.
What should visitors not leave your resort without doing?
Get out on the mountain, the snow here is world class and even if you are not yet a skier or snowboarder there are many passionate people here that can teach you what to do. Japan has some of the best conditions in the world for people to learn skiing and snowboarding and in my opinion you cant come to Niseko without giving it a go. 
If you are an experienced rider, brave the cold and go for a night ride, there is an incredible amount of terrain on offer from green runs to black trees. It's really an amazing experience.
What item should visitors take back with them?
There are quite a few local Sake Breweries in the area that make a good drop, and not to mention the Yoichi Nikka Whisky Distillery that you can buy some drops not sold outside of Japan. 
If alcohol is not your thing, getting a hand made Yakuta will surely be a keep sake and memory you would treasure for a long time.
Need more? Check out our Insider Guides to Japan.