Europe has had some major snow this season. Correction, Austria had some major snow this season in January and the USA had tons all season. Metres and metres and metres worth and with that snow came all sorts of big snow immersion style dangers and avalanche deaths. 
It is, however, vitally important not to point fingers of blame when tragedy does hit snow fields around the world as it has this season. It could easily be any of us given the same circumstances and shame culture can get in the way of data collection. Every tragedy provides key learnings and when tragedies are not reported due to shame, then learnings can be missed.
Skiing and snowboarding in Europe is different to North America and, of course, Australia. Many resorts are above the tree line, glaciers are common and you can ski from one country into another for lunch and back again. 
However, understanding the European difference between piste and off piste is integral to staying safe. 
Piste and off piste – what's the difference?
If you ski or snowboard at a ski resort in North America, New Zealand and Australia you ski on and off piste within the resort boundary. Ski patrol monitor everything groomed (piste) and ungroomed (off piste) within that boundary.
That's why some off piste areas of a resort remain closed until patrol have avalanche controlled that area and open it with mitigated risk. If you get yourself in trouble in a patrolled off piste area, help is always at hand. Off piste is considered advanced terrain, often filled with powder or trees, but always monitored by patrol.
If you ski under the ski patrol ropes or marked runs that are closed then you are liable, because it is closed for a safety reason, but ski patrol will still find you and help. While the majority don't ski with avalanche gear while skiing in bounds in North America, the prevalence of in bounds avalanches and snow immersions during big storm cycles is forcing some safety conscious skiers to change that habit.
But the point remains, skiers and boarders perceive themselves to be 'safe' while in the resort boundary.
Now, put yourself in Europe. Ski off piste here and you are literally skiing anything off the marked run. You may be able to see the chairlift, even reach out and touch the groomed area next to you, but if you're not on it, then you're off piste and in your own hands. So when you read that someone was skiing off piste, they may have only been metres from the groomer or on a patch of ungroomed snow within a groomed run.
The real off piste in Europe, though, is generally what we call backcountry, side country and slack country in America, because it is unpatrolled, there is no ski patrol mitigating that risk, like they do in what we call off piste back home. 
You can access mammoth amounts of off piste terrain in Europe through gates or simply jumping off the groomed run to access unpatrolled faces of powder. It's easy to get to or find yourself in without even realizing you may now be in trouble.
Following tracks in these big alps can also get you in big trouble. Just because someone went before you doesn't mean you'll know how to manage the terrain when you get there. Off piste in Europe comes with consequences and if you get in trouble there is no ski patrol sweeping the area after last lifts to find you.
Though thankfully they will come and get you if you ring and alert rescue to your location, which is why it's important to put the phone number for the police, ski patrol and off piste rescue into your phone when you arrive at a resort.
Code of off piste ski conduct in Europe
If you ski or snowboard on piste at a resort in Europe then you must abide by the FIS rules for conduct. 
Thankfully the Ski Club of Great Britain have written their own rules of off piste conduct for anyone considering skiing or snowboarding in the European Alps. The key points they list include:
Never ride off piste alone
Always wear a transceiver in full working order and in send mode. In addition, carry shovel and probe.
Consider using other safety equipment such as an airbag for example
Seek out the current avalanche hazard forecast and snow pack analysis
Gain an understanding of the snowpack and how snow changes on the ground
Choose lines and routes that avoid avalanche prone slopes
Ride slopes one at a time if you are concerned about stability
Respect other slope users, particularly those below you
Respect concerns of others in the group or those less able and experienced. If anyone wishes to leave the group facilitate it in the safest and most considerate possible way
You are responsible for your own safety, the safety of others in the group, the safety of other mountain users and for your own equipment. It is normal to have insurance that covers rescue away from the piste which may require a helicopter evacuation
Never be afraid to back off
Exercise great caution when avalanche hazard level is higher than 3 and limit activities accordingly
We would add that employing a local, qualified guide to ski or snowboard with would also be a top priority.
Understanding avalanche risk in Europe
In Europe, avalanche risk is graded from 1 (low) to 5 (very high). The avalanche signs on the slopes will also be colour coded from yellow (low to moderate), checked black and yellow (considerable to high) to all black (very high).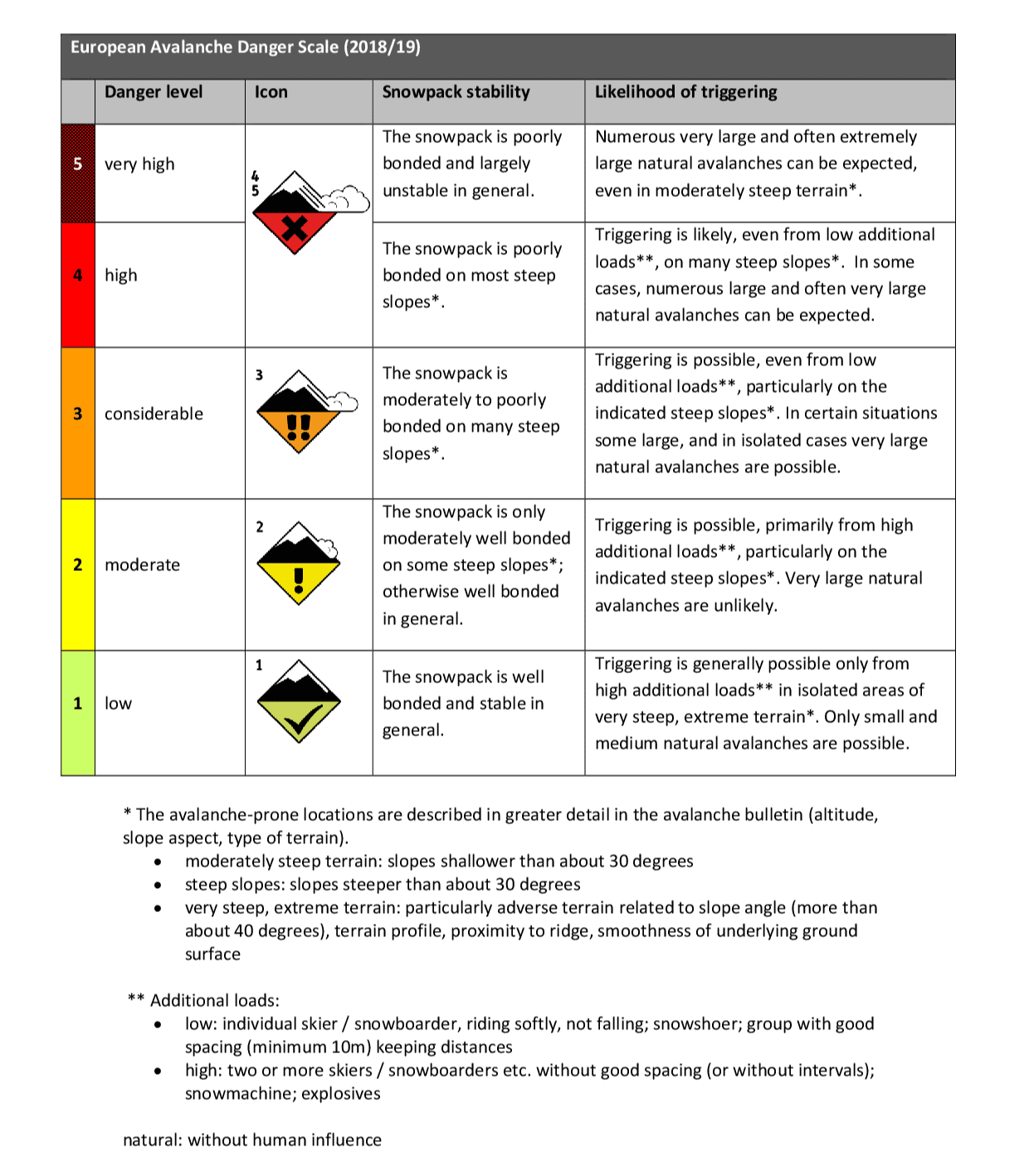 Ensure you've checked with the resort website, local avalanche safety sites and weather sites to know the conditions on the day you are skiing or snowboarding.
If you don't know then don't go.