We sent Jen Houltham to Cardrona in New Zealand check out the new PE Nation snow range on their fashion shoot and meet the women behind the brand.
If you were to look up 'cool' in an urban dictionary, you'd probably find a picture of Pip Edwards and Claire Tregoning. The two friends from Sydney are best known for taking activewear to the streets with their athleisure label P.E Nation and man oh man do they make it look good. 
P.E Nation clothing is bold, heavily branded, and pushes the limits of athletic and streetwear – it highlights the best of Bondi and brings it to the world. The label started with premium women's sport/streetwear, and has since expanded to technical activewear, yoga, swim, menswear and now, uh, snow.
I have to admit, when I heard P.E Nation were collaborating with DC on a snow outerwear capsule to be launched in time for the northern season, I was sceptical. How on earth do you take the P.E aesthetic and make it the must-have outerwear on the mountain? And what on earth do two beach goddesses from Sydney know about the ski industry?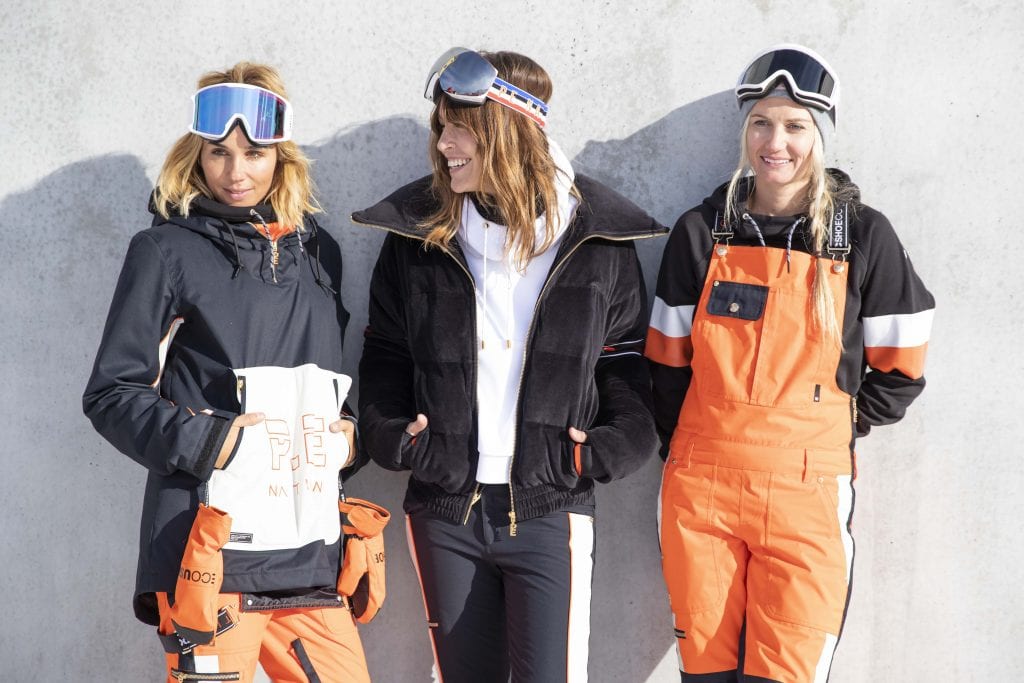 Well, it turns out, they do know about some things. Both Tregoning and Edwards are skiers, and have been for a very long time.
"I think I was 4 years old – my first memory is actually in between my dad's legs doing a pizza, and I had the best time!" says Tregoning.
Let's be fair – they do both still look straight out of polished Sydney as they stroll onto the slopes of laid back Cardrona in regional New Zealand, making sure to get a few pics for the 'gram as they head for the lifts. It's not their first rodeo, either. The two friends come to the region most years for a group ski trip, with a gang of models and influencers in tow in partnership with Lake Wanaka Tourism.
Their love of skiing ("we absolutely die for it") is what led the P.E Nation team to their collaboration with DC. It began organically, as these things do in farshun circles – they just happened to be wearing DC on one of their Wanaka trips, then posted about how much they loved the gear.
Then one thing led to an insta other and voila the two brands began working together. In hipster land that's called a colab. 
The end result is a capsule (in this instance, for the non fashionistas, that's a small collection of clothes not a medical term) full of bright colours, big branding, flattering yet tomboyish lines, coupled with technical, performance outerwear. In other words, it looks pretty damn cool, and it's also going to keep you warm and dry. 
"Apart from changing DC's block slightly, we've just used a lot of what DC are already doing. They know what is out there, they know what needs to be done. So we've relied on their technical, and just amped it up in a P.E way. We've put our colours and our branding to it," says Tregoning.
The DC colab capsule is also being released with a PE Nation branded Woolmark range of mid and base layers and underwear.
"There's all these sexy, amazing turtlenecks and skivvies, things that you wear underneath. So you've got your tomboy outerwear, with your sexy underwear, bringing the femininity to the masculine," says Tregoning.
So there's the premise – tomboy outerwear, feminine mid and under layers. But are the garments practical, and will skiers and snowboarders want to wear it? It looks good, but is the average snow girl even going to be able to get those skinny pants on?
DC snowboarder and Wanaka local Stefi Luxton flew in from the States to try the gear. In Tregoning's words, "she f*cking killed it" (that's farshun speak for 'you go girl'). The on-snow photoshoot is impressive – handplants, euro-carves and not a torn seam in sight. 
"I think that's what's missing out there – it's that bold, branded, kind of retro ski gear" pipes up Tregoning.
The fitted "Viva" pants are soft and stretchy (to, you know, go over our lovely lady lumps™). The "Collective" big pants have a little more tech to them for gear nerds, plus the added bonus of no snow all down you – unless you wear them with the top down like Edwards for added 'street' cred that is more Euro than schnapps at après.
The garments all comes in regular people sizes – XS, S, M & L (though we'd like to see an XL to match that XS) and as an added bonus it comes in almost regular people prices. The outerwear is all in line pricing-wise with the current DC line. So you'll be able to don a slice of Sydney on the slopes of Sierra without completely breaking the bank to do so.
Will we see the Kardashians wearing it at Big Sky Montana, Aspen or Vail? "You never know," laughs Tregoning who probably does know as the Kardashians regularly sport PE Nation on the gram. 
Now, we all just have to wait for it to all go online in October and then nab us one of those anoraks, or the shoes, or the bib, or, or, or…
The Nitty Gritty 
The P.E x DC capsule will be online via pe-nation.com and Net-a-Porter from October
All outerwear is 10K – 15K waterproofing
There are currently 7 items in the P.E x DC capsule (including shoes & accessories), with plans to expand in the future