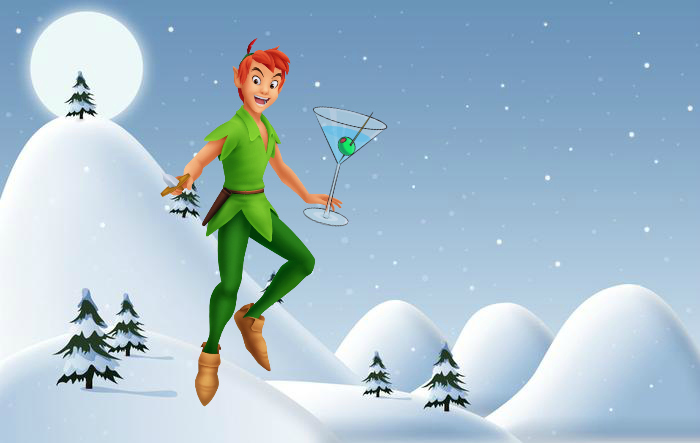 If you're single and spent time in a ski town then chances are you have met Peter/Peta Pan.
But then, who wouldn't want to live in Never Never Land, where forever never ends and all you need is faith, trust and pixie dust? Where a boy with buff quads in tights fights pirates and tells you to leave the world behind and bid your cares goodbye?
For many, male and female, Never Never Land is alive above the snow line in the ski mountains of North America, Europe and beyond. The boy (or girl) with quads wears thermal tights under his or her snow gear and winks at every new Wendy or Peter that arrives. The pirates are the establishment and the only decision to make is which strain of weed to smoke that day.
Some come to escape reality for a week, others escape it for a season and then there are the lifers who get lost in Never Never Land and can't find their way out. Before they know it they've misplaced the key to the door and remain in the pursuit of youth (theirs and others) on a forever winter cycle.
Chances are they love the high of connecting with constant new people that require no long term commitment and therefore no authentic connection as they arrive on week long holidays ready to forget their own lives back home. They meet in a bubble halfway between sleep and awake until one leaves or the season ends and the bubble bursts.
Thank god for drugs and alcohol to keep the mind numbing bubble state going. They work for a ski pass in minimum wage positions and feel most alive when on top of a mountain far from the madding crowd of debt collectors, broken hearts, family dysfunction, a world gone social media mad and the shame that comes simply with living in our society. Who can blame them?
Resort towns are built for fantasy and a belief you can have it all, no limits allowed.
Throw yourself down a mountain at mach speed on skis or snowboard and survive, throw yourself off a bridge with a bungee rope around your ankles, take to the skies in a helicopter and skies strapped to your feet, celebrate with shot skis, Jaiger bombs, dance till dawn, chill out with edible weed cookies sold legally from a dispensary, then throw yourself down the hill again.
For a week it's awesome fun, after a season you'll need rehab. But a life time? Well that is just plain sad in a truly heart wrenching way. The kind of way that makes me want to pluck every Peter (and Peta) Pan out of harms way and hug them till their cracks are cured. Many times I've tried, without success.
The lucky few discover there is life affirming reality in the mountains that surpasses any artificial high. The majesty of mother earth pushing peaks to the sky, the beauty of wild flowers pushing up after the snow melt, the grace of flying eagles, the purity of water stepping down cliff faces.
They may go on to build a real life in the ski town where they first went to lose life, leaving their tights under the bed as they take on career roles or build businesses dedicated to the mountain way of real life creating craft breweries, outer wear companies, snow travel apps and more.
They become ski town lifers attracted to a sense of community they didn't realise they were lacking or searching for originally. A 9 to 5 lifestyle may not be for them, and why should it be? Finding meaning in a lifestyle that works for you can take time and you may not know what that looks like when you first arrive in the mountains.
Meanwhile forever Peter and Peta Pan are left licking the 3.00am cocaine baggy trying to keep the season long party going long after it died in a bid to "go to neverland and never come back till forever ends."
As a ski journalist I have met my fair share of Peter Pans, I may even have been a Peta myself. Travel journalism doesn't exactly invite commitment, rather a string of burnt out flings that never last the long distance.
Let's be honest. Ski towns don't create Peter/Peta Pans, you'll find them in cities too, but they do create a fantasy environment in which they can freely move and be validated. The damaged disconnected souls were damaged long before they bought a season pass and a room in a share house walking distance from the chairlift, the bottle shop and the weed outlet.
Connection is hard, especially when connection has been painful in the beginning of life and the formative years that follow. Disconnection is easier and perceived to be less painful, for the disconnected person that is, but not the person trying to connect with them.
I have never liked the 'odds are good but the goods are odd' saying about men in ski towns, the same way I don't like women who put all men into the one hating basket simply because they had a bad experience with one. Being disconnected is not exclusive to one gender but it would appear it is high in resort towns and it can lead to depression which can lead to tragedy.
Who am I to tell someone how to live the one life they've been given, Peter or Peta? We all walk to the beat of a different drum.
But I will say that if you're looking for unicorns, rainbows and fairy bread then head to "the second star on the right and straight on till morning" because you won't find them in a ski town unless you're drinking the 'cool aid'.