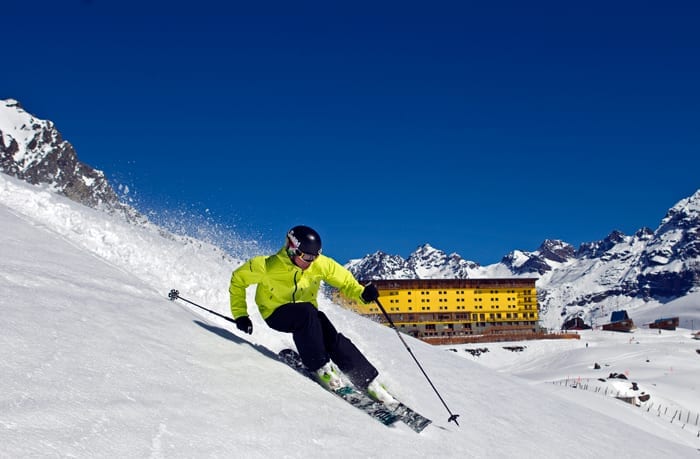 PRESS RELEASE: South America's most renowned ski resort, the iconic Ski Portillo, Chile, announced it is putting a freeze on prices. All Ski Week prices for the 2015 ski season, from June 20 through Oct. 3, 2015 Ski will remain the same as 2014 prices.
From July 4 – July 31 guests can save up to 20% off their ski vacations as ski weeks include complimentary ski rental and group lessons with the renowned Portillo Ski School.
The 2015 season will also mark the completion of the renovation of all lakeview guestrooms with a contemporary with a sleeker, more contemporary room design that includes unique Chilean touches such as sustainably grown Lenga wood walls and ceilings and Chilean sheep wool throws.
Kids ski, dine and stay free
While many resorts offer certain weeks when kids ski free, Ski Portillo offers the following weeks when kids ski/dine & stay free. One kid free per adult during the following weeks:
Jun. 20 – Jun. 27; Jun. 27 – Jul. 4; Aug. 29 – Sept. 5; Sept. 5 – Sept. 12; Sept. 12 – Sept. 19; Sept. 19 – Sept. 26
Accommodation options
Hotel Portillo – The iconic yellow-hued grand Hotel Portillo offers the ultimate in South American comfort and convenience. Accommodations at Ski Portillo are myriad, with different advantages for couples, families with children and groups of friends. Guests can choose from valley-view or lake-view double units, or family apartments accommodating up to six guests.
The Octagon Lodge offers rooms with two bunk beds (four guests) and a private bathroom.
The Inca Lodge: The no-frills Inca Lodge offers smaller rooms consisting of two sets of bunk beds with communal bathrooms.
About Ski Portillo
For 65 years, Ski Portillo has seamlessly united the spectacular beauty of the Chilean Andes, the pure joy of skiing and snowboarding, the camaraderie of friends and family, and the resort's unique brand of hospitality and service, delivering unforgettable vacation experiences where guests create the memories of a lifetime. Ski Portillo was awarded the best ski resort and best ski resort hotel in Chile at the 2013 World Ski Awards.
Visit www.skiportillo.com for more