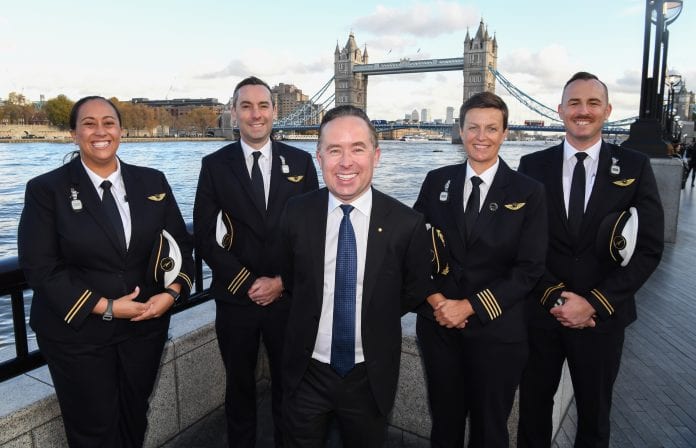 Qantas is on a roll. After flying direct from New York City to Sydney on a recent research flight, the airline is preparing for its second ultra long haul flight tomorrow. 
The research flight will have around 50 passengers and crew. This will ensure the new 787-9 Dreamliner will have the range required for the 17,800 km flight, expected to take around 19 and a half hours.
The airline has re-purposed the delivery flights of three brand new 787 Dreamliner aircraft, which would otherwise ferry empty from Seattle to Australia. A third research flight, repeating the New York-Sydney route, will take place in December.
Qantas has named these ultra long haul endeavor flights "Project Sunrise" after the airline's historic 'Double Sunrise' endurance flights during the Second World War, which remained airborne long enough to see two sunrises.
Tomorrow's flight marks only the second time in history that a commercial airline has flown direct from London to Sydney. The first was 30 years ago in 1989, when Qantas operated a 747-400 ferry flight between the two cities.
Researchers from the University of Sydney's Charles Perkins Centre as well as the Cooperative Research Centre for Alertness, Safety and Productivity (Alertness CRC) will again travel on the non-stop Dreamliner flight to collect passenger and crew data.
The findings from all three research flights will be used to inform future service and product design, aimed at increasing wellbeing and comfort during travel on long-haul flights – in particular the direct flights Qantas hopes to operate on a commercial basis between the east coast of Australia and London and New York.
"We know that travellers want room to move on these direct services, and the exercises we encouraged on the first research flight seemed to work really well. So, we're definitely looking to incorporate on-board stretching zones and even some simple modifications like overhead handles to encourage low impact exercises" said Qantas CEO Alan Joyce.
Passenegers will board at 6am London time and will eat supper at breakfast time to encourage sleep mid morning which will reset their body clocks to Sydney time. 
Cabin lighting and temperature, stretching and meditation will also play key roles in the research.
Airbus and Boeing have pitched aircraft (the A350 and 777X respectively) with the range to operate Project Sunrise flights on a commercial basis. These pitches, together with findings from the research flights and other streams of work, will form part of a business case being developed by Qantas to inform a final yes/no decision on Project Sunrise expected by the end of this year.
If approved, flights could start as early as start in 2023.