There are some ski destinations that are almost too magical to be believed. Like stepping out of the real world and into a movie, where the snow is a brighter white, the air is fresher, and the adventures await.
Schilthorn is one of those places. The Swiss ski destination is so out-of-this-world that in 1969, it was the star of the James Bond film "On Her Majesty's Secret Service'.
Over 50 years later, it still has to be seen to be believed, with some of the most spectacular views to be found at any resort in the world. And you know that if it's good enough for James Bond, it'll be good enough for your next ski destination.
Here are the best James-Bond-worthy adventures to be had at Schilthorn.
Film your fastest and steepest moments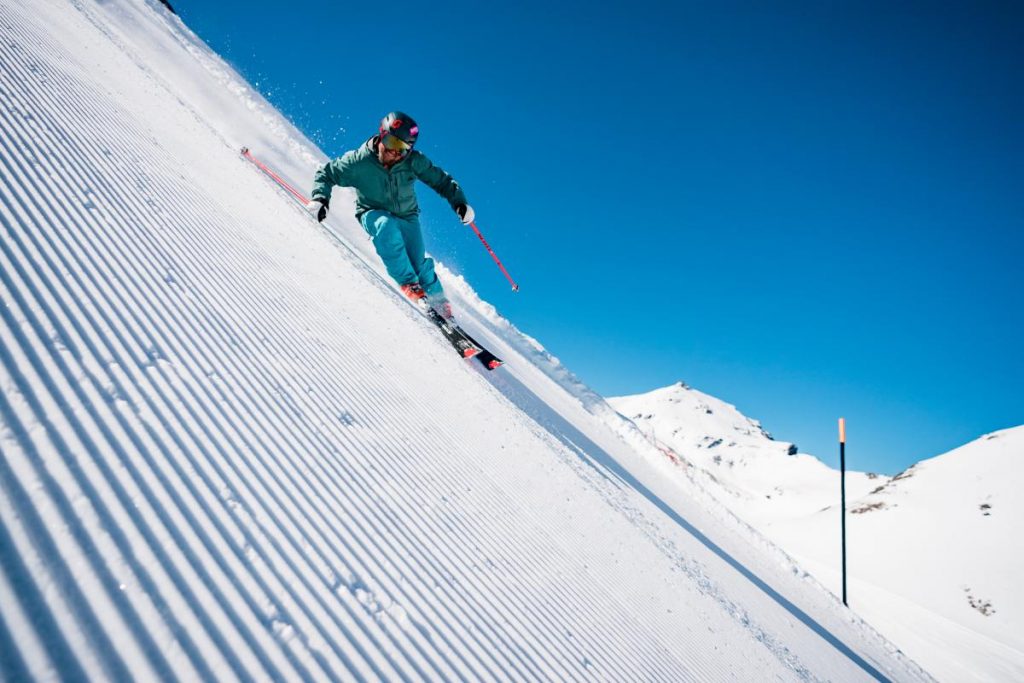 At almost 3000m above sea level, Mürren – Schilthorn is the highest ski area in the Bernese Oberland area. Thanks to this, you're sure to get decent snowfall, with the season stretching from October all the way through to the end of April.
There are 50km worth of pistes of explore, with the slopes in the Schiltgrat area geared up and ready to go for thrillseekers. Keep an eye out for Piste No. 9 – named 'Direttissima', a climbing term for the uninitiated – it has a gradient of 88 percent and will leave you holding on tight to your ski poles as you travel down the 400m of slope.
For the thrillseekers, there's also the Skyline Snowpark, full of features with the best views; or the Skimovie, a facility at the Maulerhubel chairlift which films each of your runs with two fully automatic cameras. Your time is recorded by the installed time measurement system, inspiring you to go faster.
But it's not all nail-biting moments in Schilthorn. All levels of skiers and boarders are covered here; beginners can make their first turns at the ski school grounds, directly in the stunning car-free mountain village of Mürren; and kids will love the Kidsslope on the Allmendhuben.
Have lunch in the revolving restaurant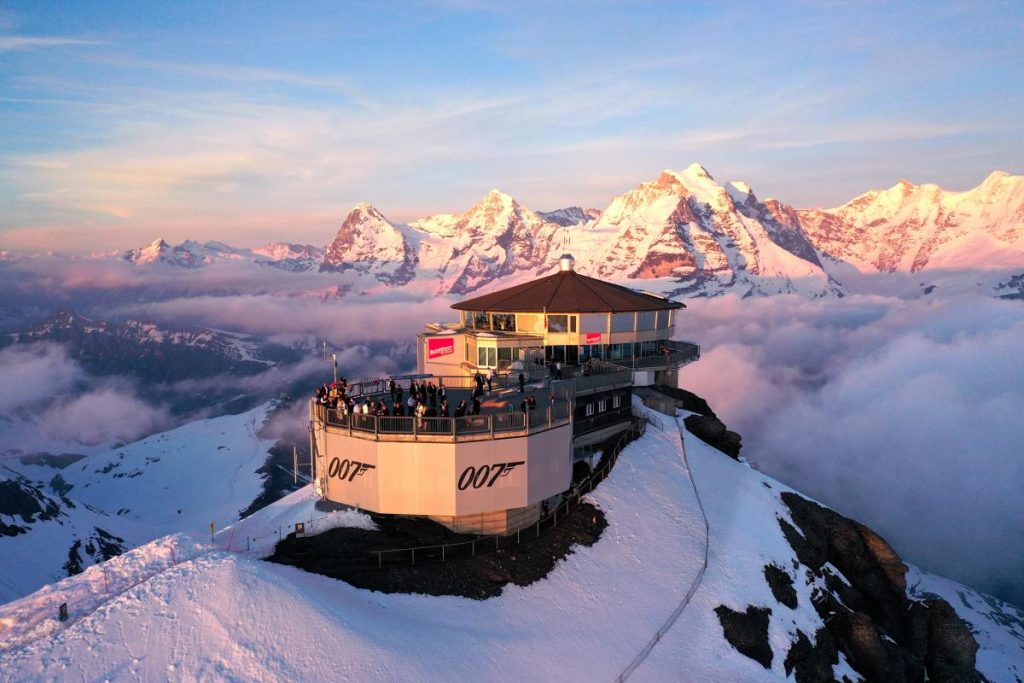 And with no need for a chairlift to get 2970m up. Take the cable car and enjoy panoramic views of over 200 other peaks once you get to the top – including the Eiger, Mönch and Jungfrau (a UNESCO World Heritage Site).
Then reward yourself with lunch in the Piz Gloria. In 1969, this was the headquarters of James Bond's arch-nemesis Blofeld; it's now home to a revolving restaurant, but has kept the same name. Enjoy a mulled wine and a fondue as you look over the mountains and come up with your own secret evil plan to take over the world. On a really good day, you can even see as far as the Black Forest in Germany or the Mont Blanc massif in France.
Follow James Bonds footsteps
And not just any walks. You can literally follow Bond's footsteps on the world's first 007 Walk of Fame, featuring 15 information panels that pay tribute to those who worked on the film.
Then catch your thrills on the Skyline walk, an observation deck is suspended over the vertical abyss. Constructed from steel and reinforced glass with a grated floor, leave your fear of heights behind for this one.
if that wasn't enough, there's also the Thrill Walk, a serious adventure into a steel structure embedded into rock. Try the crawl-through tunnel, glass-bottomed floor, rope and cattle grid for extra bravery points.
And finally, there's even Bond World, an interactive exhibition dedicated to the movie, where you can test your own skills in a fast and furious bobsleigh ride or a helicopter simulator flight in the original chassis of the decommissioned Air Glaciers Alouette III.
Crazy ski races, sleds and more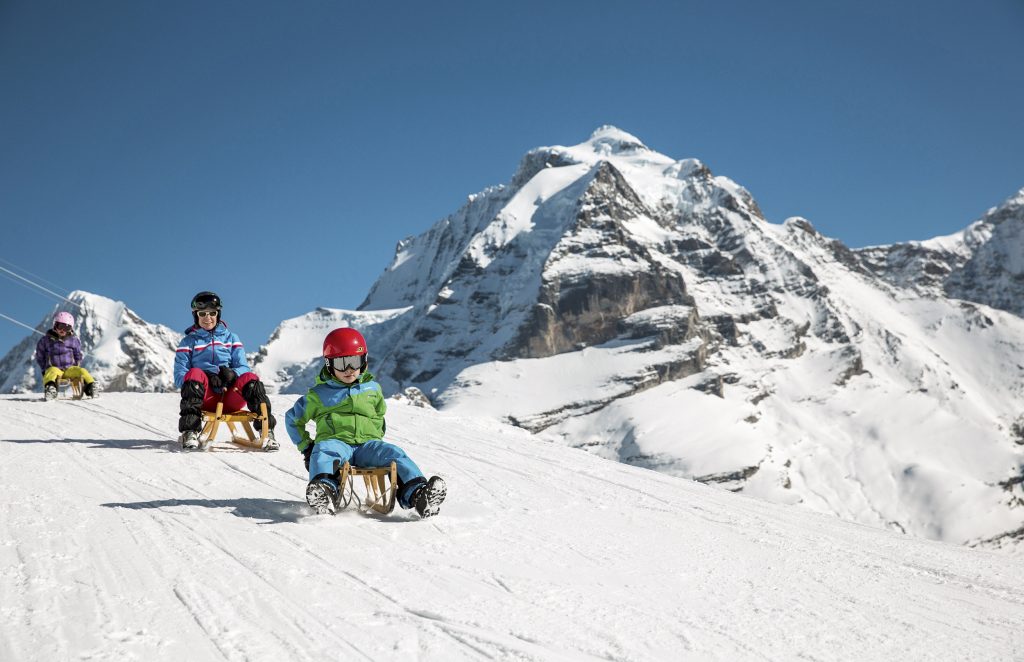 Even without skis or a board, you can enjoy the winter landscape in the Schilthorn area. Try a winter hiking trail, which leads through forests and past snow-covered chalets; or take the bob sled run, where all the bobsleigh scenes of the James Bond film were shot in 1969. Access it via the funicular, which takes you up to 1907m above sea level in just four minutes, and is especially fun for little ones.
If you're more of a spectator in this life, you also won't be disadvantaged. If you're visiting at the end of January each year, you can't miss watching the 'Inferno' – widely known as the world's craziest ski race, which has been running since 1928. Don't miss watching even the most experienced skiers get unstuck along the way as they race along the sharp curves, woodlands and forest trails.
A note on entering Switzerland: At this stage, fully vaccinated individuals (ie. those who have received two doses of the vaccine), those who have recovered and those who can present a negative COVID-19 result test (either PCR or antigen) on arrival can travel into Switzerland. There are some requirements around entry forms, COVID certificates and more which are important to be aware of before travelling. Find out more here.
Ready to get to Switzerland and create your own movie magic? Click here to find out more about Schilthorn.