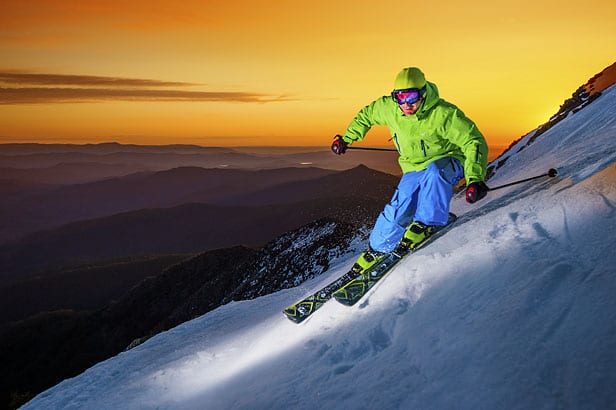 We asked Australia's best snow photographers to submit their top five shots of the season.

Already lamenting the end of the Australian ski and snowboard season? Wait till you see these images from the country's best snow photographers who were on hand for every snow storm.
Each of these five photographers from different resorts submitted their five favourite published images this winter. The result is quite simply snow porn at it's best, the kind of image galleries that will have you weeping for the loss of winter.
Charlie Brown
Charlie has spent a quarter of a century snapping his shutter at Victoria's three major resorts and the last fourteen at Falls Creek. This winter he shot at Hotham posting regularly on his Mountainside photo blog
Andrew Railton
Andrew Railton is a professional photographer from Brisbane. He started his career in film and television before focusing on stills. Moving pictures loss was the ski industry's gain as he spends winters shooting at Mt Buller with photo credits across the big news publishers and core snow industry publications.
Chris Hocking
Chris Hocking is Falls Creek's on site media man, handy with a still and video camera, shooting daily from dawn till dusk. His photo credits are seen regularly throughout every winter in the metropolitan newspapers and his pics have been published in every core snow publication on offer.
Mark Tsukasov
Mark spends his northern winters in Japan and his southern winters shooting for Hotham. You may recognise his name from your daily newspaper or seen his images shared on your Facebook news feed.
Andrew Fawcett
Andrew Fawcett spent six weeks shooting on site at Perisher. Not a bad winter to hang out there either with everyone who is anyone in the world of slopestyle snowboarding and skiing descended upon the Perisher park. All in a day's work for Andrew who has shot for all the big gun snowboard mags and shoots commercially full time in Sydney. Want more? Check out his photo diary.
Darren Teasdale
Darren Teasdale splits his time between the Australian/New Zealand season and Niseko, Japan where he owns a guiding and photography company called Niseko Photography. He's been featured in the Aussie ski and snowboard magazine scene for years and has twice been Southern Hemi Photographer of the Season for Boardworld.
Matt Hull
Matt Hull moved to Falls Creek ski resort in 2004 to combine his passion for the ski and snowboard lifestyle with his passion for photography. He spends his northern winters in Japan and has been published across Australia's core snow magazines. Check him out at www.themattimage.com
Which photo from which photographer do you think deserves image of the season?
Join our chatter on Facebook, Twitter and Instagram
---