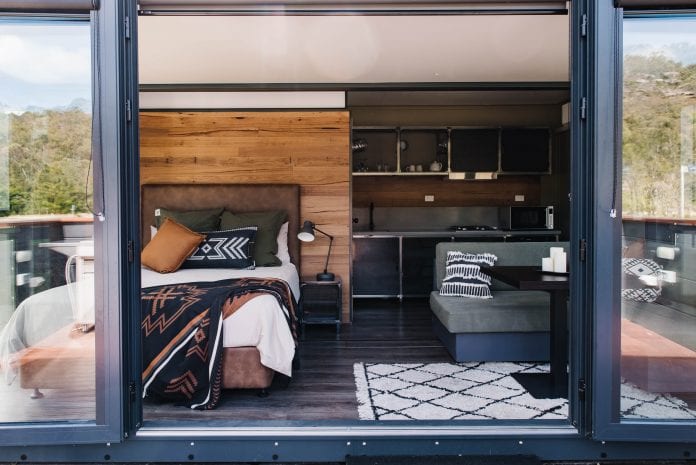 Who knew glamtainers were a thing? Think of it as a step up from glamping, with four solid walls within a shipping container.
The crew at NRMA have converted two containers for portable luxe accommodation. The seven-metre extendable Glamtainers are kitted out with two queen beds, kitchen, living area, full-sized bathroom and luxury finishes.
Ooh la la. Want to sleep over? Well now you can this summer at NRMA Ocean Beach park on the Central Coast and then next 2021 ski season at the NRMA Jindabyne holiday park.
Made popular in Europe, Glamtainers are perfect for couples and families seeking the luxury of hotels with the 'back to nature' experience of camping without the blow up mattress.
Built by Melbourne company GlamXperience, the Glamtainers start life as working shipping containers before being converted into luxury accommodation. Due to its 'caravan like' size, these containers fit into holiday parks with ease, and don't require guests to tow a bulky caravan to their destination.
When time to relocate to another Holiday Park, the Glamtainers are simply closed up and moved around like any other shipping container. Voila, Umina to Jindabyne.
You'll have to be quick, the Glamtainers are booking out for Christmas already, so reach out for the summer holidays and you could be waking up to the sounds of nature with local wallabies and the calm of a lapping shore. If you're looking for winter, as we say, first in best dressed, these will be a hot contender.
NRMA Members are eligible for privileges (stay 4/pay 3, or 10% off for shorter stays), and Members of other auto clubs such as RACQ and RACV are also eligible for a 10% discount.