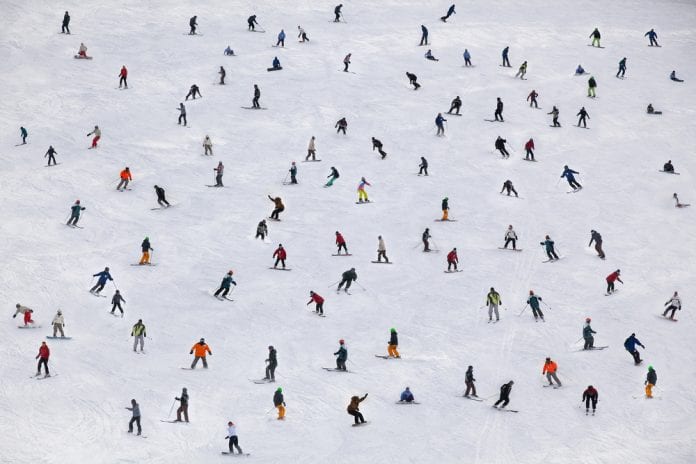 I remember the days as a young teenager when I would dread the thought of winter. Winter school uniform meant wearing a pleated skirt, knee high socks and a tie and a white shirt that went see through in the seasonal rains.
Winter meant leaving behind the summer weekends spent with friends at the beach, tanning on the roof of the house with a tub of ice cream, pool parties or simply running around my West Australian country town in bathers and no shoes. Thankfully in Geraldton where I grew up, we were only hit with a few months of cold weather, so by September, we were back to our favourite summer activities.
How times have changed. Now in my twenties, I sit around waiting for winter. As June approaches, it is time for migration. Leaving the west coast for the Victorian Alps.
You see, this migration has become a natural journey of my existence. Similar to a humpback whale leaving the Southern Ocean in Antartica when winter hits and travelling north up the west coast of Australia to the Kimberly Region to give birth in warmer waters.  I migrate to leave the dull and structured life of an adult, to immerse myself into the wonders of never-ending youth as a Snowsports instructor at Hotham.
When are you going to get a real job? When are you going to go to university? When are you going to do something that matters? When are you going to be an adult?
I have a real job. I don't need university. Don't even get me started on how much my job matters. And you know what, I am an adult, just one who lives to stay young rather than conforming to society's expectations.
I usually just laugh it off and tell them my focus is on doing something I love. What's that quote everyone says but hardly anyone lives by? If you do what you love, you'll never work a day in your life. It's like preaching to the deaf.
So every year, as winter approaches, I find myself packing up my temporary life. Cramming winter clothes, skis, a snowboard, both pairs of boots and anything else I can fit into an awfully heavy board bag. Booking my budget flight with oversized luggage and extra weight allowance. Saying the familiar goodbyes to friends and family.
There is something liberating about leaving home. One of the many reasons I love this time of year. There's a palpable power of life in a small snowy town at a ski resort. The vibrant contagious energy, faces filled with joy. Holiday makers and seasonaires all there for the same thing – snow and good times. Age becomes extinct with the care-free, optimistic and adventurous souls, keeping everyone young at heart.
This is the kind of place friendship can be formed faster than you can finish a beer. You find friends you feel like you have known forever. You live, work and play together, something that you don't often have anywhere else. You play beer pong in the staff accom before heading out for a night of darts or karaoke.
You wake each other up in the mornings and scurry to get to work in time, running down the road with a piece of vegemite toast in your hand and an apple wedged in your mouth. You teach kids to ski all day, eating dry corn chips whenever you get the chance to distract you from the lurking hangover that is about to hit you in the face. You spend your days off finding fresh tracks when you can or riding in shitty conditions until you just can't do it anymore.
But the problem with seasons is, the end is always fast approaching. Shadowing all the fun is the lack of permanence. Before you know it, it's spring.
Although it represents the nearing end, coincidentally it is possibly the best time of the season. The bluebird days will be spent riding around as a pack of mates, braving the park and feeling invincible as you remember it is all nearly over. You finish your days at the pub, drinking jugs on the deck while you watch the sunset over the beautiful mountains you call your backyard.
And after everything, you leave already counting down the days for next year or to the northern season where you don another instructor uniform in a northern resort. You become accustomed to goodbyes, leaving so many faces behind. Some you wonder if you will ever see again. Others you wish you didn't have to part ways with.
So now you have friends all around the world, who can become excuses for more adventures. They are friends made over a short season, but now they're friends for life.
Most say this is a phase, spending my time chasing the mountains. They say it is too unconventional to do forever. I say this is my life, chasing mountains is only a small part of what I do. The rest is inspirational.