Hand round the hat, dear snow lovers, there's an opportunity in Japan for you to live your best life as the master/mistress of your own ski lodge. Set it up for 22 paying guests or convert it into your own rocking luxury Japan snow pad to entertain your friends and family.
For the cost of a small condo in Sydney with filtered views and no off street parking you can have this Ryuoo Ski Lodge, a ski in ski out lodge built in 1997 on 7,850m2 of private land in North Nagano in a ski resort that is about to go off.
The Ryuoo Ski Park ski area is 101 minutes on the Shinkansen from Tokyo then 20 minutes by bus or taxi from Iiyama Station. It is also surrounded by already discovered resorts including Madarao, Myoko Kogen and Nozawa Onsen. Oh, and it boasts a 166 capacity ropeway, the biggest of it's kind in the world.
As westerners continue to search for 'the next big Japan thing' or at least a resort with no lift lines, many have found themselves in the hills of this region. Ryuoo Ski Park is next on the map and is primed for capital growth akin to nearby Madarao.
According to the sales site, the lodge is 690 square meters and has room for 22 sleeping guests plus staff quarters. There's a full commercial kitchen, large foyer, communal living room with two fireplaces and sweeping views of the ski runs right outside the door.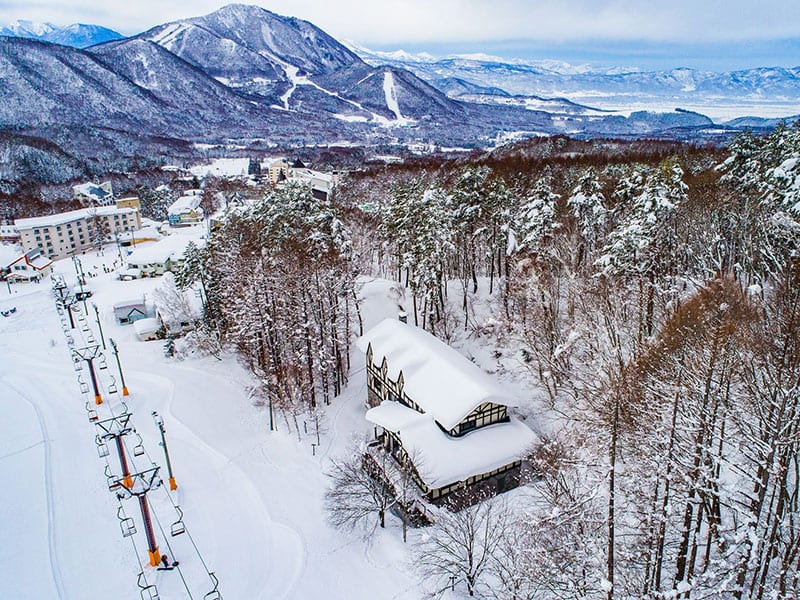 The property is currently configured with four luxury one bedroom suites and three king rooms all with ensuites. The staff quarters include a basement lodge manager's private two bedroom apartment with kitchen, living room and bathroom plus separate staff accommodation with two bedrooms and private bath. So. Much. Potential.
It gets even better. The property has never been used as a hotel, though it is zoned to do so. So, I would be, sorry, you would be the first to do so if you buy it before me.
Seriously, we shouldn't be telling you about this at all (phoning bank manager as we type).
About Ryuoo Ski Park resort
You'll find this gem of a resort between Shiga Kogen and Nozawa Onsen, not far from the famous snow monkey onsen and is half an hour from Madarao Kogen.
The resort boasts up to 15 metres snowfall per year, 13 lifts and over 1000 metres of vertical. The highest lifted point is 1930 metres (high for Japan) and is divided between 35% beginner, 40% intermediate and 25% advanced.
You won't find many westerners in sight but you will find terrain parks, extensive backcountry for advanced skiers and boarders plus child care, kids ski school, snow park, tubing and snow mobiling.
How much?
It's on the market for ¥100,000,000.
That's around AUD$1.3m or USD$905 000.
Told you, small condo, Sydney. Gotta go, that's my bank manager calling.
Need more info? It's all here.
JOIN our Japan Deals and Chatter Facebook Group and talk all things skiing and boarding in Japan.