Years ago, New South Welshmen distinguished between their two major ski resorts based on the après-ski offerings.
Perisher was known as the larger and potentially snowier 'skier's resort' (the Perisher base is higher than Thredbo and is generally more reliable for snow coverage top to bottom).
But Thredbo loyals tended to stick their noses up at Perisher's relatively fewer restaurants, bars and decent coffee. As a wee Milo kid scooting around the magic carpet areas of Front Valley and Friday Flat, I was told you could find 'more culture in a week-old pot of Yoplait than a weekend at Perisher'.
But a lot has changed in recent years. Both resorts have expanded, restaurants have changed hands, and the advent of social media has given rise to a new generation of skiers demanding Instagram-worthy dishes and silky, Melbourne-quality flat whites.
Perisher has become home to a small horde of foodie gems, many of which remain happily undiscovered to Thredbo snobs.
Don't believe me? Check it out for yourself. Here's a list of the best places to fuel up when skiing for a day at Perisher from first lifts to last lifts.
Breakfast: High Ground Coffee Bar
Secure your spot in the Perisher carpark early and settle into High Ground Coffee bar while you wait for the lifts to open. This cosy caffeine hub is tucked into a prime position below the Manor Hotel, with its entrance literally steps away from the eight-seater chairlift on Perisher's Front Valley (head around to the left of the chairlift loading zone when looking uphill).
High Ground Coffee Bar opened in 2017 and has already earned a reputation for pumping out some of the best flat whites on the mountain (barista-operated, no overpriced espresso machines here). It even offers new-age extras like Bonsoy milk, a huge win for us lactose intolerant skiers.
The food menu is expansive and lists plenty of 'in' favourites from eggs benedict to Canadian waffles, and, of course, avocado on toast. Realistically you would do well to visit High Ground for any meal between 7am and 4pm (8am – 4pm on weekdays).
The lunch menu is tempting with shakshuka eggs, burgers, salads, and hearty Guinness pot pie, but its location on Front Valley is a drawback. Best to hit High Ground early and avoid Front Valley queues later in the day.
Morning coffee: Alpine Eyre Kiosk
Eyre T-bar on the far-left side of the Perisher resort map is one of the best places to avoid said queues. Its east-facing position means it warms up in the morning sun while remaining relatively sheltered from the freezing south-westerly winds that dominate cold fronts in Perisher.
Once you've skied the morning freshies here, pop your skis off for a break at the outdoor café at the base of the T-bar, just to the right of the line when looking uphill. You can leave your ski boots on while you sip on a whipped cream-laden hot chocolate or cappuccino at the outdoor tables.
Or, wolf down a second breakfast in the form of a monster burger. At just $9, the 'Alpine burger' laden with onion, lettuce, capsicum, pesto, tomato and eggplant is possibly the best value you'll find on the mountain.
Lunch: Guthega Inn
Take the quad chairlift to the top of the mountain, then follow the signs to Blue Cow/Guthega. Crowds tend to disperse from the Guthega area from noon onwards, and it's a great place to ski in the afternoon as the slopes face west and catch most of the fading light.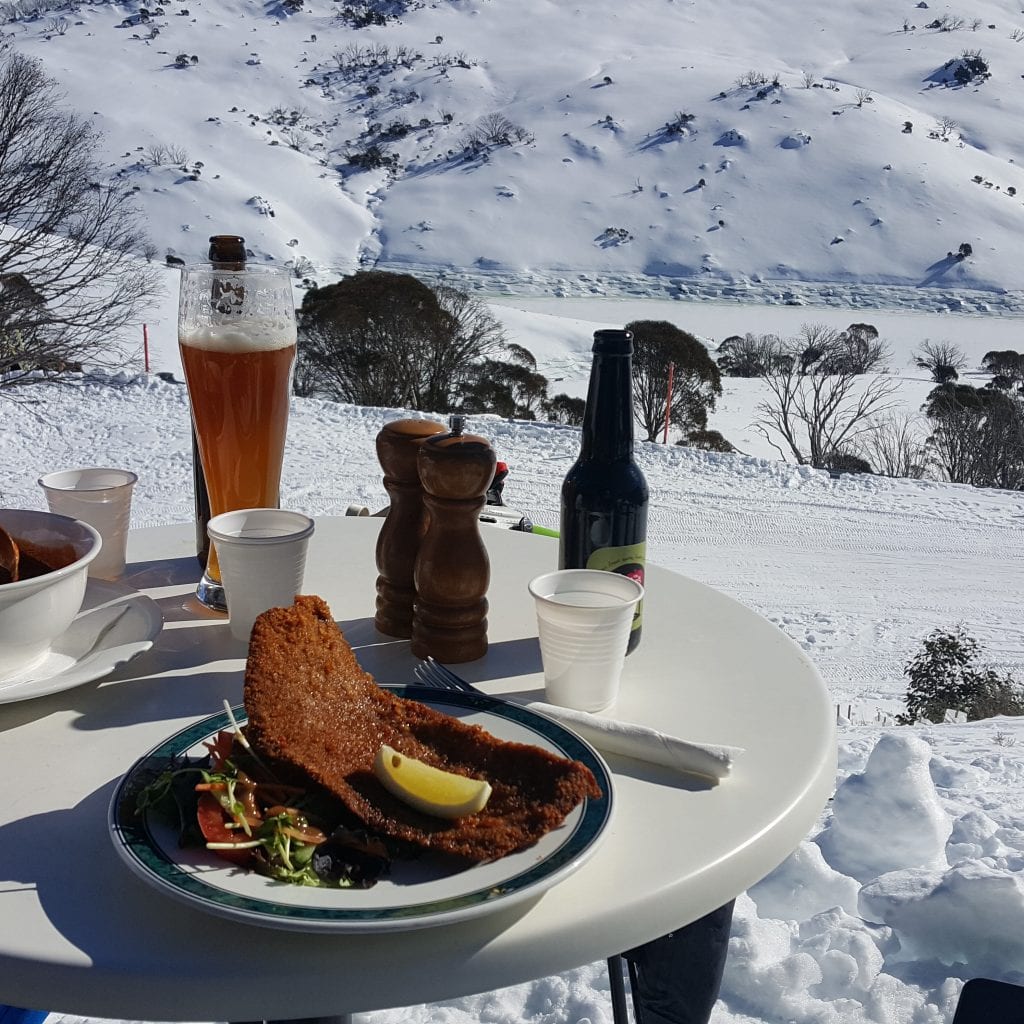 Best of all, the Guthega Inn is renowned for some of the heartiest lunches and most idyllic views in Perisher. Take a seat on one of the sunny outdoor tables that look over the main range of the Snowy Mountains, then choose from one of many frothy Belgian beers on tap to go with a schnitzel as big as your head.
This place can coax even the keenest powder hounds into staying for a long lunch. You've been warned.
Afternoon tea: Mid-Perisher Centre at Mid-station
Take the Home Trail from Blue Cow back to Mid-station for afternoon tea. The Mid-Perisher Centre remains family-owned and operated. This means the recipe for the ever-popular 'deluxe' hot chocolates – which are ridiculously adorned with marshmallow snowmen, Toblerone and Flake chocolates – hasn't changed. Adults can even add Frangelico or Schnapps for extra oomph to fuel those last turns.
Après-ski: Sundeck
Sundeck claims to be Australia's highest licensed hotel, operating halfway up the slopes above the main valley of Perisher at about 1800 metres above sea level. The ski-in, ski-out location makes it a perfect place to drop in for an après drink, a game of pool or some live music on your way back to the carpark or Skitube.
Sundeck offers all the usual drinking suspects in the form of beer, wine and spirits, but it also touts craft ales on tap and 40 different types of schnapps. If you order a schnapps 'tasting platter' you'll be served something that resembles a high school science project, with five brightly coloured shots in a rack of test tubes.
The green apple and butterscotch flavours are most delicious. Best to hand over the car keys and take the Skitube home if you're planning to try them all.
Where are your favourite coffee, drinks and dining spots at Perisher?