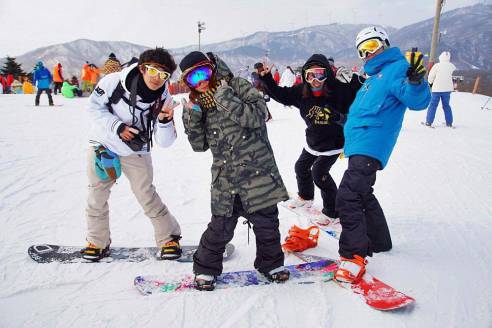 Fourteen Korean resorts in fourteen days in the year twenty fourteen. That's a big ask but if anyone can do it, Kyle Hughes from Korea-Snow.com can (and did). He gives Snows Best the low down of what it's like to ski in Korea…
From love hotels to giant electronic snow domes, skiing & boarding in Korea is set to go big come 2018.
The relatively new recreational snow sports industry in Korea (The oldest ski resort in Korea is Yongpyong, which was opened in 1975) is reflected in the resorts and infrastructure. The facilities are world class, from ticketing, to lifts and gondolas and state of the art snowmaking equipment to keep the runs in top condition.
Korea has transported its obsession for technology, KPop and crazy neon lights to the slopes. The ski resorts are like a combination of high-tech amusement parks and vibrant outdoor nightclubs on snow.
Phoenix Park Ski Resort has a giant 20-metre electronic snow dome that lets you post a picture. You look up to see digital snow falling over your giant face rotating above you. Most resorts provide huge screens blasting KPop videos or stages with live acts or Idol contests.
Nearly all resorts in Korea are around-the-clock operations, closing only for a small window in the early morning to allow the groomers up to slopes to repair the damage. A night snowboarding session at minus 20 degrees Celsius is equivalent to a night on the town.
You finish boarding at midnight and back up with a visit to a bar or at your apartment doing soju (Korean rice wine) shots and eating until you fall over. The entire experience in uniquely Korean.
Korea has 3 distinct ski resort areas catering for all levels and experience. If you're in Seoul and looking for a day on the mountain, you can't go past Bears Town Resort, Konjiam Ski Resort and Elysian Gangchon Ski Resort.
All are either a 45-minute drive or train ride from downtown Seoul. Great facilities open well into the early hours of the morning enticing locals up the mountain after a day at the office.
To the east in the Pyeongchang region my picks are Daemyung Vivaldi Ski Resort, Welli Hilli Park Ski Resort, Phoenix Park Ski Resort and, of course, Yongpyong Resort. About a 2.5-hour drive from Seoul, these resorts are easily accessed by car or the very efficient coach system, a favoured mode of transport for locals.
Down south, I fell in love with the picturesque faux-Tyrol village of Deogyusan (Muju) Ski Resort.
Most resorts have on-snow accommodation or a village at the base. As my little expedition coincided with the colourful and busy Korean New Year holiday I decided it might be smart to book ahead. I discovered 'Love Motels' were a very good option to save a bit of money here and there.
The cost about US$45 per night, and at reception you are very discreetly given a hygiene 'pack' (condoms, lubricant, toothbrush and razor) to take to the privacy of the brightly coloured room. Lovely green furniture and divet-patterned wallpaper in the 'Hole-in-One' golf themed room and a silver lame doona cover at the Hotel Iris are things you just have to experience.
Décor aside, the rooms are cheap, cheerful, clean and perfect for the budget conscious traveller. They were definitely an experience but maybe not with the wife and kids in tow.
Snow conditions are fairly reliable, with higher elevation resorts getting an average snowfall of three metres a year. Some of the resorts closer to Seoul are not as snow sure and there is a heavy reliance on snowmaking to keep them operational over winter.
Korean people can be a little quiet and reserved, but I have never been enveloped in such a feeling of joy, happiness and so many smiling faces as I did while tripping from resort to resort. The local people seem determined to make the most of life and have a great time.
It's a highly infectious attitude you just can't resist. Maybe it has something to do with a history steeped in invasion and rebuilding. This sense of squeezing life for all it's worth pervades everything. From eating with gusto (and often) to the bright neon-coloured, sequined, glittery, furry punk fashions on the ski slopes that might hurt your eyes but will most certainly spark a smile.
But what about the apres?
There is an après scene in Korean resorts, though not of the sort that regular European, North American, Japanese and Australian snow destination travellers might be accustomed to. If you are expecting a full-on party scene, you might be a little disappointed.
A lot of the socialising centres around food, beer and soju shots, which happens in small eateries dotted around the slopes or back at the apartment with a group of friends.
Many a times have we seen local boarder girls rolling out slabs of soju in their shopping trolley heading back to their digs for a bit of a party. Locals also seem to love their "Chicken and Hoff" bars, where the staple is jugs of beer, fried chicken and KPop blasting from the ceilings and TV screen, with a bit of karoke almost a sure fire bet, as endless rounds of beer and soju take hold.
It's not necessarily a mulled wine by a cozy log fire, or a game of pool over a beer, or even a cocktail at some swanky bar, but it's still a lot of fun and an après experience of a different kind.
More 'Western' style establishments are starting to appear and change both the facilities and culture of the Korean après experience. With the advent of the 2018 Winter Olympic games being staged in and around the village of Hoeggye , there appears to be some energy being concentrated into encouraging a more lively night scene with a Korean twist.