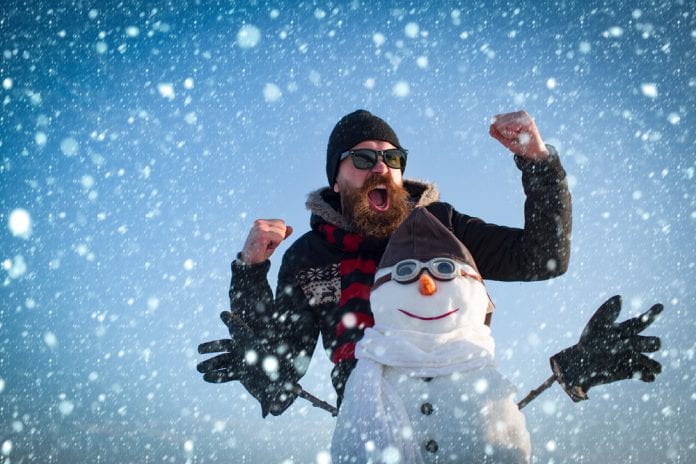 SnowsBest meteorologist, Alex Zadnik, tells it like it is with his weekly snow outlook for Australia and New Zealand. 
It's the weekend of the Aussie winter for more experienced skiers and boarders this Saturday and Sunday so start waxing your skis. Though be prepared for challenging weather conditions if driving up to the mountains before Sunday.
Not as cold in New Zealand with rain periods between now and Sunday, particularly over the North Island.
There's good news, though, colder air and snow showers will be arriving next week.
Australia – winter has decided to show up with mega snow
The snow outlook for this week is the most positive so far this winter. The first in a series of cold fronts reached the Snowy Mountains last night, delivering 5cm of fresh snow. It will continue snowing throughout today, with accumulations expected to reach 30-50cm by Thursday morning at Perisher and Thredbo.
Winds will be strong to gale force at times on Wednesday, so visibility will be poor. It may not be cold enough for snow right down to village level at Thredbo this afternoon but the freezing level will drop through the evening, and remain low right through until the end of the weekend.
Thursday will still see fairly strong winds and another 10-20cm of snow is possible during the day. Again visibility may not be great, but for those who don't mind braving the elements, there will be great fresh snow on offer, with significant wind-blown stashes.
There will be a reinvigoration of snow showers through Friday, with the passage of another cold front across southern NSW. Another 20-30cm of fresh snow is likely during Friday and the freezing level will continue to drop, meaning snow well below the village level at Thredbo. Again, the combination of strong winds and blowing snow will limit visibility.
Saturday will be especially cold as snow showers continue on and offer through the day. The snow should be cold and dry, meaning excellent powder conditions. The winds are likely to still be strong, but if you can find more sheltered runs, this could be the day of the season.
It goes without saying to get up on the mountain as early as possible to avoid weekend traffic snarls, which will be exacerbated by the weather conditions.
Sunday will also be an excellent day for hitting the slopes. Winds should ease and visibility should improve, while temperatures will remain below zero throughout the day at Perisher and Thredbo.
All up there is the possibility of more than 100cm of fresh snow for the upper slopes of Thredbo and Perisher between Wednesday and Sunday.
The lower slopes should also pick up more than 50cm. Maximum temperartures are not expected to exceed -4 at Thredbo Top Station on Friday and Saturday, which is ideal for keeping powder snow light and dry.
Monday and Tuesday will see lighter winds and great conditions for skiing and boarding, with mostly clear skies due to a developing high pressure ridge. Day time temperatures may edge above zero on the lower slopes on these days, but snow conditions will remain firm, cold and dry on the upper slopes, and those that are south facing.
Similar conditions are likely throughout the working week, although a warming trend in day time temperatures is likely.
There is no certainty on any follow up snow bearing systems, so if you can, make the most of this weekend. And do ensure you well prepare for especially cold, windy and snowy weather if you are driving up between now and Saturday.
Check out 7 day detailed resort forecasts here.
New Zealand – rain and snow
Rain is impacting much of New Zealand on Wednesday, with a low pressure system crossing the North Island and a front sliding across the South Island. Temperatures are a little too warm for snow away from the peaks of the ski fields, but falls could occur above 1700-1800m. Strong winds may also reduce visibility, particularly for Ruapehu on the North Island.
A break in the wet weather is likely early on Thursday, but rain showers will redevelop and increase through the day, particularly across the North Island. Snow is possible above 1700m at Ruapehu, but with strong winds returning, it doesn't look like being a pleasant day for skiing or boarding.
The South Island won't be as wet on Thursday, but rain showers are possible through the afternoon and evening. It will be a similar story on Friday, with persistent rain continuing for Ruapehu and snow falls limited to the higher runs. Winds will remain strong.
The South Island won't be as wet or windy in general, so there might be a few windows for getting out on the slopes around Wanaka and Queenstown.
Showers will continue across the North Island on Saturday, with the approach of a large low pressure system from the Tasman Sea. These may fall as snow above 1500m at Ruapehu.
The South Island should stay mostly dry, but cloud will increase ahead of this next weather system.
Rain showers will probably continue on Sunday ahead of a slow-moving low pressure system. Relatively warm winds from the north ahead of this low limit the prospect of snow on this day. Colder air should arrive with the low on Monday, which has the potential to bring a decent dump of snow to some of the ski fields (most likely Ruapehu and Hutt based on current model guidance).
A colder southwest airflow should become established over the nation during Tuesday and Wednesday, which should mean nicer, firmer conditions for skiing and boarding. Especially if Monday delivers reasonable snow falls.
Check out 7 day detailed resort forecasts here.
---
Please help SnowsBest survive  2020 and remain your independent source of snow news with a "Covid contribution", from as little as $1, so we can continue to deliver the news and content you value in a season when we need each other most. Contribute here.
---