As one of the freshest hotels in Queenstown, mi-pad happens to be New Zealand's first 'smart' hotel with a whole lot of cool techy bits and pieces that make the experience really unique. So says the blurb, anyway.
With everything from complimentary hot beverage vending machines to apps that control the multi-coloured lighting in your room, you'd be forgiven for getting confused and thinking that you're on holiday in Japan.
Except you're right on the doorstep of glorious Queenstown and everything it has to offer and you'll feel good about staying there because the tech also applies to their sustainable practices.
Not one to miss out on the hottest tickets in town, I packed my smart phone and my skis and headed across the winter ditch to see what the fuss was about.
The tech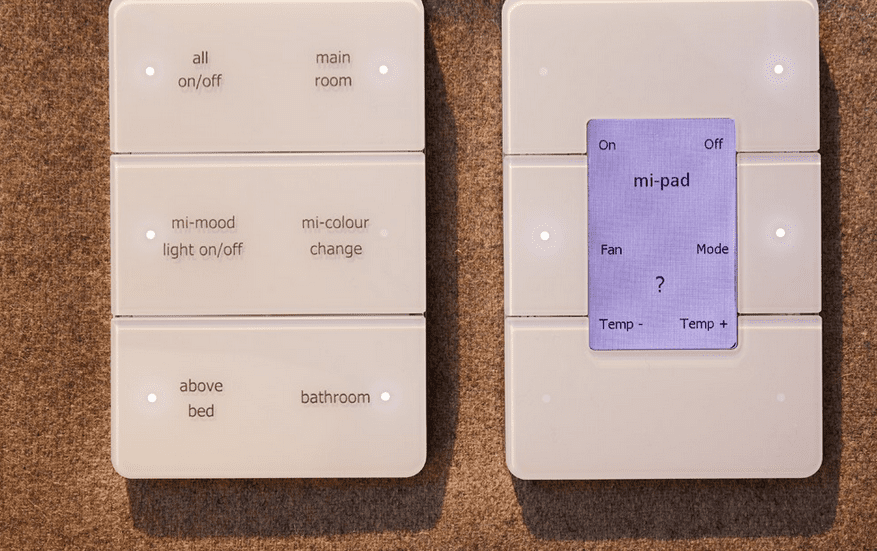 As soon as you book a stay at mi-pad, you're encouraged to download an app called 'Mia' to your phone then enter your reservation details. Mia acts as your 'digital concierge' – she pulls in every relevant item of information you could hope to have during your stay, and keeps it in one spot.
She also goes one step further than your average concierge. While there is a physical person at hotel check-in to help you if need be, you can check in and check out through the app. Great for introverts.
You can also unlock the front door of the hotel after hours (unless you've had a few), along with your hotel room door. With the app you can change the temperature in your room;  the lighting levels or the colour of the lights and you can even set your room to 'Do Not Disturb' so no one will come to wake you after a big Queenstown night.
You can get it to bring you a Fergberger when you're hungover in the morning, oops, my bad, it doesn't go that far just yet, but it's only a matter of time.
The app is excellent for making your life easy. If you've ever struggled to work out the heater/air conditioning element in a brand new hotel room, you'll especially love it. You can even go for the novelty factor, and stand outside the room while still changing the lighting from the app, just to freak out your travel partner in the room.
With all this hi tech my favourite feature was the towel rails. I'm simple like that, you know, creature comforts. They are automatically heated between the hours of 6am and 10am and again at 6pm and 10pm; guaranteeing that warm, dry towel for exactly when you want it most.
The hotel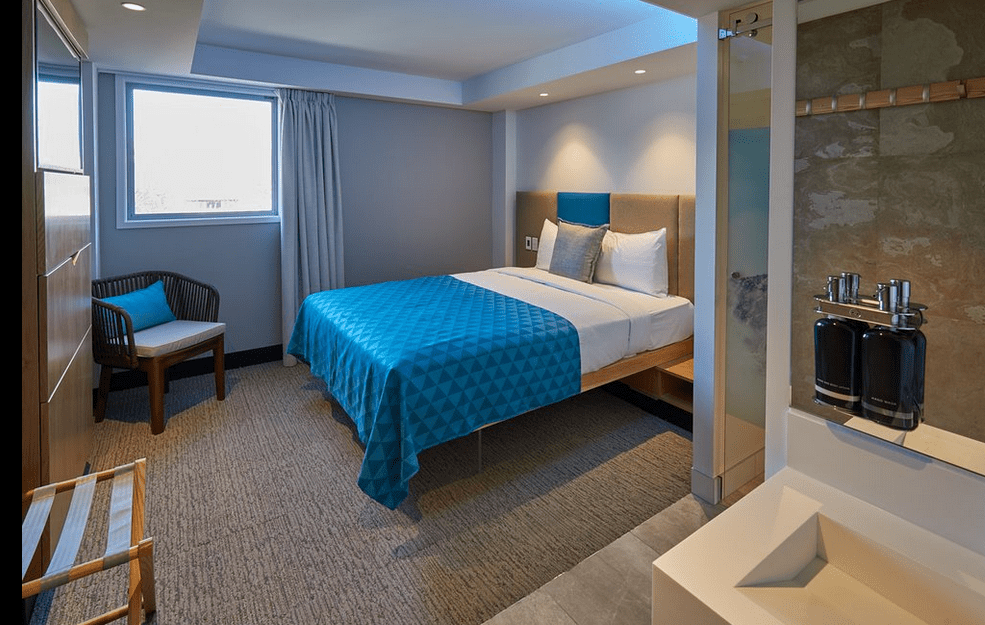 Much like Japan, the rooms are not large and don't have kitchenettes, this is a social hotel after all. But they are comfortable and even have GHD hair styling tools and Chromecast for the televisions so they understand the important things. I know my hair was thankful.
You can opt for a standard room, a courtyard room or a deluxe room for couples; or a bunk room or twin room if travelling with a mate or family.
In an effort to get people out of their rooms and bring people together, there are also hostel-inspired, multiple common areas to hang out, relax or chat with other travellers – including an indoor/outdoor courtyard, a library, a 'tech hub' and most importantly, the rooftop.
The rooftop
This rooftop has got to be up there for one of New Zealand's very best rooftops. It offers up perfect views over town and Lake Wakatipu, heaps of comfy seating and a gas fireplace to keep you toasty. You're also encouraged to bring your own food and drinks to enjoy up there, which automatically makes it all the better. We played Scrabble and sipped wine before heading the five minute walk into town. 
The sustainability
mi-pad is where tech comes to do some special little things in the sustainability world; such as the motion sensors in every room, which keep the temperature set as long as you're in there.
30 minutes after you leave the room, the temperature will return to 18 degrees in an effort to save energy.
mi-pad also provides free hot drinks from vending machines on every level – everything from coffee made with freshly ground coffee beans from Dunedin, plus hot chocolates, soups and teas – and provide you with a re-usable cup that can be used for hot or cold drinks.
Having been made by a polymer with a specially designed mi-pad machine, the cups can be recycled to produce the very same cup, creating a fully closed loop and saving on takeaway cups.
The price
Expect to pay about NZD $250 per night during the winter season – not a bad price for the smartest hotel in town and free hot chocolates and soups all day long. 
Natalia stayed as a guest of mi-pad.