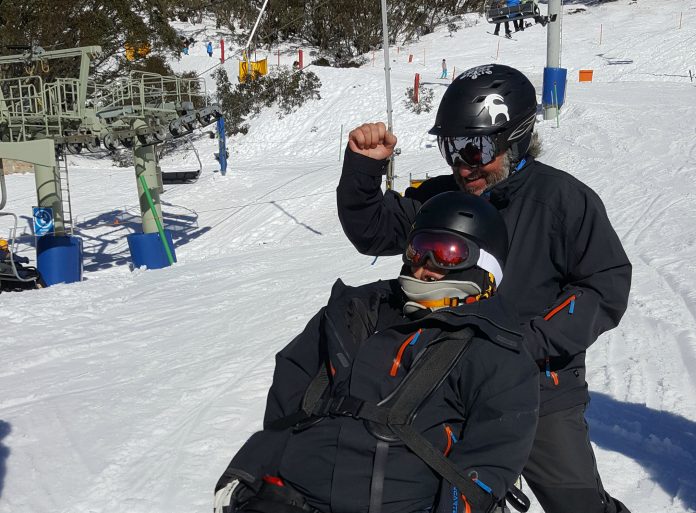 Life can be challenging at the best of times. When it incorporates a high level spinal injury and an inability to feel or move neck down, that's one thing. Add the shortcomings of being unable to breathe unassisted or maintain a consistent temperature and I've got my work cut out.
However, in the colder months at Falls Creek ski resort in Australia, disability takes a back seat. At 1,400 metres above sea level, it's my first time in the snow.
To ease into higher altitudes – and what I have disconcertingly heard will be icy, cold air – my chalet sits close by. But driving in, outside my van's window, I see people ambling around in t-shirts and shorts. It can't be too cold, I optimistically think.
Acclimatising to this atmosphere isn't painless. Exiting my van, I am overwhelmed by an intense blast of arctic air. Then, like being hit with a sledge-hammer, I feel incredible chest tightness. It is as if an enormous, invisible force is bearing down on me. I can't work it out.
Night one sees my lungs constraining, my breath struggling and oxygen levels plummeting. I'm new to my body doing this and I don't know why. It's a scary, sleepless dark.
Distressed, I think, "can this get any worse?"
But with a new dawn, my world is re-born.
Bright sunshine, blue skies, no wind, a balmy one-degree and snow everywhere. Seemingly, something magical has happened. Through my window, I see shovelled snow towering metres above my head.
Up high from afar, the entire mountain is a complete, brilliant, ghostly white. It's snow caps resemble majestic, perfectly formed macaroons. With the suns rays reflecting off a blinding, white, glistening warmth – and all against a deep blue sky – it's a surreal contrast.
It's Victoria's best snow season in years. I am spellbound by the sight now and desperately pining for some slope action. To make it all doable, and to take advantage of the perfect conditions, I am assisted by Disabled Wintersports Australia. 
An organization existing every winter to improve the snow experience of people with disabilities, they bring with them a futuristic contraption. It's known as a sit-ski and is designed for people with quadriplegia. Made up of a bucket seat neatly affixing to a body contoured frame, skis attach underneath, while sturdy straps secure me.
Having such adaptive equipment and human resource support on hand is an awesome thing. The tide has turned in favour of people with disabilities. Now for the real adventure.
Wrangling my body into the novel sit-ski, I am positioned in its middle. At the helm, and pushing the apparatus with gusto from behind is Peter Hull. As DWA's Falls Creek Resort Services Coordinator, he has a heart as big as Phar Lap.
But first, I have to be comfortable. 
Compensating for the thin air, I earn extra air from my trusty air-viva. As a result of feeling strangulated from so many clothing layers – together with a sit-ski helmet that locks my head into a forward position – it's a relief. With all this paraphernalia, any chance of easy breathing is snuffed out. But there's no backing out, and I'm off.
We sled down Australia's longest beginner green run, Wombat's Run is 2.2 kilometres in distance.
A chairlift, a mixture of bumpy and smoothly-graded downhill and flat terrains, I feel the whole, euphoric  thrilling experience. All of a sudden, any uncomfortableness becomes a distant memory.
I hurtle down the Creek's slopes at breakneck speed, dodging fellow skiers in my wake. On the flat it's a gentle, serene, able-to-take-it-all-in kind of pace. Once on the chairlift, being seated high above the snow's slopes, it's a privilege and awe-inspiring. It turns the tables on disability and it sometimes feels like I am incapacitated.
I feel uplifted and exhilarated. I feel free.
Watch our interview with Paralympic gold medal sit skier and X Games legend Josh Dueck:
[srizonfbvidsingle id=1947315885282705]