Every good skier and snowboarder knows that all the good resort secrets lie with the locals. Locals are the ultimate resource for finding the best lines, the best snow, the cheapest and tastiest lunch, and the perfect spot to party when the lifts close.
And when it comes to Switzerland, a country with over 300 ski resorts scattered all over the Swiss alps, the locals have truly got it all figured out. 
We've dived into the hidden gems of Switzerland to find the resorts that offer spectacular skiing, great views and cost-effective accommodation, dining and lift tickets – that the locals have been trying to keep to themselves. You're welcome.
Stoos (Lake Lucerne Region)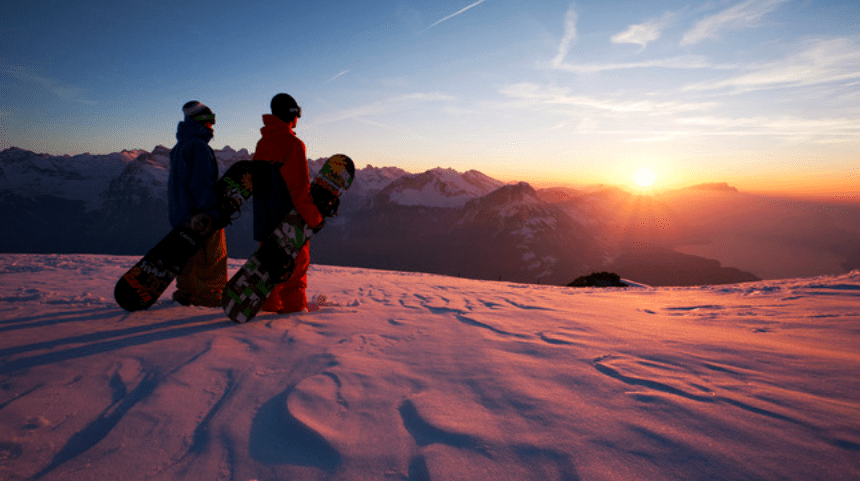 Looking for an adventure? Stoos – which is almost as fun to pronounce as it is to visit – is home to the steepest funicular in the world, which hoists you up 743m in just three minutes to get you into the heart of the village.
Once there, expect a family-friendly Swiss village full of apartments, hotels and activities such as ice climbing, night tobogganing and even snowshoe tours with huskies.
The slopes themselves are mellower than other resorts in Switzerland, offering 35km of piste along with a terrain park. But most people come to Stoos for the view. Being in the heart of the Lake Lucerne reigon, you'll have a bird's eye view of ten different lakes. Try to visit in January to witness their bathtub race, where teams of three people race down the slopes in – you guessed it – a bathtub.
Andermatt (Lake Lucerne Region)
If you want to feel like you're right on the pulse of the up & coming, Andermatt is the one for you. With new lifts under construction and the gorgeous Chedi Luxury Hotel now open, it's officially been placed on the map for luxury travellers looking to come to Switzerland.
That said, it's still perfect for those whose budgets can't quite stretch to the luxe level. The village, with its traditional Swiss feel, offers a range of accommodation options and access to multiple ski fields.
Beyond the multiple resorts on offer for you to access, people flock to Andermatt to lap up the sights, cross country ski, snowshoe and try the winter hiking trails. As one of the most reliable areas in Switzerland for snowfall, it's the ultimate winter wonderland spot, and a spot which truly gives some understanding as to why Switzerland is called the 'water tower of Europe'. Try the 'World of Water' walk while you're here, or visit Zumdörfli, Switzerland's smallest village.
Meiringen Hasliberg (Bern Region)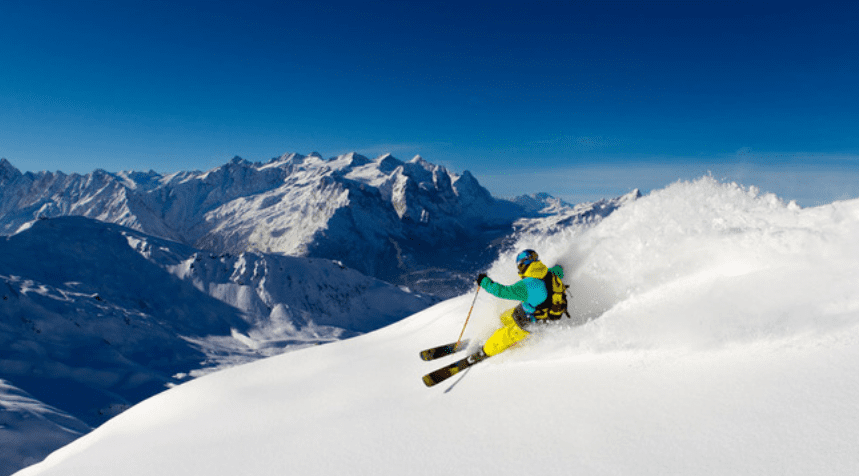 You might recognise the name of this resort as being the spot where Sherlock Holmes met an untimely death in Sir Arthur Conan Doyle's murder mystery novel (before miraculously reappearing in the same spot three years later).
But if you're more of a skier than a murder mystery fan, you'll also enjoy Meiringen Hasliberg, a family-oriented resort, which offers 60km of slopes serviced by 13 lifts. There's also a great après vibe at Meiringen Hasliberg, with numerous bars and restaurants scattered across the slopes.
Aim to be here during the last week of the year to experience a super-special and ancient Swiss custom, where large cowbells called Übersitz and trycheln are rung in the Hasli valley with the aim of driving away evil spirits.
Villars – Gryon (Lake Geneva Region)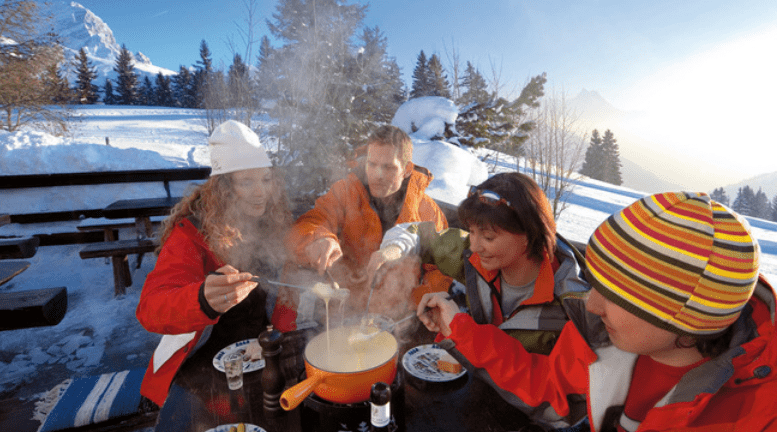 You'll be in good company at Villars, which is popular with visitors from Western Switzerland, along with the rest of Europe, offering a really international feel. There are two different ski areas available to access, with a huge range of terrain – 125km of piste covered by 44 different lifts.
With plenty of different activities on offer beyond skiing and snowboarding, including cross country skiing, sledding, winter hiking and visits to a working salt mine, it's also a beautiful spot to find classic Swiss winter markets featuring regional products and crafts.
Lenzerheide (Grisons Region)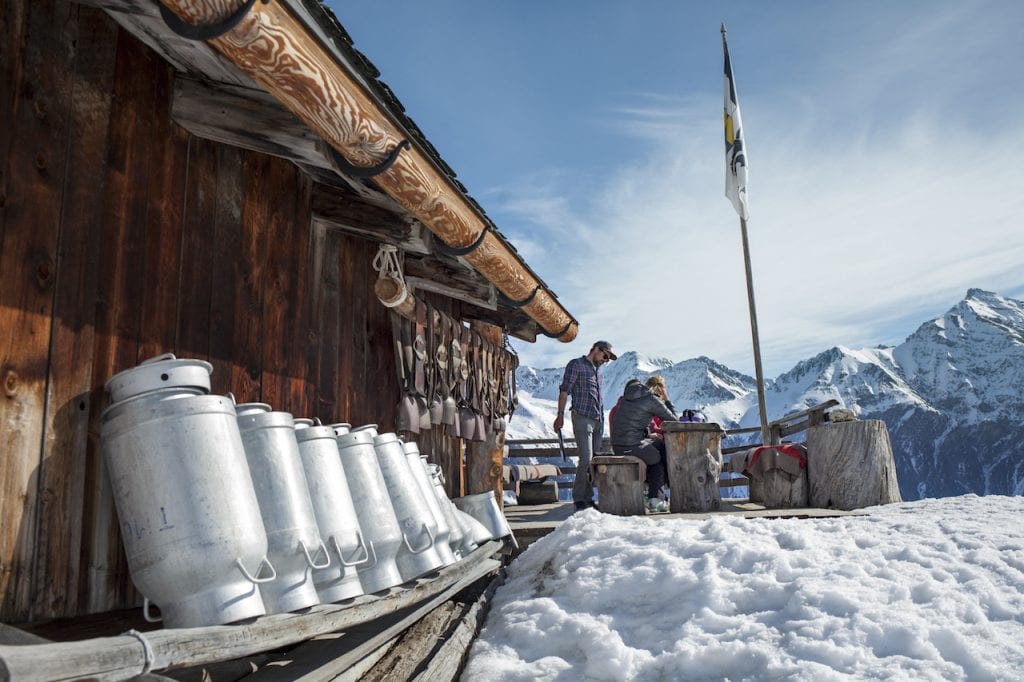 Lenzerheide resort has been a longtime favourite with Swiss locals, and now they've partnered with Swiss resort Arosa to bring everything to the next level. And it well and truly is the next level, with 225km of terrain to explore.
You can also now ski both sides of a valley, making the most of the Swiss sunshine, as one valley gets the sun in the morning while the other gets the sun in the afternoon. And with SnowNights and Earlybird skiing on offer, it's the perfect spot for those who want to ski all day every day, from first lifts to last lifts.
Lenzerheide is also perfect for visitors who want a big variety of events and activities on offer at their holiday destination, including night sledding, a sports centre, winter hiking and a 'fairyland' in December with markets, Christmas lights and incredible Swiss food – fondue, anyone?
You can find out more information about all of the above resorts – and more – by clicking here.  For Skimax package deals to Switzerland click here.