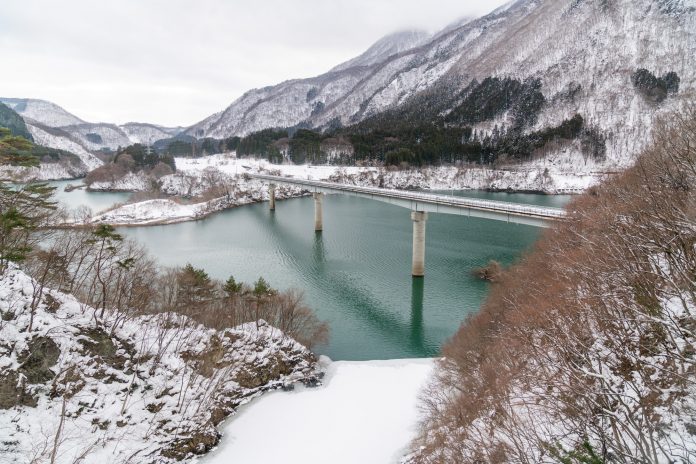 There's nothing more romantic than a railway adventure, especially in Japan, where the high-speed high-tech trains make travel as easy as can be. Rail trip itineraries taking advantage of the railway systems are also becoming increasingly popular as the best way to see a lot in a short period of time.
For those seeking a truly unique trip through Japan, this is the one for you. Starting in Tokyo and going all the way to Fukishima, taking advantage of the Kanto District Transport Bureau and the Tobu railway, Aizu Railway and Yagan Railway to turn them all into an unforgettable journey.
There's everything from shrines to ski resorts to be discovered along the way, and the best part is that it takes just four days – making it the perfect trip to tack onto a longer stay at your Japanese resort of choice, ticking off both relaxation and adventure in the process.
Though you could stay for longer in destinations that take your skiing fancy.
DAY 1: Begin in Tokyo
There are a few must-see spots to tick off in Tokyo – but don't worry, we'll get you off the beaten track to find the very best locations, most-loved by the locals.
First up, find your way to the Ueno Toshogu Shrine in Tokyo's Taito ward, built and dedicated all the way back in 1627 in memory of one of the most famous warriors in Japanese history, Tokugawa Ieyasu. It's remained intact despite major earthquakes and wars, and is the best place to experience true Edo period architecture.
From there, seek out speciality store Ameshin to discover the ancient Japanese art of 'Amezaiku' – making beautiful shapes out of candy by heating it up, then shaping it with hands and scissors.
This tradition dates back to the 8th century and techniques have been handed down from generation to generation, with hands-on classes offered at the store to demonstrate exactly how it's done – without any wastage at all.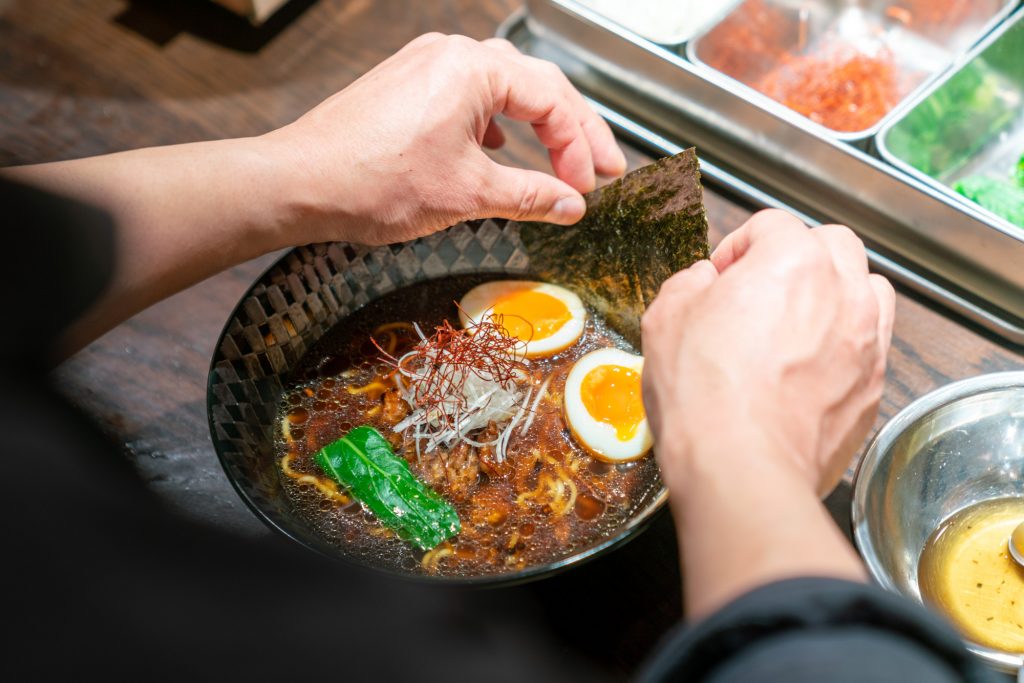 You'll probably be getting peckish after all that excitement. Head to Asakusa, an area centered around the Sensoji Temple and the Nakamise shopping street.
You can take in the riverside views, hop on a boat for a riverside cruise, or stroll the traditional streets filled with stalls and authentic souvenir shops selling quintessentially Japanese goods.
Then find Chagohan Tokyo for the kind of restaurant you may only experience once in your lifetime. It's a homey restaurant – only 25 seats – and the owner will personally entertain you as you experience authentic Japanese cooking, how to drink sake and how to enjoy tea.
At the end of a big sightseeing day, it's time to jump on the Aizu Railway Limited Express "Revaty Aizu 129" at Asakusa station. With free Wi-Fi and electrical outlets in every seat, it's a comfortable environment to travel to your next destination, Aizu-kogen Oseguchi station. Once there, you can settle into one of the local hotels before a big day of skiing the next day.
DAY 2: Fukishima skiing
Say hello to your new favourite place: Takatsue Ski Resort in Fukushima Minamiaizu Town. As one of the best-elevated resorts, enjoy breathtaking panoramic views of mountains surrounding you as you explore the slopes, with 15 different runs to choose from plus snowcat rides on offer.
Once you've skied your heart out, head to Ouchijuku in Shimogo Town to discover the souvenir shops and restaurants that line the main street. In many of the shops, you'll find them making the local specialty, "Negi Soba" – handmade soba noodles are served with a whole leek instead of chopsticks.
While you're there, fill up on the local delicacies on offer, like Tochimochi, a sweet made with sticky rice and Japanese horse chestnut seeds – or Shingoro, a skewer with half of the Uruchi rice mashed in half and rounded up, covered with 10-year-old miso paste, and grilled over charcoal. Nothing like a traditional feast after a ski day, right?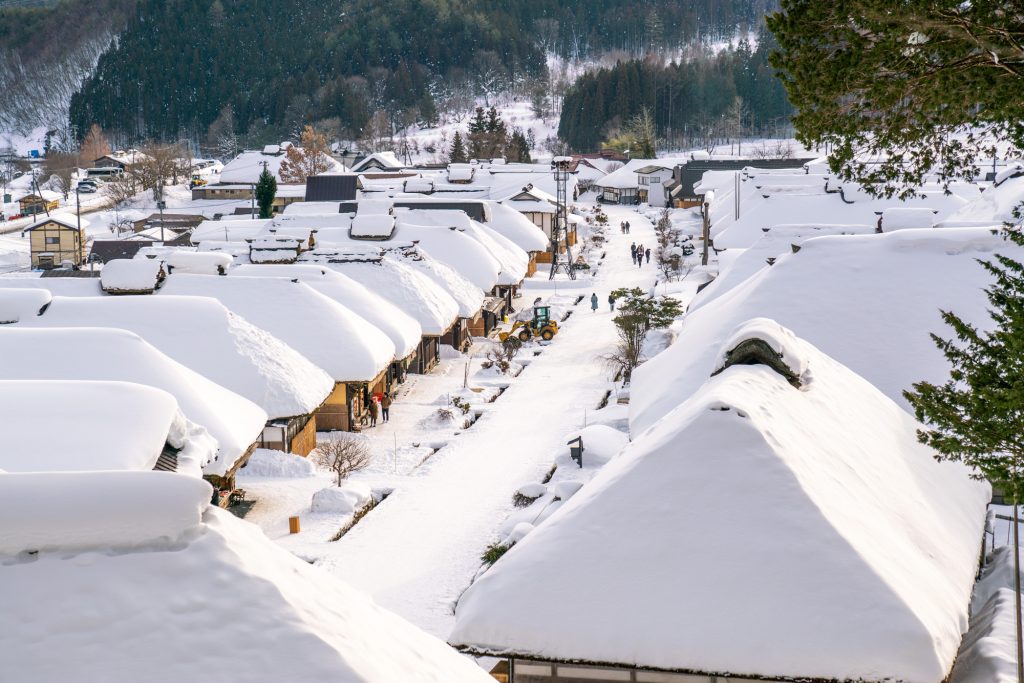 Continue for a stroll around the traditional buildings of Ouchijuku, enjoying the thatched roofs and Edo-style homewares. You'll even find a beautiful village shrine here, Takakura Shrine. If you climb the stairs from the far end of the main street, there is a gazebo from which you can see the old town, just like in the photo above.
After enjoying Ouchijuku, you will drive to Aizu-wakamatsu, where you will finish up your day with dinner at Shibukawa Donya. You can enjoy the local cuisine of Aizu, such as herring and codfish brought in from Niigata port, or Aizu Shiokawa beef. The atmosphere here has to be experienced to be believed, and there's so much history behind every dish just waiting to be discovered.
DAY 3: Continuing through Aizu
Hopefully you rested up, because it's time to continue exploring. Head up to Mt. Iimoriyama, stopping for a snack at the base of the hill before ascending the 183 stone steps to the top.
You'll also find the Uga-shindo, a shrine built in the late seventeenth century, and Sazaedo Temple, a Buddhist temple built in 1796.
From there, make your way to Tsurugajo Castle to become immersed in history. With meticulous reconstruction allowing for much of the castle to represent its original state, there are even the Rinkaku Tea Rooms here to enjoy a freshly-prepared matcha green tea in a traditional tea ceremony.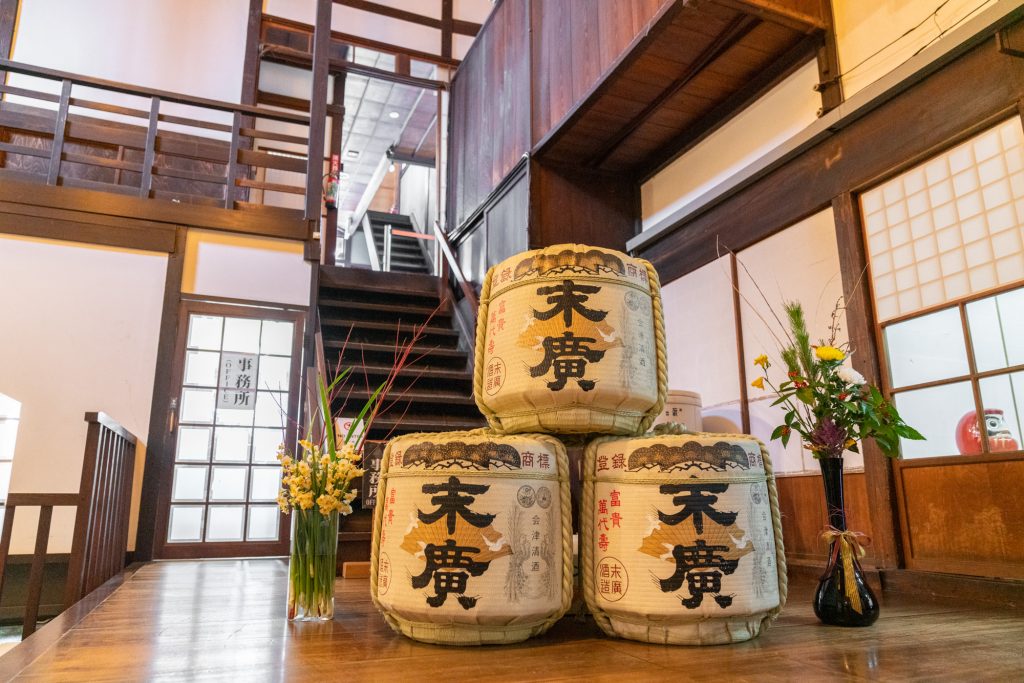 All that exploring is thirsty work. Stop off for a brew at Suehiro Sake Brewery, which has been producing sake since the mid 19th century. Visitors can take a guided tour of the sake-brewing process and try a whole lot of the different sakes – all for free! Then drop by the cafe to try a coffee made with brewing water used for brewing sake, or cake made with high-quality sake.
You'll probably want to pick up some souvenirs along the way, and Nanokamachi-dori Street is the perfect place to do so. With so many shops selling local products, you'll find high-quality gifts to take home to loved ones.
It's been a big day. Before kicking off your next leg of the journey, stop by Restaurant Kontsh; one of the hidden specialty spots in Aizu-wakamatsu City, and known for offering dishes using seasonal ingredients that change with the seasons.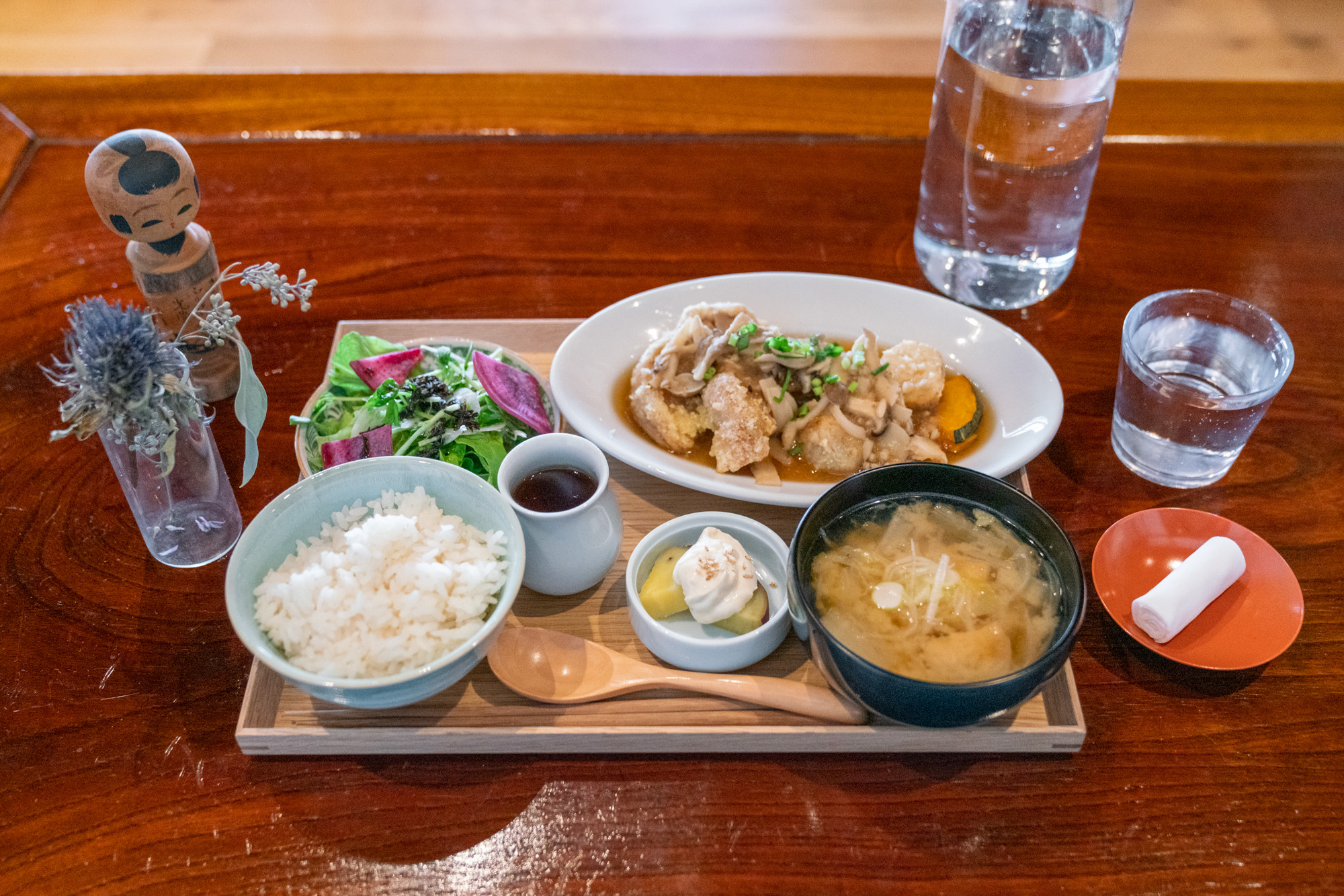 With a full tummy and a happy heart, clamber onto the Ozatoro Tembo Train at Aizuwakamatsu Station to get to Aizu-Tajima Station. The train has two carriages, and our pick is the oza seat (tatami floor). Enjoy the sunken kotatsu (heated table) and enjoy the views from expansive windows of the observation deck carriage.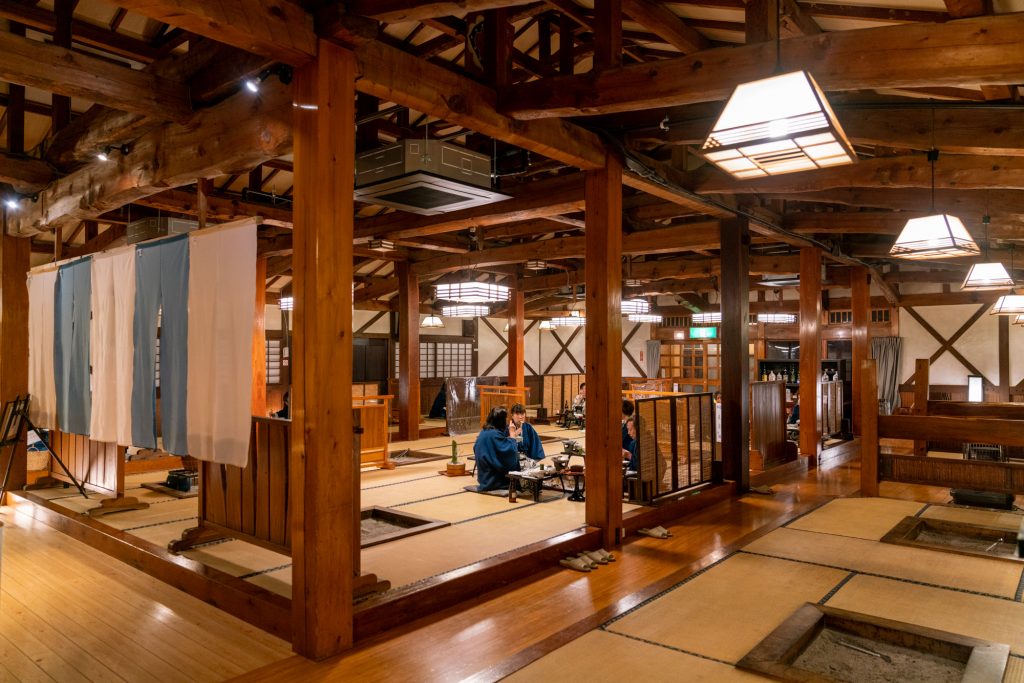 You'll be bedding down in Taira no Takafusa, an inn offering guest rooms and an open-air bath to soothe your tired muscles as you enjoy relaxing under a sky full of stars.
DAY 4: Nikko City
There's no place better to begin the day than in Yunishigawa Mizunosato, home to magnificent hot springs and suspension bridges for sightseeing.
From there, you'll head to Chuzenji Temple, built all the way back in 784 and still offering the opportunity to see sacred sites and carvings – not to mention the spectacular views.
Lunch will have to come from Gyoshintei in Nikko City. They specialise in Shojin (vegetarian) cuisine inherited from the 1200-year history of Mt. Nikko, and is the only place which practices the traditional and authentic Shojin cooking methods – so you know it's bound to be incredible.
There's one last incredible place for you to see. Nikko Toshogu Shrine is Nikko's most noteworthy religious site, with 55 buildings including eight National Treasures. Our favourite part about this location is that the artist had never seen an elephant but chose to include them anyway, resulting in angry-looking clawed elephants that make for a great story.
Your well-adventured self will be heading back to Tokyo on Tobu Railway's "Limited Express Kegon 44, departing the station in style and allowing you to reflect on everything you've seen, enjoyed and experienced.
Ready for your own grand Japanese railway adventure? Find out more about it by clicking here.