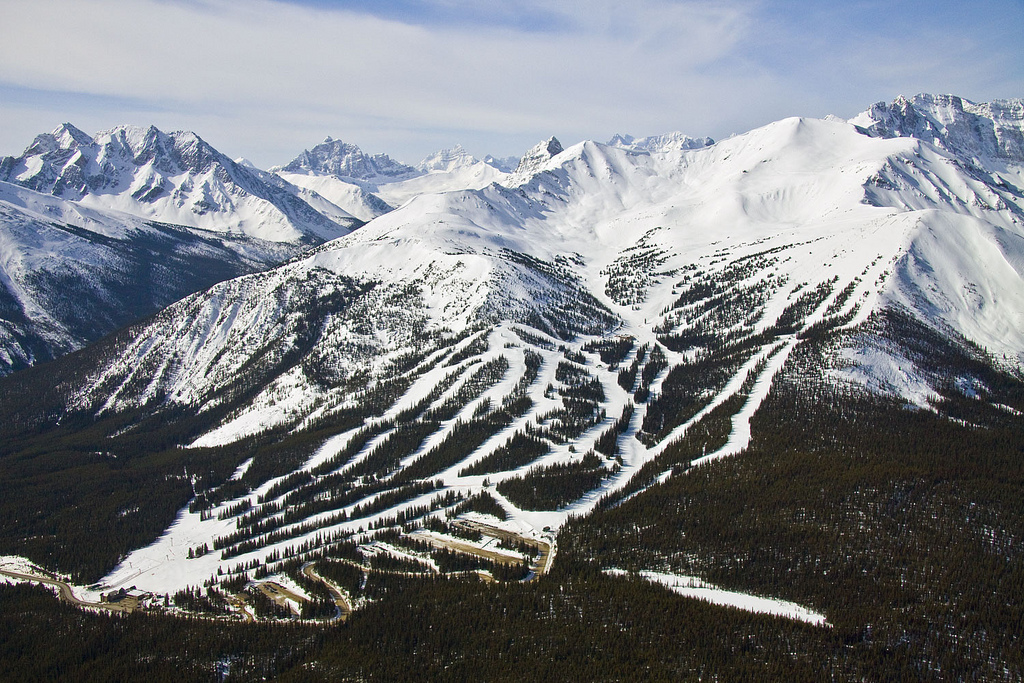 The Canadian Rocky Mountains are big, really big. You'll find the Central Front Ranges and the Continental Ranges in Alberta, home to Banff National Park, Jasper National Park and the stunning Icefields Parkway.
You'll also find the ski resorts of Lake Louise, Sunshine Village and Marmot Basin. We asked three locals what they love the most about their home resort.
Iain Ramsey, Sunshine Village
Iain is a skier, but married to a snowboarder, lives in Canmore and chooses Sunshine Village as his preferred mountain.  He gave us six reasons why.
Season Length: Nov – May, nearly 6 months of skiing!
Snow Quality: Due to the elevation, once the snow starts falling it does not start to melt until around April. The snow may get crispy at -20c, but you'll rarely find ice.
Lift Lines: Except for the week between Dec 27 and Dec 31, and the Family day holiday (stay away!), you will not have to wait in a lift line… ever…
The Dive & Wild West: Sure, you can find similar big terrain at Louise, Kicking Horse, or Revy… But the beacon controlled gate, lung-busting hike and intimidating entrances to Delirium Dive and Wild West areas are a great filter. You will very rarely come across more than a handful of others in there (except for weekend powder days, then expect a line-up) and fresh lines can be found for days after.
Resort Accessed Back-Country: There are so many options once you leave the boundary (and perfectly legal). From a quick hit to multi-day tours… Pillow lines, cliffs, trees, etc… But be careful, there is serious avalanche terrain just outside the ropes, local knowledge and backcountry experience are your friends. Don't be one of "those" stories.
**New Dad Bonus** – Under 3's ride for free, and the Tiny Tigers daycare does a half-day option and has great staff… Get out and do a few Dive laps with your partner in the morning, then have lunch with the family, and spend the afternoon passing on the skiing bug to your little one in the afternoon on the mellow Strawberry terrain. Guaranteed smiles all-around.
Grub McGeachie, Lake Louise
Skier, Andrew 'Grub' McGeachie has lived in Banff for seven years and calls Lake Louise his home mountain. Here's why.
The view! The view is incredible. Im yet to have it beaten. It's a postcard or a picture you see so often but in real life seeing that view with your own eyes is breathtaking.
A long season. Nov to May. With some of the best skiing in April and May between pow days and amazing spring skiing.
Steep big mountian terrain with really consistant long pitches with great access and view points for riders to watch or scope lines.
The terrain park is full of awsome hits, rails, jumps. With great progression from top to bottom. Including a 4 pack of booters going at least 50 plus feet just to get the adrenaline going. It's located on the front side of the resort so once you have spent the morning tracking out the fresh stuff then a couple of laps through this park will finish the day right off.
Amazing events! From the World Cup downhill skiing to Big Mountian freeride events various rail jams from locally organised to the massive end of season jam. Great apres with live music in the spring and some perfect patio views.
Jesse Milner, Marmot Basin in Jasper
Jesse Milner is an ACMG Ski Guide and a professional member of the Canadian Avalanche Association, so he knows his stuff.  When he's not in the backcountry he chooses to ski Marmot Basin.
It's a big mountain and has high speed lifts but has a great "local" feel.
There's no lift lines especially during mid week.
It has the highest base elevation in Canada, so there's hardly EVER rain.
Lots of varied terrain – something for everyone/conditions.
Snow. It's some of the driest, lightest and fluffiest powder around.