Winter by winter, Australian skiers' and snowboarders' untracked-Japow addiction snowballs. So far, most of us get our hit from the big-shot destinations – Hakuba and Niseko et al.
But a growing number of curious powder disciples seek a deeper immersion into the Japanese countryside and culture.
The enchanting rural prefectures of the northern-most region of Honshu Island, collectively known as Tohoku, are also inundated with Siberian-fed powder, but you won't hear too many accents from home at their smaller, locally flavoured resorts.
It takes little more effort to navigate to Akita, Aomori and Iwate prefectures than it does to the usual on-the-trail suspects. Start this three-prefecture, three-resort road trip at either Aomori or Akita airports, 45 minutes' flight from Tokyo or three hours by bullet train.
You can even connect from Hokkaido, too, just a frisbee's throw across the water. Shall we?
Hakkoda, Aomori – lift accessed backcountry
Hakkoda is about an hour's drive through snow-coated cedars and cyprus trees from coastal Aomori (which averages eight metres of snow itself). It is the antithesis of a blingy brochure resort; channelling the esprit de corps of an extreme club scene.
At first glance, the analogue piste maps looks depressing; a single ropeway (a 101-rider-capacity gondola) terminates at the peak of Mt Tamoyachidake (1324m), while a small chairlift feeds some shortish groomers. But groomed runs be damned, you come to Towado-Hachimantai National Park for raw, lift-accessed backcountry shenanigans.
From gondola's top, there are a few vaguely marked official ungroomed 'courses' parting the trees (up to five kilometres long), but for the experienced rider it's a choose-your-own-adventure playground. Unlike much of Japan, it's totally acceptable to dive deep into the forested off-piste powder here, the freshie-factory suitable for strong intermediates and above (greenhorns need not apply).
It's worth exploring for two to three days when the snow's on song, but do consider hiring a local guide who knows the terrain because there are hazards lurking such as under-snow rivers and with the amount of snow you need to know how to read avalanche terrain.
Conveniently, rescue prices are affixed to the toilet walls for your perusal.
Hakkoda village is bare bones: a dinky restaurant (with great-value ramen) and a minuscule rental shop. Big crowds are unheard of, but if you are number 102 in line, you might wait at least 20 minutes for the next gondola.
Where to stay
Five windy kilometres away (by courtesy bus) are the well-appointed ryokan digs of delightful Sukayu Onsen Hotel.
It has one of Japan's largest old-school mixed-sex onsens (plus two gender-specific ones), a restaurant offering a great kaiseki menu, plus a prolific gift shop that stocks everything from goggles to pet rocks.
Added extras
Appi Kogen is 140 kilometres' south but allow a day of travel for authentic hands-on cultural activities in nearby Kuroishi City. Paint 'Nebuta' (Matsuno Yu Community Center); make 'Tsugaru-Nuri' (intricately lacquered) chopsticks (Tsugari Traditional Craft Center); listen to a wild three-stringed shamisen show by even wilder haired All-Japan champion Kohei Shibuya (Tsugaru Shamisen Café).
Foodwise, seek out a local (fuji) apple pie, gorge on seafood, and drop by Kikunoi sake brewery for a drop.
Appi Kogen, Iwate – the perfect all rounder
Mid-sized Appi Kogen is only a couple of hours from Hakkoda, but it's an entirely different glass of sake. This ski-in-ski out resort – inland from some of the worst tsunami-hit coastline in 2011 – has been called both the Aspen (it shares a similar latitude) and the Dubai of Japan. Probably by people who have been to neither.
This north-facing, 282-hectare resort is a fun all-rounder. Long, wide, flowing groomers – from the meanderingly cruisy 5.5-kilometre Yambato Course to fun fall-line fasties off Sailer Quad – are graced with an average of eight metres' snow each season. Its 828 vertical metres are serviced by a decent infrastructure of 16 pastel-hued lifts (with two gondolas).
Spending more than five minutes in line here is as rare as Snow Monster teeth.
Appi's facilities should speak loudly to the family market with good snow-play areas, a mid-mountain restaurant, and English-speaking instructors. The terrain park has achievable rails, berms and jumps – including a seven-metre one if you're feeling a little X-Gamesey – but no half-pipe.
Groomers strategically ignore some runs after a powder-puke, but locals head for the six in-bound tree-run zones – Appi's highlight. Register at ski patrol for your yellow armband and return it at the end of the day, otherwise ski patrollers will come looking for you.
Where to stay
Dubai-skyscraper-esque Appi Grand Hotel has comfortable, spacious Western-style rooms (some about due for a refurb), many offering snow-facing, get-out-of-bed-now views. Plus, a solid range of facilities including a bouldering wall/gym and top-notch Korean barbecue restaurant.
There is no village per se, but two onsen options and a massive local-food court (Y900/meal) at the end of a small shopping mall. Nightlife isn't Appi's forte, unless a private karaoke booth is your jam.
On the road
30 minutes into the 100-kilometre drive south (then west) to Tazawako, look out for Hachimantai Salad Farm, nestled under splendid Mt Iwate. All the juiciest hot-house strawberries you can eat in 40 minutes (Y2,200). Don't mind the big bumble bees.
Tazawako, Akita – the local hero
You won't know Tazawako unless you have friends in Akita prefecture, proudly home to the (original) fluffy, loyal dog in 'that' Richard Gere film (Hachi: A Dog's Tale) or you follow Australia's world class mogul skiers who compete in the FIS World Cup here each season.
The compact resort's 100 hectares (608 metres vertical) is serviced by six leisurely lifts, including two covered quads. The average run is a well-groomed intermediate cruiser, with the World Cup Mogul 'Mizusawa Champion' Course, which hits 38 degrees, the only real challenge for experts.
There's on-piste freshies until at least lunchtime usually because you won't be sharing this lesser-known mountain (enough for a long weekend's entertainment) with too many others.
There are sweet backcountry opportunities near the summit of Mt Komagatake, directly above the piste (guides available) and, weather permitting, cat-skiing is on offer.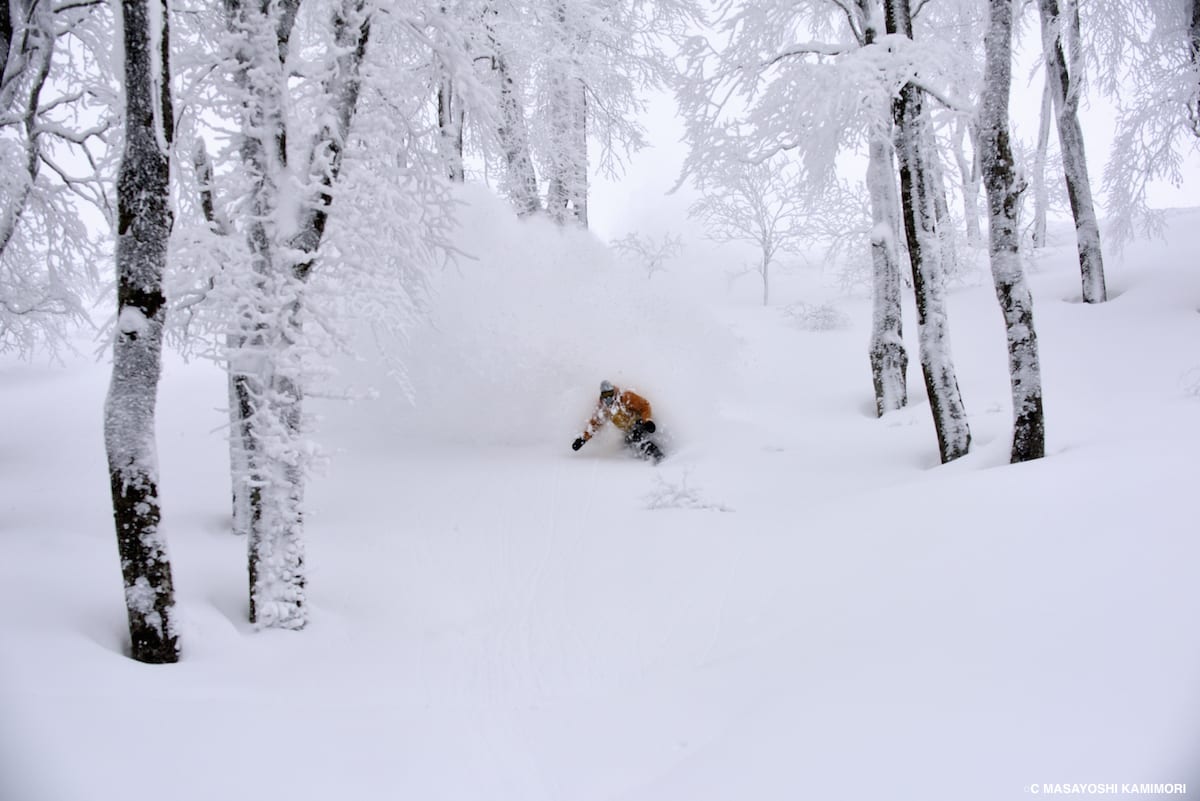 On a clear day, the vista down to Japan's deepest lake (Tazawa, 423 metres) recharges you for another run. As do the scrummy gyoza dumplings at Restaurant Shirakaba. The ski shop is immorally overpriced, but virtually everything else here, especially the cheap lift tickets (AU$55), remind you why you've headed into the less-worn Japanese countryside in the first place.
Where to stay
There is a humble Ski Center in lieu of a village, but pleasant onsen hotel options nearby. Komagatake Grand Hotel is at the perfect age to be accidentally retro, featuring a great snow-ringed onsen and free resort shuttle.
Airport-bound
Pit-stop at stunning Nyuto onsen in the nape of a sublime snowy valley (bring a towel) before hitting the road for the 80-kilometre drive to Akita Airport or 200 kilometres to Aomori (routes 105 and route 7 won't retrace your steps).
Steve was a guest of Tohoku tourism and Nippon Travel Agency Australia.