Australian's Ben Tudhope and Amanda Reid have swept the top step of the podium at the 2023 FIS Para Snowboard Cross World Championships in La Molina, Spain over the weekend.
Twice a World Championship Silver medallist, Paralympic bronze medallist Ben Tudhope stormed his way through his preliminary heats then battled out a close final to claim victory in the SB-LL2 category.
"To become World champion has been a goal of mine since the start of my career…I'm still in disbelief calling myself World Champ, but it's a title I'll hold high for the rest of my life," said Tudhope.
The 23-year-old triple Paralympian had already wrapped up the World Cup season as the tour leader claiming the coveted crystal globes in both the Snowboard Cross discipline title and the overall snowboard title but admitted that the World Championships was his main focus for the season.
"To become World Champion has been a goal of mine since the start of my career… so although the success this season has been great, it means the world to me to achieve the exact thing I set out to do," said Tudhope.
The podium was rounded out by Italian, Emanuel Perathoner and Zach Miller of the USA with Tudhope indicating that conditions favoured the Australian riders.
"The snow conditions were exactly the same as a September spring slush day back home in Thredbo that most athletes were not used to."
"They were digging in and falling all over the place because you couldn't hold a hard edge…all those spring freeriding fun days back home paid off for me," said Tudhope.
Tudhope was just 14 years of age at his first Paralympic games in Sochi, Russia 2014 but is now a strong leader in the team and shows no signs of slowing down, with his passion for the sport burning as strong as ever.
"I truly love snowboarding and no medal, or accolade or person could take that away."
"An important goal of mine will be to help with the pathways of para winter sport and to try give more people with disabilities the opportunity to go on snow."
"Being involved with the diversity and inclusion space, I know that every person has a role to play to improve this accessability."
Paralympic swimmer and cyclist Amanda Reid claimed an impressive victory in the women's SB-LL1 category just a week after her Snowboard Cross World Cup debut.
As a seven-time World Champion in track cycling, Reid is no stranger to the top step on the World Championship podium but says that this victory is particularly special.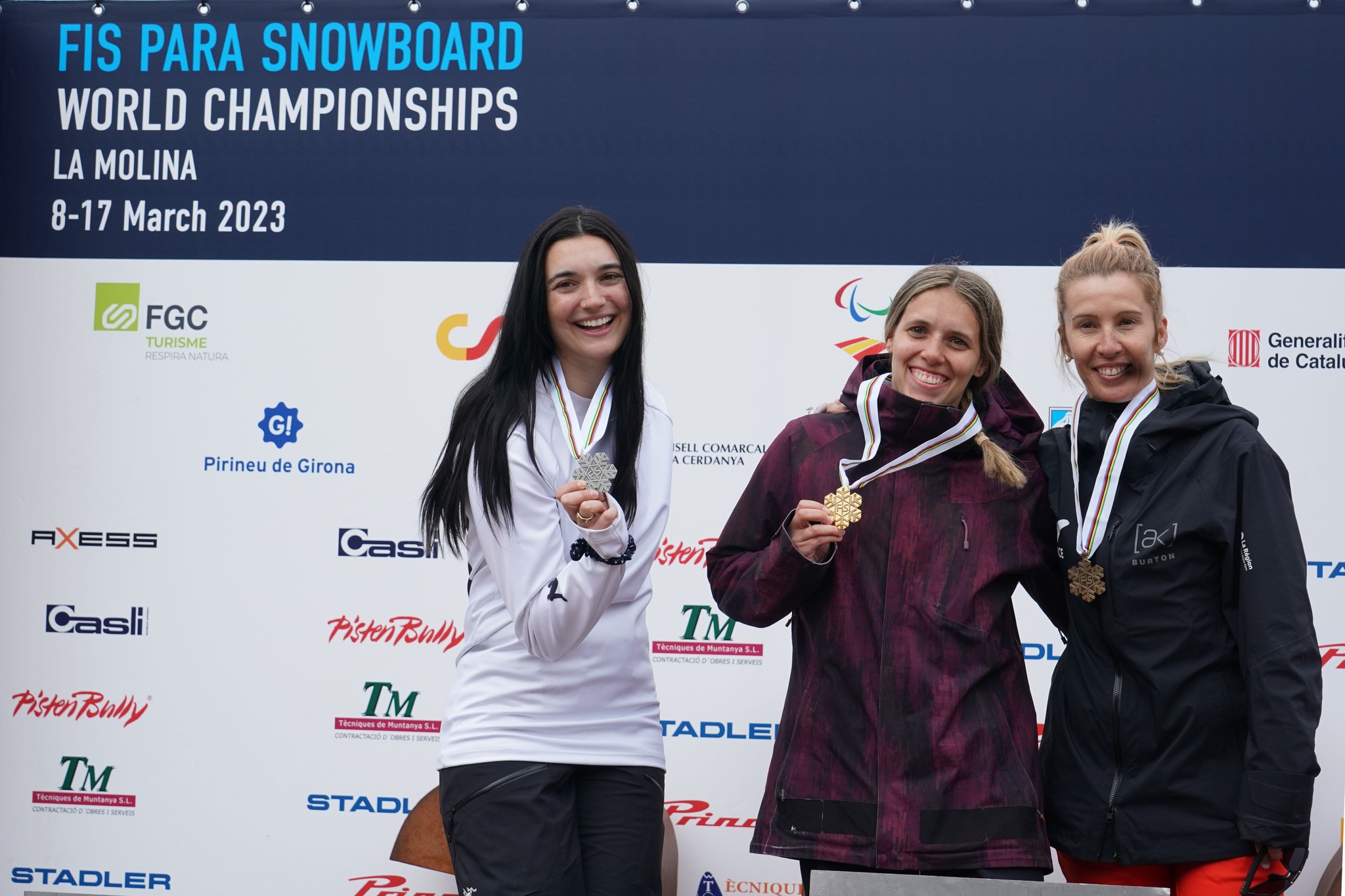 "This one feels different to all my cycling ones I have won, being my first season competing in para snowboarding and to be the first Aussie [woman] to ever win a gold medal at a para snowboarding World Championship is amazing and indescribable," said Reid.
Reid that it was incredible to witness Ben winning on the same day and was excited about the depth of talent within Australian winter sports.
"Ben and I worked so hard for these medals, and I'm excited to see where the future takes us as Champions."