I'm shuffling along a crusted precipice at 3,700 metres (12,000 feet) above sea level. My ski pole-clenched fingers are burning with cold. It's loud – blizzard winds, crunching snow and helicopter blades in the distance – but all I can hear is my own panting inside my helmet-encased head. Huge sucks of snowy air can't breach my lungs fast enough.
"You're the Australian journalist, right?" a ski patroller at the base of Silverton Mountain, Colorado, asked me at 9am this morning. He had a quizzical look on his face – one I imagine an American would wear if they saw a kangaroo lost in the Rocky Mountains.
"How fit are you? Because, you know, it's very different hiking up here compared to at sea level. You'll get up to the top of the mountain at 12,000 feet elevation and you're going to feel it."
Feel it? Oh, I can feel it.
Elevation at Silverton is nearly double that of Australian ski slopes Thredbo and Perisher, and every extra metre of vertical seems to increase gravity's pull while simultaneously reducing the available oxygen. Ski boots feel like bricks on my ankles, an avalanche pack clenches tightly across my back, and fat skis ache where I've heaved them over my shoulder.
At the same time, the weight of my decision to ski some of the world's steepest, most extreme lift-accessed terrain on a day of howling winds and low visibility is falling hard upon me.
Silverton is one of the gnarliest ski "resorts" in North America, located in the jagged San Juan Mountains of southern Colorado. I use the term "resort" loosely because it's really more of a mapped mountain forest of more than 1,800 acres (Thredbo has 1,200 for comparison). There are no signs, no groomed trails, and no buildings; a snow-laden tent sells tickets at the base. An old bus with the seats removed, full of ski and snowboard equipment, slumps in the powder and lauds itself the demo shop.
Simply getting to the base is a mission itself. The main road in is a white-knuckle ride known as the Million Dollar Highway that regularly closes during winter for avalanche mitigation. When (or if) you finally make it to the mountain, you'll see only one lift – a rickety two-seater that plops you above the tree line at 3,749 (12,000 feet) above sea level. You must ski with a guide throughout winter, and lift-assisted hiking or helicopters offer the only access into the mountain's wilderness. There's also only one symbol on the trail map: double black diamond.
"Let's practise what I would call our worst-case scenario," says our guide, Krista, when my brother, my husband and I are assigned to her group in the carpark.
We are matched with an energetic foursome of American ladies who know each other through women's mountain biking programs and a mutual love for skiing. Every year they make the trip to Silverton and request their friend Krista to guide them. She has guided here for six years and is one of just two female guides on the mountain.
Krista conducts a safety briefing, asking us to switch our beacons to "receive" for a moment so we may locate her in an imagined scenario where she is being suffocated by a swarming snow slide.
"If I get caught in an avalanche, you all need to know what to do. I'm hoping this won't happen but let's go through the steps together."
Now, at the top of the chairlift, hiking along Silverton's iconic ridgeline in white out, the mountain biking girl gang is setting an impressive pace. There's no time to catch a breath as clouds roar around us. We huddle up, clicking into skis and boards, as Krista shouts instructions.
"This run hasn't been open in two weeks since the recent storms – so I'll get you to ski down following Fabio, our safety manager here at Silverton," she explains. Fabio appears out of the blizzard in a red and black ski patrol uniform. He clack-clack-clacks into snowboard bindings and surfs down the white canvas with a nonchalant, lean-back style.
One by one, our group of eight takes turns dropping behind him. My first move is a tentative shuffle, then a cautious edge. The fat skis respond with a quiet swoosh. Sheesh, that's nice. Confidence and muscle memory returns and within three seconds, I'm whooping downhill, semi-submerged in pillowy flakes that balloon out behind me with each powder spray.
We reconvene at the tree line where the wind has disappeared. Excited chatter swarms the crew: "Best run ever!" is the early call – and we're only just getting started.
After the first taster, Krista turns on the gas. We tackle steep, tight trees with powder puffing up to my armpits between them. We scuttle into halfpipe-like gulleys on some runs, and other times we splay out across meadowy blankets. Occasionally we stop to dig rogue skis and flailing snowboarders out of tree wells.
At the bottom, when our skis and gravity can do no more, we cross rivers and hike through forests, always finding our way back to a snowy road. There, old buses that look like retired school or jail transport (no one really knows) appear to drive us back to the base of the chairlift. And up we go again.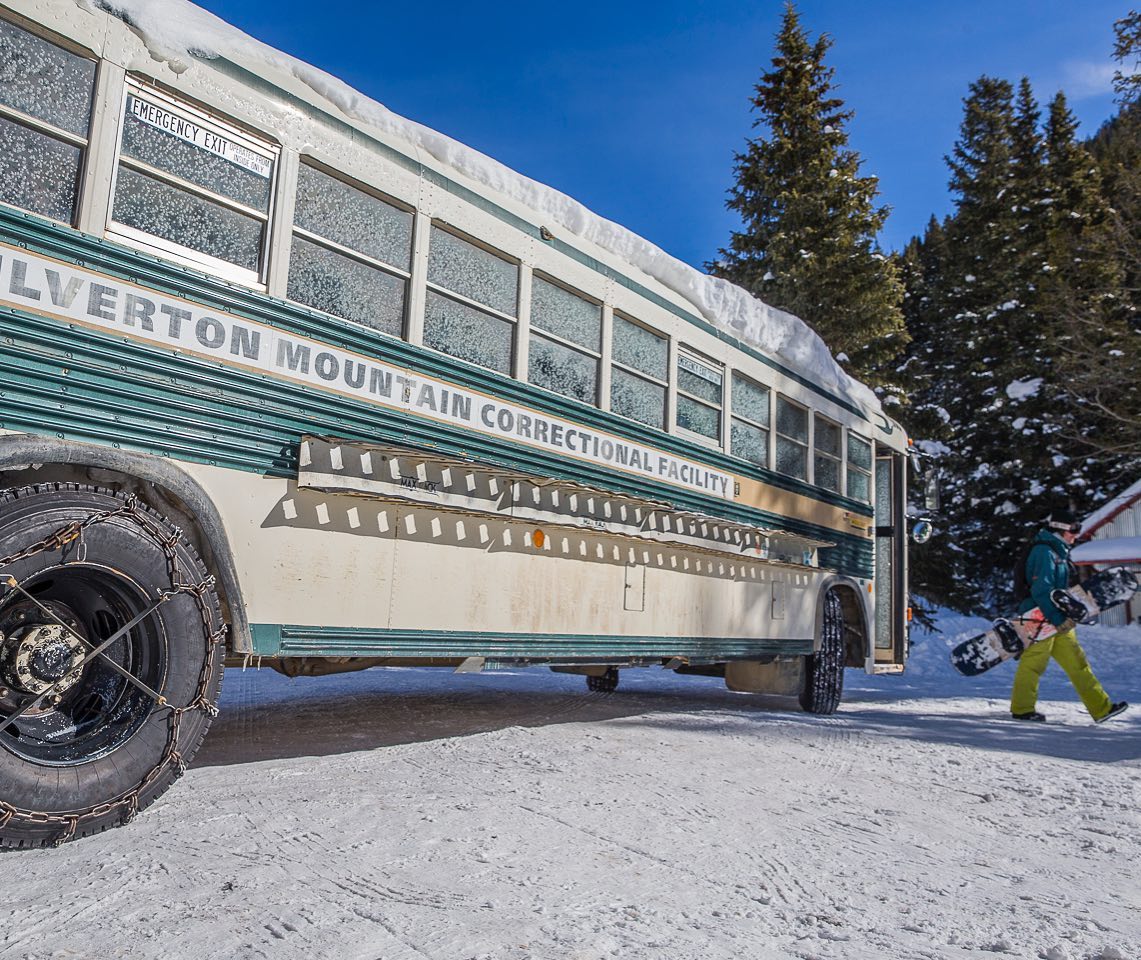 Our group manages six runs before 4pm without stopping; fuelled by pocket snacks and endorphins. We are mostly running on the ultimate satisfaction of testing our limits by skiing them. And just when we think the day has peaked, the sun emerges for our final quest. It's a 30-minute hike followed by a pick-your-adventure drop into a powderpuff windblown bowl.
"Best run ever!" we all agree at the bottom as we're hauling our skis over the river for the final time. I've lost count of how many times I've heard it.
Guided skiing and snowboarding at Silverton Mountain is similar to heli-skiing or snow cat skiing, but really unlike anything else in the USA. You can expect to get 3-6 runs (10,000-plus feet of vertical – 3000 metres) in a typical day. A day lift ticket and guide costs US$229, and you can add a single heli drop to that for just US$184.
The Mountain is a 15-minute drive from Silverton town, 6.5 hours from Denver, and one hour from the closest airport in Montrose.
*Kate Allman was a guest of Colorado Tourism Office and Silverton Mountain