Victorian Premier Daniel Andrews has declared a state of disaster for the first time ever. The state of disaster covers six shires and three alpine resorts across much of the eastern half of the state.
With the continuing and escalating bushfire crisis, the premiere in consultation with the Minister for Police and Emergency Services and the Emergency Management Commissioner is satisfied there is a significant and widespread danger to life and property in the coming days in these areas.
The areas covered include East Gippsland Shire, Mansfield Shire, Wellington Shire, Wangaratta Rural Shire, Towong Shire, Alpine Shire (this includes Mt Beauty, Dinner Plain and Bright), Mount Buller, Mount Hotham and Mount Stirling Alpine Resorts.
This is the first time the Victorian Government has used these powers since they were included in the Emergency Management Act 1986 following the devastating Victorian Bushfires in 2009.
Conditions are expected to deteriorate today, Friday, and the declaration provides for formal evacuations of townships and areas with a "if you can leave, you must leave" message.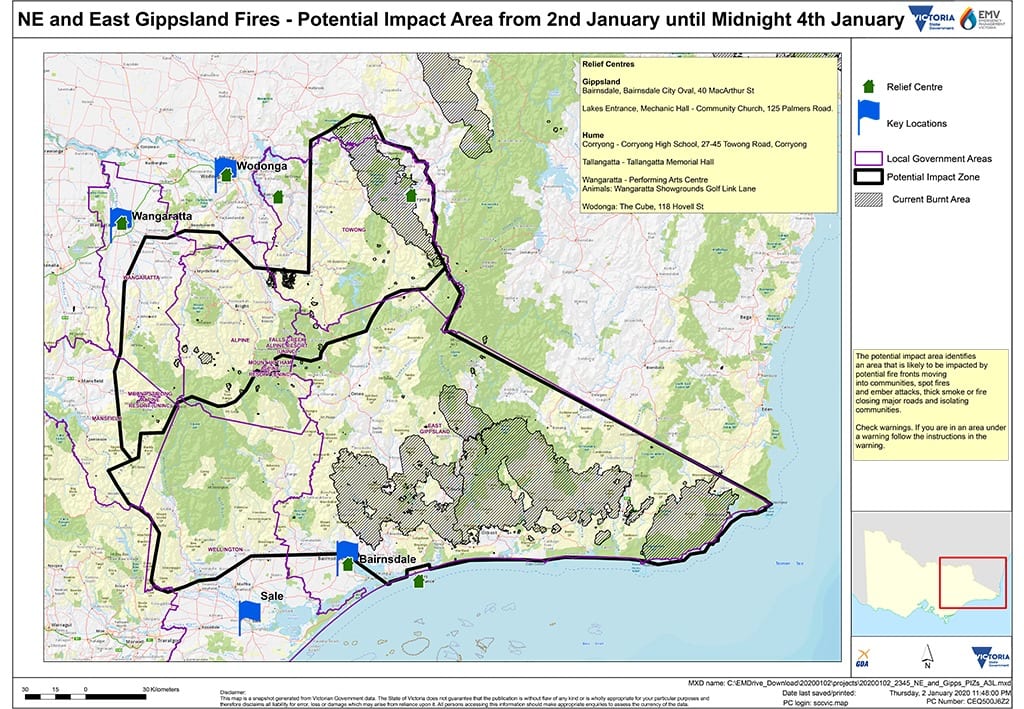 The advice from the Bureau of Meteorology and fire agencies is that fires could spread rapidly and unpredictably from tonight. The wind change will also move through the fire grounds in East Gippsland from midday on Saturday – which is of real concern to authorities.
The government, under the seven day state of disaster, has the power to take possession of private property, control movement and direct agencies. 
Over 780 000 hectares of land has burnt in Victoria so far with 50 ongoing fires currently. 
"Essentially this declaration is the first time these powers have been used because we face unprecedented risk to life and property in coming days" said Premier Andrews at a late night press conference on Thursday.
"The fires are unprecedented in their size, their scale and the risk they pose to so many people right across affected communities. If you can leave, you must leave, if you don't we simply cannot guarantee your safety.
"Others may be put into harm's way in trying to protect you and you may well find yourself isolated and cut-off for an extended period of time following fire activity that will almost certainly occur tomorrow [Friday], Saturday and potentially into Sunday."
The weather forecast includes high temperatures over 40 degrees Celsius confined with dangerous winds and unusually low humidity below 10 per cent. The issue with the current bushfires is their ability to travel at night.
Previously fires would settle overnight and there would be some period of minor respite. However the Marthavale fire ran 24 kilometres in one night and Corryong fire almost 30 kilometres.