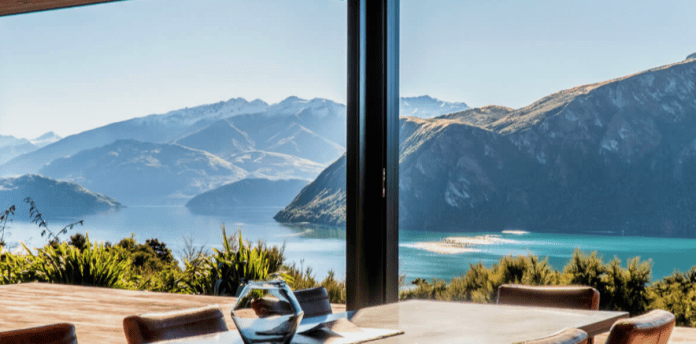 Lakeside ski towns are built for style, if you know how to utilise it. Bring those lake and mountain vistas into the home with wide sweeping walls of glass, add huge decks to drink in that view, throw in some exposed stone and wood and voila, you have yourself a holiday home you want to live in year round.
Some countries, however, do this better than others. While USA ski towns love the big brash over the top gazillion room mansions with heavy dark woods and a forest of logs, the quieter folk of Wanaka like to serve up their architecture streamlined and minimalist and let nature do the talking (not shouting).
Aurum in the prestigious Mt Gold Place in the laid back resort town of Wanaka is seriously understated. A mere three bedrooms perched on the ridge road doesn't sound super fancy but enter this bungalow and it's the details from architect Sebatiano Broadhead that bring this shrine to quiet design to life.  
A pristine garden path with under lighting leads from a gravel drive to a giant door behind which lies the crystal waters of Lake Wanaka and an amphitheater of peaks across the lake and I pinch myself for the gazillionth time in my travel journalist life. This view never gets old. Never.
The entire lake facing wall is floor to ceiling glass that flows out to a deck. Perfect for sundowners on milder winter days. It's hard not to feel as though you are floating on the lake in a giant luxury boat house. 
If you can tear yourself away from the view (trust us you can't) then you'll find an open plan living area with lounge, dining and kitchen and a stone BBQ courtyard that leads from the kitchen. Hues are deep tans, neutral creams and beige and hints of muted emerald with a washed concrete floor and full wooden ceiling against feature stone walls. Local shearling designers, Dorset and Wilson, provide a textured feel with sheepskin elements. 
It's all very Scandinavia meets New Zealand in a soothing interior cocoon that quite frankly may lure you to stay in rather than head up to nearby Treble Cone or Cardrona for the day. This could be dangerous for those who came here to ski.
I'm here to partake in the Sofa Ski School at Treble Cone and have brought a friend who ends up skiing in my place as an injury keeps me at 'home'. Though the idea of being injured is made that much easier to deal with by the setting I find myself in.
I camp in the master bedroom with ensuite and corner windows for exhaling and move to the media room for Netflix after dark. The accommodation wing of master bedroom, media room, third bedroom and laundry can be separated by floating doors from the rest of the house and the second ensuite bedroom where my friend resides is found tucked away on the opposite side. The layout gives a feeling of privacy and space even when all three bedrooms are full.
It gets even better when the good folk at Release NZ who manage Aurum invite local chef James Stapley, former private Whare Kea chef and now the name behind Kiki fame to lay on a three course meal for a select few locals – including X Games medalist and Winter Olympic skier Jossi Wells, snowboard legend Will Jackways and photographer to the geographic stars, Tim Pierce.
This is just another day at the office for Release who can pull rabbits out of hats should you so desire a bunny (or helicopters, private wine tastings, restaurant bookings, kitchen stocking, celebrity friends) at short notice.
Meanwhile Jossi regales us with tales from the international medal road, Will gives us the tips on where to find the powder stashes in New Zealand (there are many) and Tim takes candid shots for our Instagrams while we dine on local produce and get drunk on Kiwi wine. Could life get any better? 
Need to know
Wanaka is an hour's drive over the Crown Range from Queenstown International Airport and home to Treble Cone and Cardrona ski areas and numerous heli ski operators.
The Aurum residence sleeps up to 6 adults and is NZ$2650 per night for minimum 3 nights. There is a special couples rate of NZ$1500 should you wish the residence for yourself and your lover, friend, spouse. 
Release NZ specialist in Luxury Holiday Rentals and Experiences and are also a registered realtor agency for those looking to invest in the Wanaka lifestyle. 
SnowsBest was a guest of Release NZ.
WIN a snow safari road trip in Utah for two, including flights!