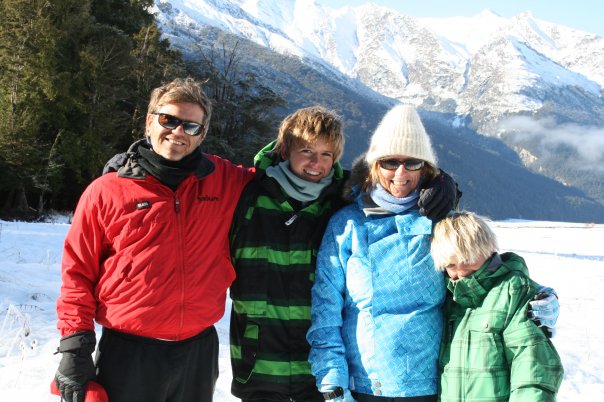 The snow and I did not get on at all on our first date. It was on a school excursion from Bega High, a two-hour drive away down the nausea-inducing bends of Brown Mountain.
The first night was OK, in a horror movie/adrenaline rush kind of way. The teacher, in her infinite wisdom, had us all do a séance in a lonely, creaking lodge at Guthega, snow gums scratching the old timber walls like an old woman's arthritic fingers. I slept with the torch on.
She had an even better idea the next day, proclaiming we were going tobogganing at Perisher. Being our first experience in the white stuff, this sounded appealing and we were all champing at the bit to slide downhill on old plastic sleds faded by the sun.
It was all fun and games, until that first inevitable fall off said sled into the snow. After two or three runs the cold starting seeping into our jeans-clad legs and Dunlop Volley or Converse gymboot-shod feet. I remember being cold. Bone-jarringly, brain numbingly cold. So cold I proclaimed long and loud that I would NEVER go to the snow again.
And I didn't. Not for a long time.
About 13 years in fact, when I was asked to go to Jindabyne for work to accompany a busload of 2WS radio station fans who had won a weekend away to the snow. I borrowed ski pants and jacket, hired boots and skis, and, after being assured by my friend, known as Dammit Janet, that she could teach me to ski, clicked on the skis and tentatively set out on the bottom of Front Valley.
After a few turns and a few slow motion stacks, all of which set her off laughing like a hyena, she pronounced me ready for the chairlift and off we went. She forgot to tell me how to get off though, and I ended up in a tangle of arms, skis, poles and legs – mine and someone else's.
"Whoops," says Janet, turning her face so I couldn't see her chuckling.
A few hours later, my romance with skiing was well and truly on – hotter than my teenage crush on David Cassidy – as I discovered the thrill of zooming downhill, feeling like a dancer as I turned one way, then the other, with fresh air in my face and a smile as wide as Sydney Heads.
I was hooked.
So much so that when my aquatic-based husband revealed he had never skied, off we went to Falls Creek where I tried to teach him Janet-style. Um – not such a great move so into lessons he went, progressing at a great rate of knots. After mastering his first blue run, without a fall, he was hooked.
And when it was time for our two little boys to have their first on-snow experience, we geared up the car, packed the Wiggles CDs and headed off to Thredbo, where both boys were enamoured with the Freddy Express 'train' at Thredboland.
They learned so quickly that after lessons, we took them up the Gunbarrel Express chairlift, where after giving strict instructions to follow behind along mummy's tracks on the Walkabout trail, they both went past me at warp speed, the wind snatching their delighted screams of "This is so cooooooool" and "Hurry up mum".
And they were hooked.
One intelligent ski instructor once told me that skiing is a wonderful activity for families, as the kids will always want to ski with you. He was right.
Now that the boys are 21 and 18, we still ski together, both in the Northern Hemisphere and in the southern at either Australia or New Zealand. In Niseko, a few seasons ago, we had a ball cutting through powder at Hanazono and Grand Hirafu, and enjoyed evenings at the Fridge Bar over a drink or three.
In Kühtai, near Innsbruck in Austria, we spent the night together in an igloo after braving a few shots in the ice – and I mean ice – bar. The shots were in glasses made of ice and if you wanted ice in it the bar staff just scraped it straight in off the wall. Once inside our igloo, all tucked up in our sleeping bags, we watched Shawshank Redemption on a laptop while the temperature dropped to -15 outside. Unforgettable.
In Telluride, where we went for my husband's 50th along with a few friends, our family fell instantly in love with the beauty of the place, the historic old town where Butch Cassidy robbed his first bank, and the skiing. Oh the skiing. We all still talk about racing each other down The Plunge or Bushwacker or Coonskin, and who could forget the sunset snowmobile tour out to the ghost town of Alta.
The boys scared themselves silly imagining faces in the windows and they scared me when they were behind the wheel of the big machines, driving down trails in the shadows of the magnificent San Juan range burnt orange by the descending sun.
In Mammoth Mountain, after a wonderful day skiing and boarding together on California's biggest resort, we sat in Wild Willy's hot spring out on the valley floor at sunset, watching the sun light up the Eastern Sierras.
At Treble Cone we laughed at the naughty keas and heard the boys talk about the gnarly chutes they tackled and at Sun Peaks in Canada, we laugh when we remember the dog sledding, with the boys mushing the parents through the silence – broken only by the rhythmic panting of the dogs. We recall zipping through the trees on ziplines at Whistler where the boys – all three of them – nearly wet their pants at my efforts to turn upside down.
And just this January, we were lucky enough to visit Val d'Isere, Courchevel and Les Menuires in France. The boys tackled the famous 'Face' with their dad, we discovered the delights of genepi, giggled over fondue and they all had a good laugh at my expense when I tried the Rock N Bob sled run at Les Menuires – failing miserably and having to stomp downhill with the sled bashing me on the legs all the way down.
I am definitely not cut out for toboganning. But at least I had waterproof clothes on.
There really is something magical about a ski holiday with the family. Apart from the memories created, obligatory snowball fights and snowman making, it is the actual joy of skiing down a slope together that is the highlight for me. Even though my boys are young men now, doing their own thing, the words "do you want to come skiing with us?" are met with a resounding 'yes'.
And when the grandkids come along, a LONG time from now I hope, we can head back to the snow at Perisher or Thredbo, and watch as they take their first tentative sliding steps on either skis or a snowboard.
Undoubtedly, they too, will be hooked.