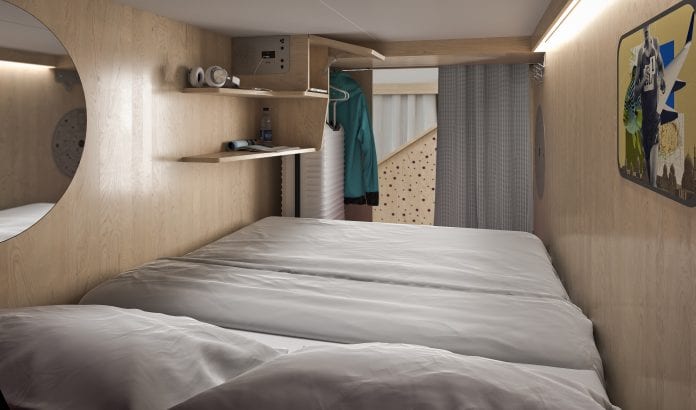 The first hotel of its kind in Canada, Pangea Pod, has opened in Whistler. The pod style hotel opened in August and offers a budget alternative for skiers and boarders looking for a style at a lower cost.
Husband-and-wife team Russell and Jelena Kling spent several years traversing the globe, garnering first-hand experience about what makes for a comfortable and satisfying stay. Loosely inspired by Tokyo's capsule hotels, Pangea, located in the heart of Whistler Village, is the result of three years of planning and prototype development.
"Pangea combines the affordability of a hostel with the perks of a boutique hotel," says co-founder Russell. "We wanted to cater to the type of traveller who enjoys the conviviality of shared spaces but prefers their own personal space at the end of the day."
The hotel's 88 independent sleeping pods are divided among eight separate "suites". One suite is dedicated to female-only guests. Bathroom facilities are divided into individual components (more than 60 in total) to offer privacy and limit line-ups.
These individual components include washrooms with vanities, showers with changing space, stand-alone vanities, and changing rooms.
Each cleverly-designed, wood-lined pod contains artwork and mirrors, as well as a comfortable double memory-foam mattress, individually controlled LED lights, a built-in fan that provides both air circulation and white noise, a lockable cabinet for valuables like iPads and phones, hanging space for clothes, and a storage area for luggage.
But Pangea isn't only about the pods; it offers superb shared spaces too. The Living Room, a stylish combo of lounge, bar, café, and espresso bar, boasts floor-to-ceiling windows that overlook the bustle of Whistler's Village Stroll, giving the space the feeling of an outdoor patio. 
The Rooftop Patio is Whistler's only true rooftop bar, providing a bird's eye view of Mountain Square. And The Toy Box, an open-plan secure storage area for skis, snowboards, mountain bikes, and other gear, was custom created to address the needs of equipment-laden outdoor enthusiasts.
Pangea was born out of a need for a new kind of accommodation in Whistler – a place where people with a shared passion for mountain sports, travel or just life, in general, could meet, relax and share stories but still have their personal space at the end of the day.