Whatever you think of our kiwi neighbours and their quirky wee accents across the ditch, there are three things that New Zealand undoubtedly does well. They are: rugby, female Prime Ministers, and convincing international visitors that their ski slopes are superior to those in the Australian resorts.
Extravagant marketing campaigns have helped fuel a perception among New Zealand locals that their mountains are bigger, have longer runs and better snow than Australian counterparts.
But is any of it really true?
We've sorted the facts on paper from fiction to pit Australian stats against New Zealand stats and declare a winner in this eternal debate.
Size (it matters)
New Zealand's largest ski resort is Whakapapa on the North Island and claims 44km of runs, 9 ski lifts and 550 hectares of terrain. Combine that with their sister resort on the other side of the active volcano, Turoa, and you have 1050 hectares of skiable terrain on the one lift pass.
But even that pales in comparison with Perisher's 1245 hectares of skiable terrain and 'that' Epic Australia Pass that gives skiers and boarders access to all the Vail Resorts around the world on the one season pass.  
New Zealand's South Island resort of skier's choice, Treble Cone, the largest ski area in their region with with 550 hectares of terrain serviced by 4 lifts, may be dwarfed by Perisher but the difference is, in a word, pitch. Treble Cone has it, Perisher doesn't. But Hotham does with Mary's Slide, an experts only double black off piste run within resort boundaries. Yes, Treble Cone has the Motatapu Chutes but technically they are outside the boundary. 
Australia can also claim the longest ski run in Australasia with Thredbo's 5.9km Super Trail. New Zealand's longest run reaches just two-thirds of that length with a 4.3km trail, also in Treble Cone.
And while the Southern Alps reach higher altitudes than Australia's Snowy Mountains in places where helicopters can take you (yes, they win on the heli ski front), the major New Zealand ski resorts are on a similar level or even lower than their Australian counterparts: Treble Cone sits between 1,260 and 1,960m in altitude, Coronet Peak's highest lifted point is 1649 metres while Thredbo's is 2,037m.
When it comes to vertical New Zealand wins. Turoa has 722 meters of vertical versus Thredbo's 672. Hey, what's 50 metres between 'friends'?
Australia for the win (without the helicopters).
The snow
This is where the debate heats up (pun totally intended).
The Remarkables and Coronet Peak claim 3.67 and 2.3 metres average annual snow fall, Treble Cone claims over 5 metres (really?) while Cardrona just across the way says 2.9 metres. Though you only need to look at last season when Treble Cone delayed their opening due to lack of snow to realise average snowfall figures are as reliable as Trump at a G 7 summit. Best not to mention the season of 2015.
Australia's annual snowfall figures are not as big but according to Onthesnow.com Australia has consistently reported similar or greater snowfalls to New Zealand in recent years. Every. Single. Season. Since 2015. 
It's important not to confuse snowfall with snow depth. Last season's actual snowfall in Australia reached over four metres but Spencer's Creek had the highest depth as 205 centimetres. Perisher's maximum base depth last year was 238 centimetres thanks to big snow storms and big snow making.
The true winner is Canterbury in New Zealand. Mt Hutt claims an annual average snowfall of 4 metres in this region but head to the Mt Cook National Park and we're talking mammoth snow (though you'll need a helicopter or ski touring gear to get to it) that falls in the metre load. 
But the real test is the moisture content of the snow and while Australia and New Zealand won't ever consistently have the dry content of Japan, Utah and interior British Columbia when snow balls are nigh on impossible to form, their snow quality is pretty much the same on either side of the ditch. Wetter, heavier snow that does form snow balls and holds them for a long time.
Let's call it even.
Trees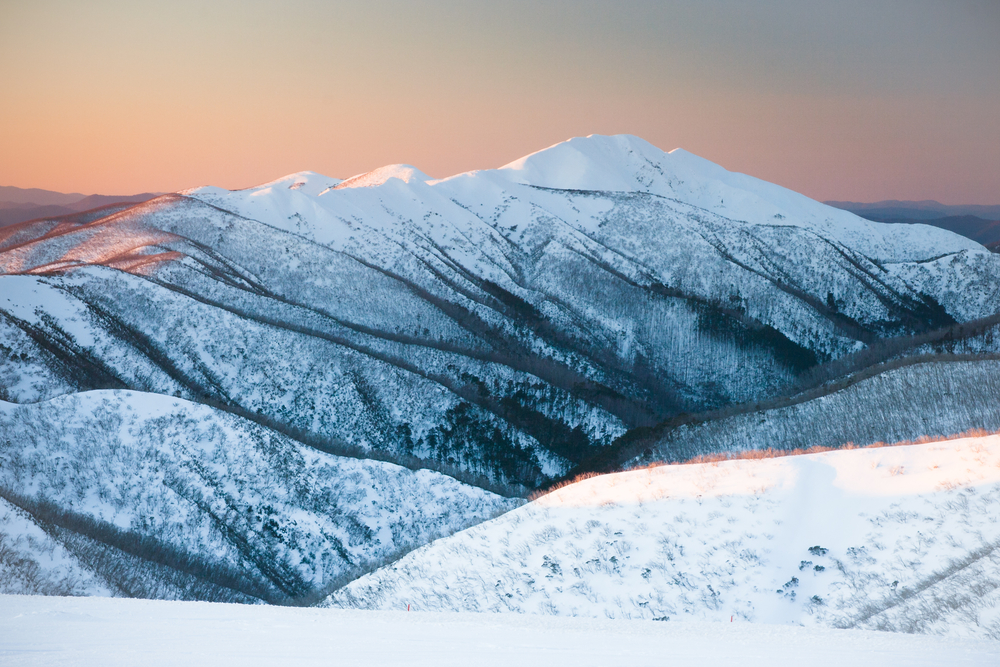 Australia has them, New Zealand does not. This means better visibility in a whiteout with a point of tree reference to help you deal with vertigo, it also means a wind break. Mt Hutt in the Canterbury region (1.5 hours from Christchurch) is affectionately known as "Mt Shutt" for this reason. So, while you may have snapped a bargain lift pass (Mt Hutt offers adult day passes from $53), you may end up skiing only half the time anyway.
Australia for the win.
Accommodation
Australia offers ski in ski out accommodation, Falls Creek is even pedestrian only. New Zealand's commercial ski fields don't offer this, except Cardrona that has a few apartments but the village pretty much shuts down once the chairlifts close. The clubfields of New Zealand are ski in ski out but you'll stay in rustic club style accommodation with a chores board (though this may be the most fun ski trip you'll ever have as the parties are renowned).
Australia for the win.
Après skiing
New Zealand, more specifically Queenstown, schools Australia in the après scene. Yes, every Aussie resort has it's own thriving apres scene once the lifts close, live gigs and all night parties but Queenstown is a thriving party town that swells with more than 10,000 extra inhabitants each winter season. There are more than 150 licensed establishments clustered around an easily walkable CBD, and they're all milling with throngs of likeminded, snow-happy party people.
There are also plenty of activities other than skiing available in New Zealand. Try bungy-jumping, jet boating, go winery hopping, play golf, go to a spa, concert or a movie. In Australia? Dust off the board games and that 1,200-piece puzzle. You might finish it this year – depending how long the white-out lasts. 
New Zealand for the win.
Access
It's nice to be able to go skiing without a nail-biting trip up an icy mountain road. Australians have that luxury: because you can stay on the snow with ski-in, ski-out accommodation at most resorts. You have to drive 6 hours from Sydney or 3 to 4 hours from Melbourne to do so, however.
In New Zealand most people take a 3 hour flight from Australia's east coast and then tend to stay in Queenstown. But then they have to make the treacherous drive up to the slopes from 30 minutes to Coronet Peak (the only ski road in the area tarred from start to finish) to 45 minutes to Remarkables to 60 minutes to Cardrona. Of course you can let a shuttle bus driver do the drive for you.
Australia for the win.
Cost
No one can currently compete with the Epic Australia Pass in Perisher (at least until Vail or Alterra Mountain Company buy another Aussie or a first kiwi resort) so they win this one.
BUT if you compare day lift passes then there is a difference. Not that many people buy a one day lift pass with so many multi day offers on the table. 
At Falls Creek in Australia a day pass is AU$133 (NZ$144) at Coronet Peak in New Zealand they are NZ$119 (AU$109). Of course the clubfields in New Zealand are half that price but you'll be negotiating a nutcracker rope tow and skiing ungroomed so you must love adventure skiing. 
But then you'll have to factor in your plane tickets across the ditch but there are some pretty amazing package deals of flight, accommodation and passes built specifically to lure Australian skiers and boarders with that 'marketing speak' mentioned earlier.
New Zealand for the win (on a day pass to day pass basis).