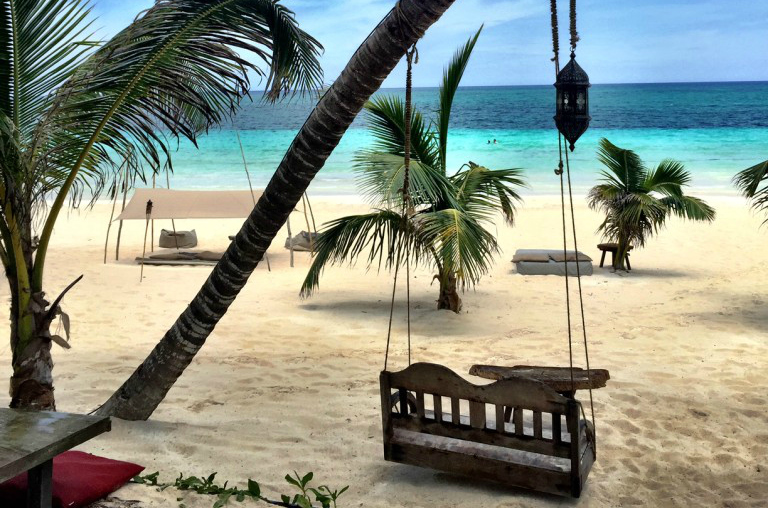 SnowsBest now brings you snow side trips to salivate over. If you're going to fly half way across the world or the country to ski you may as well get some beach action too, right?
Consider Tulum. With direct flights to and from Denver, Salt Lake City, Los Angeles, San Franciso and Dallas to Cancun you an easily throw Mexico in before or after your USA ski trip without adding on many travel hours.
What and where is Tulum
Tulum is a beachside enclave of cashed up bohemian types who like their Instagrams already styled for them. Think of it as boho-hipster with the design style of Bali's Seminyak but with a far better beach thanks to chalk white sand and turquoise water. Because, well, it's the Caribbean and all.
You'll find it ninety minutes south of Cancun International Airport. It's all very organic and raw with neutral hues and pops of Mexican vibrant colour, airstream restaurants, exposed woods, greys and whites, swings for seats and hammocks for lounging, dream catchers, multi coloured bicycles by day and hanging lanterns after dark.
Summed up in two words? On point.
Locals here like to think they discovered it back in the day but they probably arrived six months ago and are already complaining about property developers and newbies while doing their morning downward dog by their condo pool. Not that that's a bad thing because the truth is the mega resorts of Cancun (think college fraternity) and Playa del Carman (Mexico's Kuta) are yet to set up camp on this stretch of the coast. Tulum was originally settled of course by the Mayans and then the creative languid white folk who worked in the music industry, film, the arts and sought out Tulum for an alternative lifestyle and now the cashed up lifestylers.
Think of it as Byron Bay before The Farm, the Beach Hotel, Rae's and the like.
Where to stay – beach or town
This is the dilemma we all face when restrained by budget (or not).
Tulum is split between glorious beach that is really only accessible to those who have the pesos to stay at beachfront hotels that have beach clubs and 'own' their stretch of sand and Tulum town. You can stay in a beachfront oasis and choose a 'garden view' room to keep those accommodation costs down. Be warned, these garden rooms can swelter as they are set back from the beach and usually surrounded by jungle like foliage. If there's air conditioning then great.
Speaking of air conditioning. Savvy boutique chic hotels have set up camp with open plan architecture to ensure a cool air flow as beachside Tulum is off the grid and mostly runs on generators so air conditioning hours are timed and limited. So take this into account when deciding where to stay.
Don't be fooled about who owns the beach though. Sneak through their gardens, hit the beach and start walking. I always thought the ocean is free. You can access many beach clubs day beds, lounging mattresses, cushions, cabanas and shade with a minimum spend in the hotel's restaurant but that can be anything from US$20 to US$50 depending on time of year.
Tulum downtown is worth considering but you will need a car or a bicycle to get to the beach. There is a public beach which looks the same as the private beach, I mean azure water is azure water, right? It just doesn't have those curated day beds out of the pages of Vogue living that the beach front hotels and beach clubs do. Though a carefully placed beach towel can also give a rustic eco chic look.
So if you stay downtown you'll have guaranteed air conditioning and a pool. You'll also have the vibe of the street so take ear plugs.
OR and yes there is a third option, you could stay in any of the condos in the Aldea Zama complex which sits in the jungle between town and the beach (though it's closer to the beach which you can easily bike to). Every residence has a communal pool, security guards and lots of space to spread out. You won't have the vibe of town or the beach road dining district but you will have an ex pat community who will share their insider tips.
Check out Tulum Homes for condo rentals.
Hotels of distinction
Be Tulum
Intimate den of design love on a small stretch of sand. Big on personality. The housekeeping team wear colourful Mexican hand embroidered dresses and the bar guys are in neutral hued chinos straight from a Gap commercial. Rooms have quirky touches including outdoor hammocks and some have outdoor plunge tubs. Betulum.com
Coco Tulum
Style meisters on a budget check in here. You can choose from private beach front cabanas with some air conditioning, ensuite and terrace or garden cabanas with shared bathrooms. Either way you get the beach club which comes with swings to lift your feet off the ground at the bar and channel your inner mermaid. Oh and everything is white. This is a good thing. Cocotulum.com
NEST
Nine rooms of simple streamlined and hand curated design. Owner James Chippendale has personally chosen all elements of his home hotel by the sea. Check in here and you'll find an oasis of calm to return to after a night on the margaritas. There's a private beach club for guests only and a communal open space for breeze and interaction with like minded travellers. They have recently launched a budget outpost in the town of Tulum at Ki'Bok for those wanting style without the price tag. Nesttulum.com
Sanara
If you love yoga, wellness,  paleo, nut butters, smoothies and open plan living with smooth tunes from a cocktail deck then you will love Sanara. This wellness resort is home to The Real Coconut by former underwater photographer turned restauranteur, nutritional food lover Daniella Hunter. The tag line for Sanara is 'space to breathe, heal and be free' and the philanthropic founding team are the crew behind TedX Tulum. Sanaratulum.com
Nomade
You will love, like or feel 'meh' about Nomade. The style hotel has been curated within an inch of it's hipster life from the lush living grass hotel sign to the 'gratitude tent', giant wind chimes, Arabian tents and villa accommodation and Moroccan themed dining areas (ah, guys I think you mixed up the M for Mexico). The beach club is a sahara style oasis with shade sails and sand mattresses. Oh and there's a swing. Who doesn't love a swing? Like it or not like it, Nomade has captured a cool market of cocktail loving New Yorkers. Nomadetulum.com
Others to consider
The design art mecca of Casa Malca that once belonged to Pablo Escobar or so they say, Mi Amor for a rocky point perch with day beds and villas with private pools that face the sea and Design Hotel's the Papaya Playa Project for afternoon DJs, sunken beach front tables and chilled out cold pressed juices.
What to wear
Ahhh Tulum, you take me back to those heady memories of wearing my bikini to over priced restaurants by the sea, margherita in hand, not a care in the world back in the days of never. Never. Who wears their bikini and nothing else when riding a moped, walking down the street, ordering food from a chino wearing waiter, cruising the aisle of the local supermarket? Clearly Tulum princesses do.
A strategically worn over throw, muumuu, kaftan, even beach blanket can go a long way in retaining dignity. Well, mine, anyway.
Pack whatever you like or pack nothing, both clearly work here. If you must consider a style then think yogi hippy chic boho Santa Monica stripes linens cotton and put on a fedora hat. Got it?
You can buy anything you forgot to pack, though the fashion designers here must have confused the tropics of Mexico for a nightclub on the Jersey Shore because polyester is the chosen fabric by even the top end designers here. Polyester equals sauna. Do not buy as every step you take in Tulum will be akin to moon walking in a steam room anyway, even when wearing cotton. That's why the beach and that breeze and that ocean are so important.
Where to chow down and imbibe
Sup
Cocktails aren't cocktails anymore, they are libations. Hipster bar men here may arrive with long bush ranger beards but they soon learn to trim them back to a George Michael style growth once the heat gets into those whiskers. Let the poor sods mix you up a margarita or pour you a rosè or chop open a fresh coconut at any of these bars.
Papaya Playa Project on a full moon or just for sun downers. Don't ask, just go. Thank us later, if you remember.
Gitano Tulum on the jungle side of the main beach road because the cocktails are good, really good. Try the Jungle Fever mix of mezcal, chili, lime and cilantro.
Nomade because it's the scene and fun.
Batey downtown for a local ex pat vibe and guarapo sugar cane bar on the back of a VW beetle.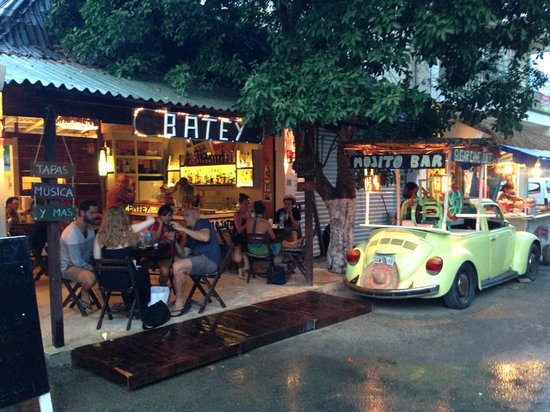 Chow
Coffee
First things first. The best coffee is at Ki'Bok downtown. It, unlike the rest of Tulum, opens at 7.00am.
Chomp
You can't go wrong in Tulum, the food is fresh and innovative and super tasty. Cheaper in town more expensive on the beach.
Hartwood: This wouldn't be a guide to Tulum without a mention of Hartwood. The restaurant from Eric Werner responsible for the influx of New Yorkers in recent years, the sustainable carbon neutral local loving open air dining destination that you really must try. Seriously. You must. Everything here is created by hand, mashed, tossed, stirred, turned and then grilled or baked in a fire driven oven. The menu changes daily thanks to local providores. Go early and avoid the line, they open at 6pm. But be warned you will pay for the hype, a lot, and while the food is good it is hyped. I paid AU$100 and I didn't even leave drunk (one glass of rose).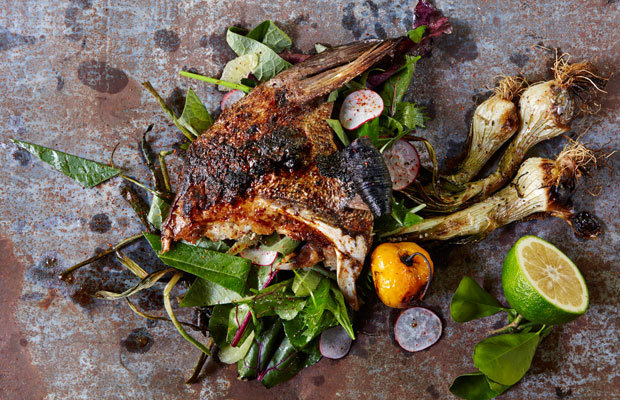 Casa Banana: Rustic menu with Argentinian inspiration on the jungle side of the beach. A favourite for those who can't bother with the queue into Hartwood. You should really do both while you're here.
The Real Coconut: Two words. Chocco Nutty. Third word? Smoothie. That is all. Go just for this alone.
Posada Margherita: Simply the best Italian styled restaurant this side of Mexico. Home made pastas, home made pastas then homemade pastas. Sigh.
Helados Buenas Estrella: You'll find this raw vegan ice cream caravan on the road between the beach and the town. Mix your flavours or go straight up, either way they'll make it for you there on the spot. I know, right?
What to see and do
Spa Up
Go directly to Yaan Wellness Healing Spa (across the road from NEST Tulum) for healing waters, a rooftop garden, meditation, cleanses, beauty treatments, massage and more.
Stretch out
If you're looking for yoga then you'll find flow, power, bikram and all sorts of yoga designed to keep you moving at practically every beach side hotel but if you're looking to really drop down into yourself, exhale and chill out then head to Tribal Tulum for Iyengar, Yin and Resorative. It's above the dive shop and boasts a new open light studio.
The Mayan ruins
Check out the ancient Mayan ruins on the coast of Tulum. You'll pay around AU$3 to get in and take your swimmers as you can hang out on the beach and look back up at the site.
Cenotes
These water sink holes will blow your mind. Crystal waters filled with stalactites and stalagmites and rich minerals. There are literally thousands of these on the Yucatan Peninsula so just take your pick, though the Gran Cenote is the most popular. The Mayans used them in religious ceremonies so they hold much energy. If you're keen you can cave dive many of them.
Sian Ka'an biosphere
Take a tour and float down the swift current of this UNESCO biosphere of forest, mangroves, marshes directed by a barrier reef. Expect over 300 species of bird life. There are crocodiles but not of the Australian variety, these ones won't eat you.
Need to know
Most places will accept both US dollars and Mexican pesos. Some places only take cash so ensure you have some on you at all times. There are ATMS on the side of the street to utilise at your whim.
Tipping is considered de rigueur, around 15%. Though some places that should know better put 'suggested tip' on the bill and then include it in the total. Hmmmm, should we explain what suggested actually means?
Rent a bike, it's a fun way to get around.
If you rent a car then go with Avis as they don't 'tag' their cars with rental plates. Police are known to target car rental drivers and you don't want to have to hand over any extra pesos on the side should they target you.
The verdict
Go now before the cruise ships arrive. They probably won't but you never know. This laid back charming beach town can be hectic in peak season which usually coincides with any American holiday. November is for New Yorkers and April is end of season ski workers getting some sun. If you want Tulum like it 'used to be' then head to Holbox Island. Better yet, do both!
The writer travelled independently.