SnowsBest sent Christie Hampton to talk all things free skiing, Olympics and new media with the Godfather of Freeskiing, Mike Douglas.
If, for you, the term 'Godfather' conjures up images of Al Pacino and a bloody horse's head then you're reading the wrong blog. For skiers, there's only one Godfather and that's Canadian Mike Douglas.
He pioneered the freeskiing movement as a member of the New Canadian Airforce and is credited with inventing the first twin tip the Salomon 1080.
These days Mike is an award winning short filmmaker and runs his own media company, Switchback Entertainment, which is responsible for producing the hugely successful online series Salomon Freeski TV.
His latest project is a labour of love, a full-length documentary called Snowman and, to give the project some legs, Mike has fired up a Kickstarter campaign.
In part one of Words with Mike Douglas, Christie Hampton chats with The Godfather about life as a filmmaking, freeskiing father of two.
How do you feel about the Godfather title?
The nickname came from the marketing guys at Salomon, and it was kind of based on the rise of the freeskiing movement and twin tips and the role that I played in that.
I was actually the old guy in the group that got the whole thing going and, by being the older guy, all the organisation and the business defaulted to me. So this Godfather thing got coined and it stuck.
And in the mean time I've become a real father and it's funny because I think my kids don't really get it, like, about why people might make a big deal about who I am, 'cause they're like 'oh that guy, he's just my dad'.
Certainly some of my sons' friends get a little bit star struck when they come over. There's one of his friends in particular, every time he comes over he looks at me, he doesn't say anything, he just kind of looks at me like this… [Insert 'OMG it's MIKE DOUGLAS' face here].
So that's kind of funny, it's cute.
The current freeski scene now, post Sochi, do you think it's gone to a good place?
To be honest I think it's come out as I expected. I really didn't think it was going to have much of an impact on our sport.
I think the only thing the Olympics has really done is made it so that when you try to explain as a slopestyle skier what it is that you do, most people actually have some idea now. Because now people can say 'oh yeah I saw that in the Olympics, it looked kinda' cool'.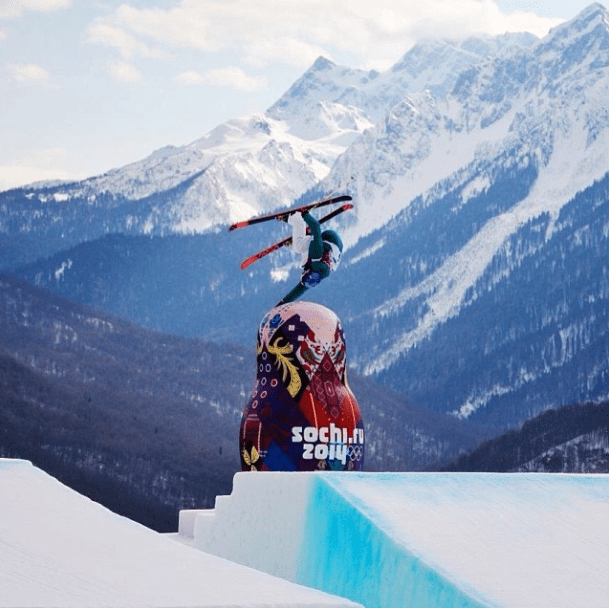 I think that it's obviously made a few big stars for us, which is great, but I don't think we're going to see this massive surge in new skiers or anything like that. I am pretty confident in that.
Knowing what I know about the business side of the sport, that's pretty clear. I think the Olympics highlighted a few concerns that I have and I know a lot of people had about the sports.
We saw massive courses in the slopestyle and that's concerning considering the injury rates. Looking forward that's certainly something I'm concerned about and I think has to be addressed on some level because it's not really sustainable for people to do more flips on bigger jumps.
The human body won't magically evolve in some crazy way to make us survive these kinds of things. I think creativity is the key to these sports moving forward and sticking around for a while.
What do you think it takes to be a successful competitor in 2014? 
The really cool thing about a sport like skiing is there are fifty different ways to make a career out of it. If you want all the lights and the glory then pursuing the Olympic dream is probably the way to go.
But I'm still a professional skier and I haven't competed for eight years now. I've been able to make it work by working in film and television and doing these things that people aspire to and get excited about.
In skiing the biggest growth area right now is really this backcountry movement and ski touring and getting back to the roots a little bit. That's the part of skiing that I'm most into right now.
You can make a life as a ski patroller, you can make a life and a ski instructor, you can be an artist. The world has gotten so small and so broad at the same time.
I think it's a great time to get into skiing and find your path. Or make a new path. Why not?
Did you want to work in media when you first started skiing? 
I just wanted to be a good skier and I wanted to live the life of a pro skier. All I wanted to do was ski. And part of that is, when you're so into skiing, you're into it on all levels.
I liked to take photographs with my friends and my best friend and I, Kevin Fogolin from the film, Snowman, made a ski movie together on 8mm film back in 1986.
That was my first taste of film and learning about that type of stuff. But it's funny because I kind of dabbled in that for the next twenty years but I didn't really start taking it seriously until '07 and then I got really serious about it in 2010 and now it's taken over my life.
Especially now that I'm trying to make a movie.
Editors note: More on 'that' move in Words with Mike Douglas part two.
And now all it takes is an iPhone?
Yeah and a GoPro. With those things anyone can make content.
Everyone has become a marketer. And there's a lot of upside to that because I don't think that I would be able to make a feature film right now if it cost a quarter of a million dollars investment in camera gear to get started.
We've got some good bells and whistles with our company now, we've built that up slowly, and kind of learned along the way.
On the negative side though, I kind of feel like media comes at us so fast, that it's somewhat overwhelming. Even in the last eight years, since we started Salomon Freeski TV.
We used to be the only kid on the block and now we're struggling to keep from getting lost. There's just such a bombardment of media out there.
So tell us how the Salomon Freeski TV series came about?
It started back in 2006 and I had been sponsored by Salomon for a long time. I'm lucky that they would call on me for advice on different things when it came to marketing and the team and all that.
We were in a meeting in France and we were talking about the future of media and, in particular, where ski media is headed. Eventually myself and one or two other people brought up this new thing called 'YouTube'.
And I said, you know, I'm spending less and less time popping that DVD ski movie in the DVD player and sitting down to watch it, and a lot more time sitting at my computer, clicking on the little videos that keep coming up.
And we realised that no one in skiing at that time was really doing any programming with any consistency on YouTube or any other player. And so I said why don't we do a web series? Why don't we look at the world from the Salomon team perspective and give people a free show to connect with?
And so that's what we did. We launched in 2007 and we're now currently editing our eighth season. The growth has been amazing.
Has it surprised you how much it's grown?
I don't really want to say surprised because I think we believed that we were on the front curve of something at the time. And I think we felt that if we gave people what they wanted then they would respond.
The biggest surprise, or the most interesting part of it is, the evolution of the program itself. If you go back and watch the first season the show is quite different.
The first episode of Salomon Freeski TV
Season 7 episode episode 12, 2014
It was more of a variety show. I was more like the host and we would go here and there. And then over time it started evolving more into a series of short films and stories. And that to me has been exciting because that's more what I'm interested in.
That's more the evolution of my career as a filmmaker.
Is there a point of difference for you 
I think more than anything it's consistency. I think that's one thing we deliver that nobody else is. For the last three years we've been doing 12 episodes a year, and we try to keep them different.
No one else delivers the volume that we do. And no one else delivers the variety. We try to tell a broad range of ski stories.
We have a really great team here at Switchback Entertainment, there's five of us working full time and only two of us have been working on the film. So we have a crew that's working really hard on Salomon Freeski TV. It is still our primary focus.
The film is a labour of love, it's a passion project for me. I put my extra time into it. The series is strong, it's season 8 and we're planning season 9 already.
It's really a dream job.
We chat to Mike about the making of his feature film documentary and his Kickstarter campaign in part 2 of our interview.
In the meantime get behind the Snowman project by clicking HERE.
Follow SnowsBest on Facebook, Twitter and Instagram