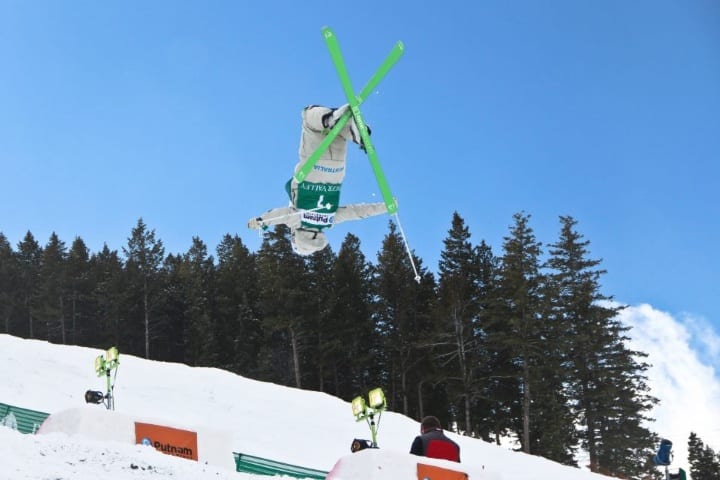 Perisher will be rolling out the red carpet this week as the royalty of skiing head our way for the Australian Moguls Championship, 29-30 August 2017.
Australia's own mogul skiing World Champion Britt Cox will be joined by the Japanese men's World Champion Ikuma Horishima, plus a star studded line up to contest the Australian title at Toppa's Dream ahead of the World Cup season and qualification for the Olympic Winter Games begins.
There will be 115 international athletes training on Toppa's Dream this year in addition to Australian superstar skiers Cox, Matt Graham, Brodie Summers and developing stars Jakara Anthony, Rohan Chapman-Davies, Madi Himbury, James Matheson, Taylah O'Neill, Nicole Parks, plus many more who will be in form with a distinct advantage of competing on their home training turf.
"The course is in great shape, Perisher have done a tremendous job with the course build this year. It's 270m long making it the longest mogul course in the world" said Australian Moguls Head Coach, Peter Topolovic.
"The recent snowfalls have really helped shaped the moguls well, and as always, it's extremely challenging to ski. The international teams come here because of the course itself, its considered one of the top three most difficult courses to ski in the world and of course we are five months out from the 2018 Olympic Winter Games which means the Australian Mogul Championships are a final opportunity for these world's best skiers to prepare for the upcoming world cup tour. "This is the biggest international turn out we have ever seen."
With just six World Cups before the Olympics, every event counts toward qualification. Challengers for the men's Australian title are Mikael Kingsbury, the World number one from Canada, Ben Cavet, ranked second from France and Perisher ambassador and third ranked, Matt Graham.
Contesting the women's Australian title is Australia's first ever mogul skiing World Champion and first female mogul World number one, Britt Cox, and World number two, Perrine Laffont from France.
See results and live timing on www.snowracer.com.au
About Ski and Snowboard Australia (SSA)
Ski & Snowboard Australia is the nationally and internationally recognised authority governing competitive snowsports in Australia. SSA is affiliated with the Federation Internationale de Ski (FIS), Australian Olympic Committee, and the Australian Sports Commission. SSA conducts events and programs in alpine skiing, cross country skiing, freestyle skiing, and snowboarding with the aim to support snowsport athletes and develop champions.  See www.skiandsnowboard.org.au for more information.