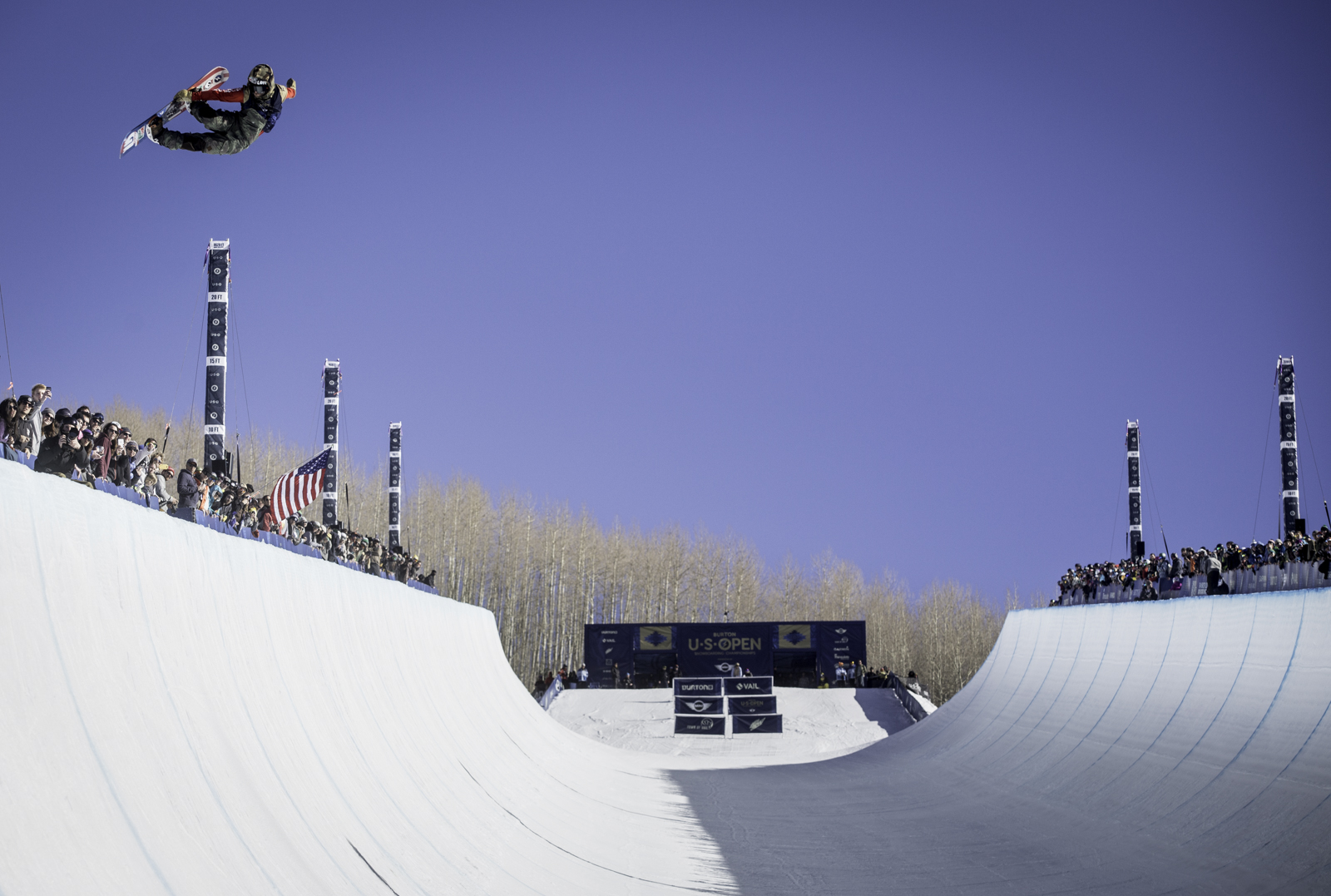 Big names are coming to Vail for the Burton US Open this March.
Confirmed top riders for the Burton US Open include two-time Olympic gold medalist Shaun White (USA) competing in both halfpipe and slopestyle, 2016 X Games gold medalists Chloe Kim (USA), Spencer O'Brien (CAN) and Matt Ladley (USA).
Eight-time US Open winner Kelly Clark (USA) and Taku Hiraoka (JPN) will be returning to defend their 2015 US Open halfpipe titles, along with Jamie Anderson (USA) and Yuki Kadono (JPN), both defending their 2015 Burton US Open slopestyle titles.
The pro competition kicks off on Wednesday, March 2nd with men's and women's slopestyle semi-finals at Vail Mountain's Golden Peak.
Defending champion Yuki Kadono (JPN) returns following his history-making US Open run landing a first-ever combo of back-to-back 1620s in competition, as well as a huge win at the 2016 Air + Style Los Angeles. He'll be competing against 2016 X Games big air gold medalist Maxence Parrot (CAN), 2016 Air + StyleInnsbruck winner Sebastien Toutant (CAN) and overall tour winner Sven Thorgren (SWE), as well as Shaun White (USA) who will all be gunning for the podium.
The women's field is stacked with defending champion Jamie Anderson (USA) coming off a big win at the 2016 Laax Open, 2016 X Games gold medalist Spencer O'Brien (CAN), along with strong podium contenders Cheryl Maas (NED) and 15-year-old TransWorld Snowboarding Rookie Of The Year Hailey Langland (USA).
The highly-anticipated halfpipe semi-finals follow on Thursday, March 3rd in Vail's 22-foot superpipe with one of the most exciting lineups in this event's rich history, including defending champion Kelly Clark (USA) going for her record ninth US Open title and continuing the battle of 1080s with Chloe Kim (USA), who recently made history landing back-to-back 1080s in competition.
In the men's halfpipe competition, defending champion Taku Hiraoka (JPN) will have to bring his A-game with Shaun White (USA) returning and going for his sixth US Open title including halfpipe wins at his most recent US Open appearances in 2013 and 2012. Shaun most recently clinched a halfpipe win at this season's 2015 Dew Tour. Other riders to watch include previous podium winners Danny Davis (USA), Ayumu Hirano (JPN), and Yiwei Zhang (CHN).
It all comes down to the finals, when 10 men and 6 women compete for equal share of the overall $343,000 prize purse, with slopestyle finals on March 4th followed by halfpipe finals on March 5th.
In addition to world-class pro competition, there's also plenty of amateur action on Tuesday, March 1st with the return of the Junior Jam featuring the next generation of riders ages 14 and under competing in the 22-foot superpipe. This is the breeding ground where pros including Shaun White (USA), Ayumu Hirano (JPN) and Chloe Kim (USA) first made a name for themselves.
There's plenty of action off hill as well with four nights of live music on the Solaris Concert Stage and the US Open closing party at Dobson Ice Arena. The lineup is set with The Sheepdogs, The Bright Light Social Hour, Big Grams, GRiZ, DJ Numark, and DJ Craze all performing live in Vail.
If you can't make it to Vail in person, follow #BurtonUSOpen and catch all the action online via the live webcasts at BurtonUSOpen.com, Friday and Saturday finals will be broadcast live on Red Bull TV and locally in the Front Range on TV8, with additional TV broadcasts airing nationally on FS2. Check out the complete broadcast schedule online.