Sun Valley, the hidden gem of Idaho, is high on our list of all-time-favourite resorts. And there are so many reasons why – the incredible history as America's original Hollywood style ski destination, the terrain to explore, the new advanced terrain this season, the quirky après town of Ketchum – that we've decided to stick to our top ten.
Ready for all the things we love most about Sun Valley? Let's dive right in.
1. The history and tradition
Sun Valley was the first destination ski resort in North America. That's right – it was founded in 1936 after a grand search for the ultimate ski resort location, and is just about to celebrate its 83rd season. Skiing is a relatively young sport, as far as sports go, and it's pretty epic to ski in what was literally the original ski destination in the United States. The history is second to none in terms of what you can find in the ski industry.
2. One of the top-ranked ski resorts in North America
Year-after-year, Sun Valley is ranked one of the top ski resorts in North America by Ski Magazine. And last year for the 2017 – 2018 Winter Season, Sun Valley was ranked #2 Overall Ski Resort. What can we say? We're not the only ones that love it, clearly.
3. Untapped skiing in the US Rockies
Ever been to Idaho? Locals love it for the dry, fluffy snow that hits the US Rocky Mountains, along with amazing powder days and no lift lines, giving them more time to ski and snowboard the wide-open runs.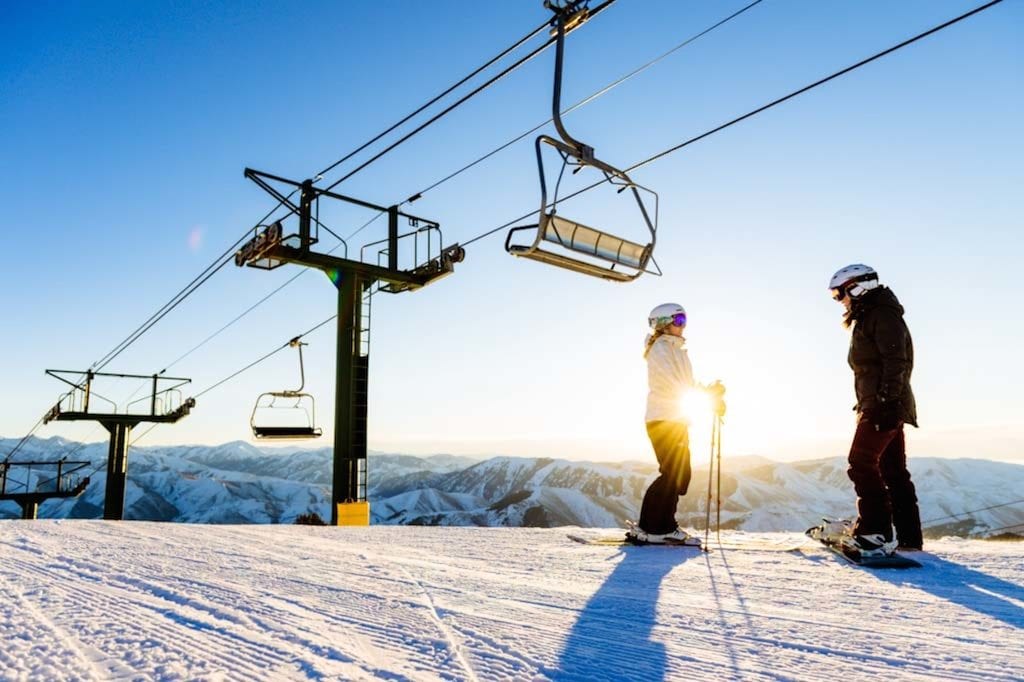 4. Their commitment to excellence
From the super luxury day lodges (chandeliers anyone?) to the resort village and surrounding town of Ketchum, Sun Valley is known for delivering on its promise of being committed to 100% guest satisfaction. Everyone is so damn perky, you seriously want what they're having and you'll find it at Apples Bar or Grumpy's come après time. 
5. From the bowls to a bird
Sun Valley is known for having some of the best in-bounds bowls in North America, with perfect pitches and angles to make anyone feel like a pro skier on a powder day – or, if you prefer, perfect corduroy on the groomers. This year there's an extra 380 acres of advanced terrain to experience with a guide. For those looking for more than just a chairlift, Sun Valley Heli Skiing also offers up access to over 750,000 acres of untapped skiing.
6. It's sunny. Oh yeah.
With over 250 days of sunshine on average every year, conditions are optimal almost every day – hence the name. You can get a foot of snow overnight and still have the sun shining in the morning. Bluebird powder day, anyone?
7. Two mountains, one resort
Sun Valley offers skiing on two mountains, Dollar Mountain and Bald Mountain. Dollar Mountain is Sun Valley's dedicated beginner mountain, perfect for those who need to find their feet on their skis or the boards again, while Bald Mountain is the main mountain. Lift tickets are good for both and they're within a short drive from each other.
8. More than just skiing
Sun Valley has two ice rinks, a bowling alley, over 40 kilometres of Nordic Trails, movie theaters, horse drawn sleigh rides, a world class spa, outdoor year round heated pools, high end shopping, vintage shopping, art galleries, western bars for cowboys, piano bars for cocktails, need we go on?
9. World-class lodging and dining
From fondue lunches on mountain at the historic Roundhouse Restaurant, to a cowboy dinner at the Pioneer Saloon – all while staying in top-rated lodging. The Sun Valley Lodge and Inn have both gone through complete remodels within the past five years, Aspen Ski Company also just opened a new Limelight Hotel and the hip Hotel Ketchum all mean you'll be instagramming your digs for maximum envy.
10. The celebs love it too
From Lucille Ball filming an episode of I Love Lucy, to Marilyn Monroe lounging by the Sun Valley Lodge Pool and Warren Miller getting his start filming on Bald Mountain, Sun Valley has always been an escape for celebrities. Bruce Willis lived here, so does Arnie. So keep your eyes open in the gondola.
The deal
Now's the time to book with Skimax and get in for the upcoming season. Get 7 nights twin share in a Deluxe King Room at Limelight Lodge plus a 7 day Lift Pass from $2349 per person with Skimax – this includes 20% off lodging & 2 FREE days skiing. Or bed down in a Standard King Room at Tamarack Lodge – 7 nights twin share and a 7 day Lift Pass is just $1835. Click HERE for more information about booking in with Skimax.
Have you been to Sun Valley? What do you love about it?