With any luck, you'll have more than 24 hours to spend in the mountain paradise that is SilverStar. A week is good. Two weeks is ideal. An entire season or a lifetime would also probably suit, if you like fresh powder snow, quaint villages and classic winter Canadian activities to entertain the entire family.
But if you only had enough time to sample the absolute highlights at British Columbia's third-biggest resort, here's how we would spend 24 hours at SilverStar.
8am – Rise and shine!
Time to get up and get going for the day. With an average daily temperature of -5, you likely won't be too cold on the slopes here, but make sure you check the snow report and layer up accordingly for the conditions. Grab your lift ticket in the village, then head over to Bugaboos Bakery Cafe for the ultimate in breakfast treats.
Choose from what seems like an endless selection of European and Canadian pastries, along with deliciously prepared Italian coffee – the perfect way to fuel up for your day ahead.
9:30am –  Explore the mountain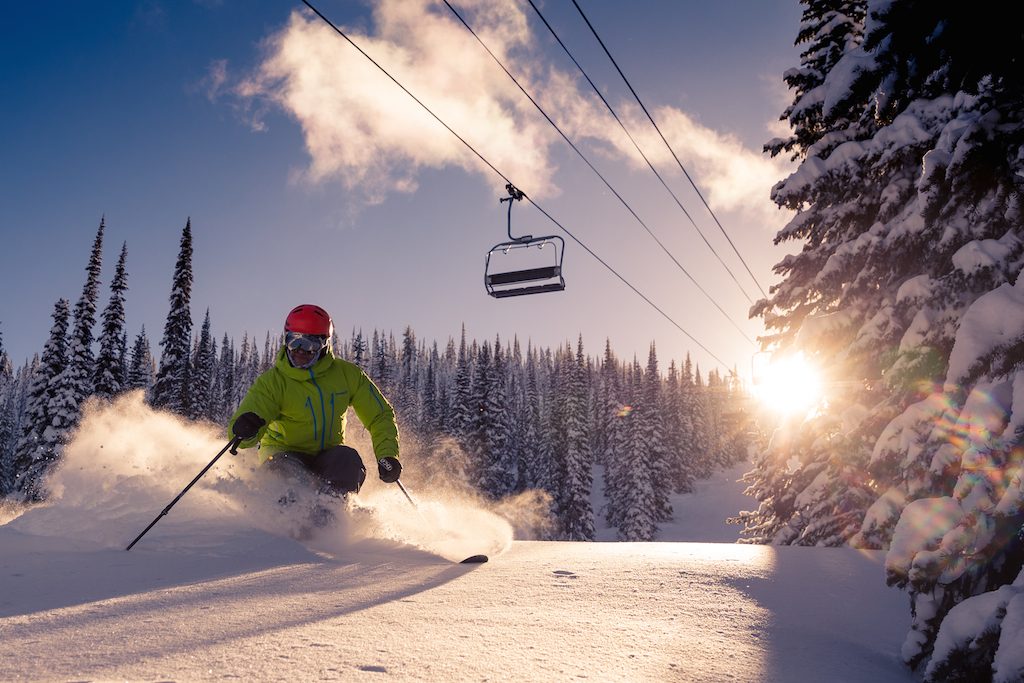 There's a lot of the mountain to see. SilverStar has over 3269 skiable acres and 132 runs over four mountain faces, including the backside of the mountain, which is all steep and deep terrain that makes the most of their consistent powder.
In order to make the most of the terrain, meet up with one of their mountain hosts in the village at 9:30am. They'll take you on a free tour that's catered especially to your ability level and help you get your bearings while showing you their favourite runs. Make sure to get their best insider tips – local knowledge is always second-to-none.
12noon – Lunch time
If you've skied hard enough, you deserve a hearty lunch. A favourite is The Bulldog Grand Cafe, located right in the village. The mix of Canadian and Indonesian chefs offer up a delicious mixed menu that covers off on Dutch and Thai-Indonesion food. Enjoy your meal on their covered and heated patio while you rest your legs – especially if you made it over to the backside of the mountain in the morning.
1pm – Fat biking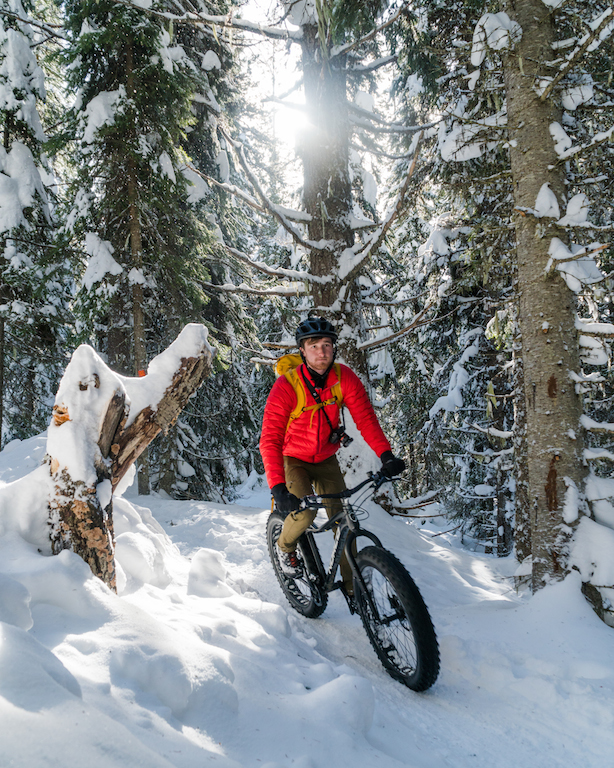 Great news. Your SilverStar lift pass also includes skiing, snowboarding, tubing (tubes included), skating (including skate rental), cross country skiing, snowshoe and fat bike trails. So you have a few activities to choose from to fill your afternoon – but our personal favourite is the fat biking.
These babies are bicycles with wide tires, specifically designed to ride on the soft, unstable terrain on the snow. SilverStar has a whole rental fleet available to suit the entire family, and over 15km of fat bike trails open for exploring. It's an activity that you won't find across many ski resorts in Canada, and you'll also get to adventure through the beautiful snow-covered forests.
3:30pm – Horse sleigh tour
Another unique Canadian experience to sign yourself up for. This is a 45 minute horse sleigh tour through the incredible backcountry wilderness trails to the Wild Horseman's Cabin, a rustic cedar cabin that's right out of the pages of a true Canadian lumberjack fantasy. Relax and enjoy a hot chocolate and baked treat around the fireplace before the beautiful Clydesdale horses take you back to the village.
4:15pm – Yoga
At this point in time, your body is probably crying out for a break. This casual on-mountain yoga studio is thermal-friendly and specifically catered to those who have been out on the slopes all day in order to relax your body and focus your mind. With a 1 hour 15 minute class for just $20, it's the best way to bring your yoga practice to Canada.
7pm – Dinner
Ready to treat yourself? Head to The Silver Grill, which is an elevated and intimate dining experience featuring the best of the region's food and drinks. Through building relationships with local wineries, orchards, distilleries and farmers, Chef offers up a variety of delicious options, with everything from Duck Confit Open Ravioli to AAA Canadian Beef Tenderloin on the menu.
9pm – Go bowling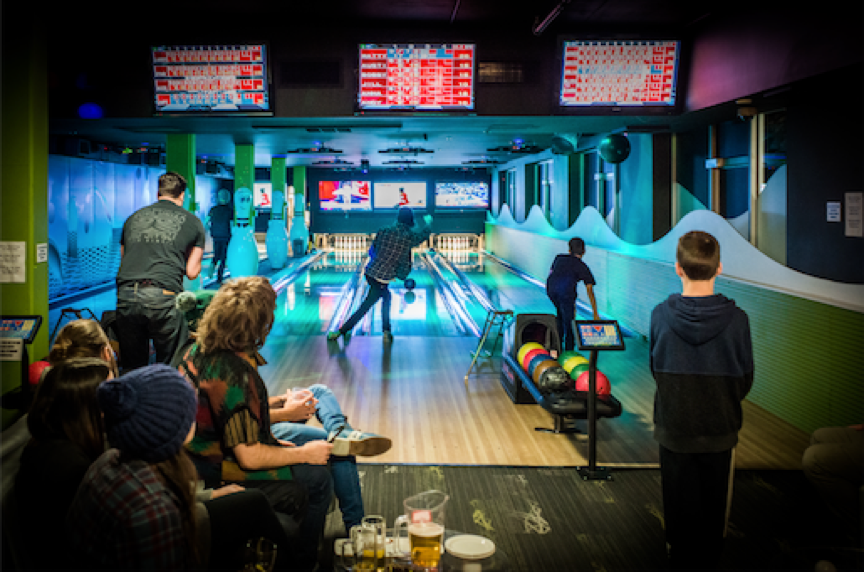 Roll yourself out of The Silver Grill and into Pinheads Bowling to work off your dinner. This bowling alley is unique in that it's ski-in, ski-out and still fully decked out with laser 10-pin bowling lanes, karaoke and pinball games. Be sure to pay attention to their drink specials – you can pick up a classic Canadian Caesar for just $5 on a Sunday night.
10:30pm – Out on the town
Time to reward your bowling successes (or failures) with a drink. Head into the Red Antler, which is SilverStar's venue of choice for a night out. Order a local beer or wine as you enjoy one of the live music acts on offer, or chat to the locals and seasonal workers to get their advice on what makes for a good time in SilverStar.
This relaxed pub is just as good for one or two beers as it is for a big night out, depending on the mood you're in. Luckily, if you're staying on-mountain, your accommodation is probably just a short walk away, making it nice and easy to get home.
11pm – Sleep.
And sleep. And sleep. And sleep. Until you get up and do it all again the next day.
And for more information about SilverStar specials for next season, click here.