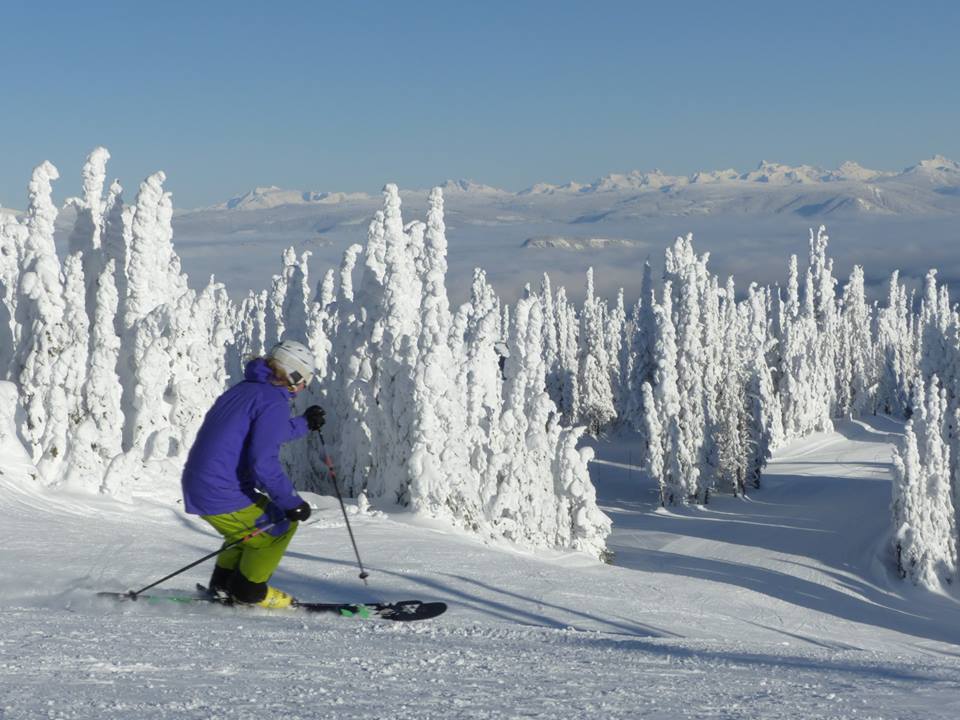 Letting go of control and trusting that life will present to you just what you need, at the exact moment you need it, takes surrender. It is the same with skiing. Trusting and then letting go in the freedom of the turn in the belief that gravity is indeed your friend not your enemy, also takes surrender.
Kids get it, they stop thinking and just do. Adults, we overthink and get tangled up inside the story inside our head and end up stuck in a snow plough, a tree well or in a fetal position in the ski locker room.
I had fought visiting SilverStar Mountain Resort in Canada's British Columbia for almost a decade. Overthinking, that's why. That and selfish desires to prove myself on bigger more rad more ego driven mountains, while wearing big name brands and skiing on big fat skis, saying look at me.
I judged, I'll admit it and I judged without even knowing the mountain and like most people who judge I was the one that lost out, though I didn't know it (till now). I preferred to listen to gossip and hearsay and second hand whispers about what SilverStar actually was. I heard 'family resort' and conjured up blue groomed runs, crying children and no night life.
SilverStar is not my type I told myself. I wanted the big bad ass bastard. You know, the one that scares you more than a little and spits you out exhausted and spent at the bottom of cliffs that could kill you then turns a blind eye. But we all know we have to step out of 'type' in life, love and in skiing to really grow.
SilverStar doesn't need to flirt, taunt, promise then not deliver, she just sits quietly in her Okanagan corner, solid and secure in her beauty and waits for you to arrive, no matter how long that takes.
Then she knocks the wind out of you with her beauty, her power, her stillness, her care. She sends in a murder of crows perched on a deserted ski run lined with burnt out trees with boughs of powder in the Silver Meadows and says here, fill your heart.
Then just when you think she's done she starts shaking that huge snow globe sky so flakes fall in slow motion from above. It turns out a heart can break from joy.
Clearly I'm a little taken.
So what is it about SilverStar? Shall we start with the way she holds back, a slow burner, preferring not to reveal everything at once. The ski in ski out mountain village and it's snow laden pedestrian-only Main Street sits midway up the mountain like a cradle, so you ski out of your condo down to the first chairlift of the morning, unaware at first of what's above.
As you take the Comet Chair up to the peak you can stay on what is known as 'the front side' and wind your way through the prettiest tree lined runs. These runs are cruisey blue and green groomers with fun roll overs down to the village and further below.
If you chose to just ski the front side you could be fooled into thinking this is an intermediate mountain with the odd challenging short run, down by the Silver Wood Express. SilverStar is the third largest ski resort in British Columbia so there is no shortage of terrain in which to play and you could, as an intermediate, stay on this side for hours.
But here's the thing. Head over to what is affectionately known as 'the backside' and start eating those intermediate words. It is here that SilverStar truly comes into her own, pumping out white snow veins from her heart for the adventurous, advanced and extreme.
Families of differing levels can choose an appropriate run for each member from blue to black to groomed steeps, powder glades and double black diamond chutes. Then they can all meet up again at the Powder Gulch Express where all those trails lead to.
Even beginners can take the (only) green run 'Aunt Gladys' around the outskirts of the backside and finish back where everyone else does.  Voila, the family that skis together, stays together, right?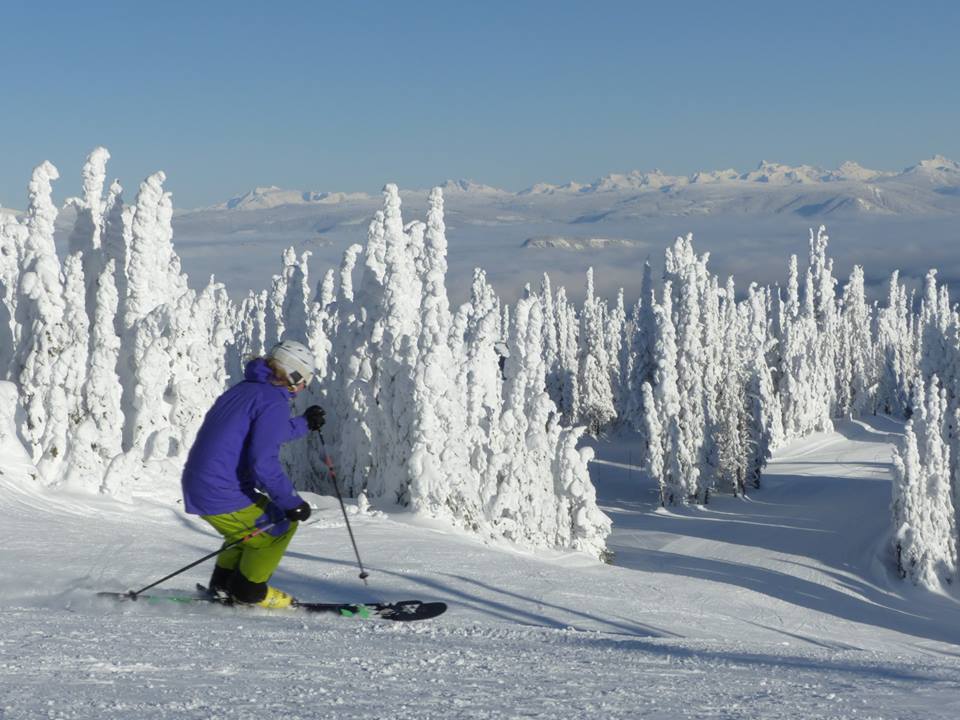 I haven't even mentioned the 8km El Dorado blue trail nor the black runs off the Attridge Chair tucked away in a quiet corner of the front side. Few resorts, if any, also have a My One Pass that literally gives you snow shoeing, XC, fat biking, tubing, ice skating and alpine skiing on the one day ticket (CA$92 for an adult, CA$48 for a child and free for 5 and under).
Silly me hasn't revealed the heli ski pick up from SilverStar should you want to test your metal even further or the Keefer Lake Lodge Cat Skiing an hour away. The mammoth terrain park that births X Games medalists, the night time ice skating rink, snow mobile tours, sleigh rides, the ski in ski out ten pin bowling alley or the giant cinnamon buns at Paradise Camp on the top of the mountain. Or Frank, I haven't mentioned Frank at Bugaboos bakery. If you go, and you will, tell him I said hello.
Nor have I mentioned what gives SilverStar it's rhythmic chilled out beat that lulls even the most adrenaline raddled downhill skier into a deeper way of breathing.  The secret is the XC Nordic skiing trails that criss cross through the woods.
Nordic skiers pop out from behind trees to sneak across open runs and disappear again into secret snow dens as they make their meditative way through their day. It's enough to make you consider skinny skis – and why not? The resort is home to Canada's largest daily groomed cross country trail network with over 100 kilometers of trails for all levels and a thriving Nordic ski school for those wanting to see what the fuss is about.
Yes you'll find Australians at SilverStar. A lot. But not the type that vomit on the chairlift, throw beer cans from their condo and think the Southern Cross is a Sanskrit tattoo. Like the mountain, and Canadians, they are a less 'in your face' type of Aussie.
Yes you'll also find nightlife. Though walking into the Red Antler at 11pm you could be forgiven for thinking you've entered a day care centre. The average age is 12, no, no, the average age is 22, no it's 19. It's whatever the age of the average seasonal worker is and let's just say I brought that age up a fair bit when I walked in with my posse and took over the pool table.
Try Long Johns (LJ's), 1609 and The Den for apres. Silver Grill for finer dining with a relaxed vibe and jump into a snow cat and head up to Paradise Camp for after dark dining under the stars. When the night gets late then hit up the DeVine Cellar in the basement of The Bulldog Amsterdam hotel and mingle with the same folk that served you earlier for dinner, now they've clocked off.
It took almost ten years from my first invitation to finally arrive at SilverStar. My friend Lesa has a saying "the one you knock back is the one you never have" which roughly translated is "you should take the opportunity in front of you." I didn't, for a decade, but fighting the inevitable can be fruitless because, well, life has a funny way of revealing exactly what you need exactly when you need it, no matter how much you kick back.
Even then, when I finally did take that opportunity it was still on my terms, choosing to slot the resort in just before Christmas, so early in the season. I'm clearly a slow learner.
Of course I left wanting more, longing for peak season powder so I can eat up those double blacks I missed, hit the fat bike trails and straddle a snow mobile before snow shoeing to dinner in a remote cabin followed by the spring season under long blue bird days so I could try my first hand at Nordic.
I may be a late starter but we're not done yet, SilverStar, we've only just met.
Rachael Oakes-Ash was a guest of Destination British Columbia and HelloBC.com