Really, we could make this entire blog post about the views, the vistas, the landscape. Is there any other airport as stunning as Queenstown?
You always remember your first time flying into this alpine resort airport.
Step off the plane onto the tarmac and fall to kiss the ground, it is truly that stunning with The Remarkables mountain range thrusting skyward from what feels like the runway itself.
Three hours airport to airport
That's all it takes once your flight starts the taxi from the gate in Sydney, Brisbane or Melbourne. Voila, three hours later you'll be on Queenstown's hallowed ground.
Video entertainment gate to gate
If you fly Air New Zealand on a Works or Works Deluxe ticket then you can settle into your seat, pop on your head phones and start watching your favourite film or tv series while everyone else is still wrangling their carry on luggage. You don't have to wait until take off and you can watch until you land too. Not that you'll want to, because, those views from the window upon approach to Queenstown…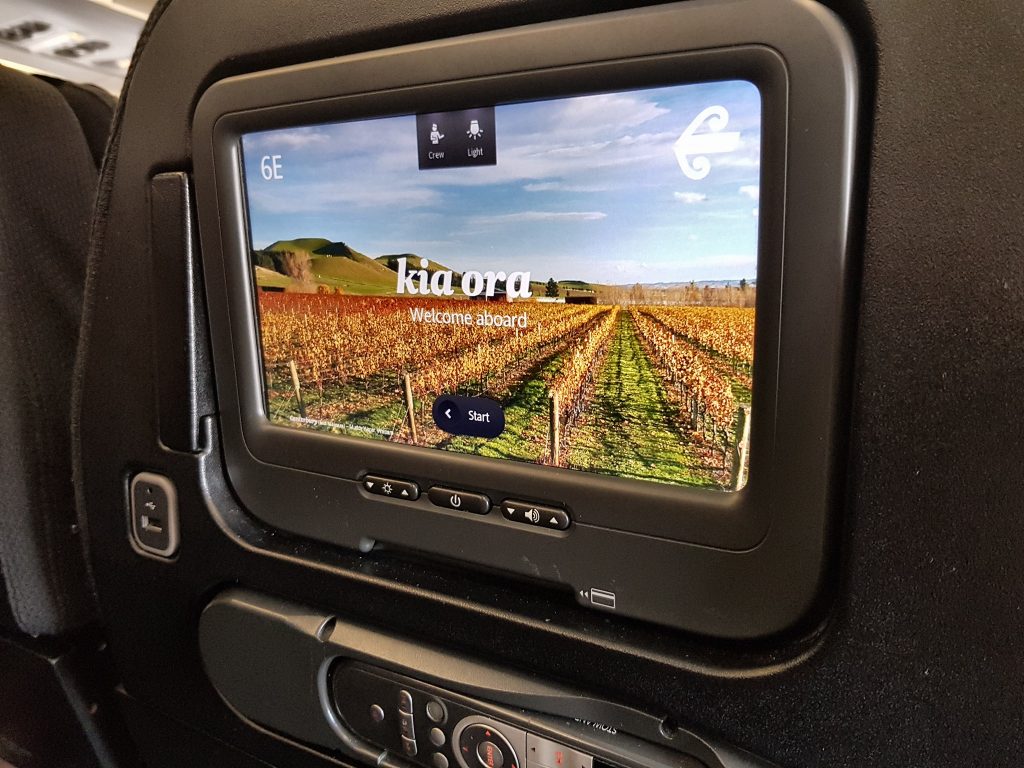 Window seats
Book early and secure yourself a window seat. But check which direction the flight will be landing as you want to be on the right hand side if coming in over the lake so you can take in the Remarkables (you'll have a bird's eye view of Queenstown town itself on the right hand side).  Or take the left hand side if coming in from the Crown Range so you can see The Remarkables (the right side you'll see Coronet Peak).
Hilarious safety videos
We all know how funny the Air New Zealand safety videos are from back in the days when Leo Sayer first graced the safety video scene to the All Blacks, the Hobbits, Katie Holmes and Cuba Gooding Junior. Inflight safety instructions have never been so fun.
Sweet As
Those cute little kiwi kids that help the flight attendants before descent. You know the ones, plucked from obscurity in their airline seat to offer sweet lollies from a basket row to row to sweeten your arrival and help with the air pressure during descent. Sweet. As.
Flat whites
If you are lucky enough to fly from Sydney, Brisbane, Melbourne or Perth (via Auckland) and have the points status or ticket status to access an Air New Zealand lounge, then lucky you because these dens of design kick start your ski holiday in style. Yes there's food, yes, there are computers, yes there is wifi, and showers, and towels. But best of all there is a barista serving up house made flat whites. Check in to the new Queenstown airport lounge on your return flight for huge views across the tarmac to the Remarkables mountains.
Choc-o-late
[srizonfbvidsingle id=1758715334142762]
You wouldn't call Queenstown airport a shopping Mecca akin to Heathrow but you can get your first taste of Patagonia Chocolates (the highly successful Queenstown based chocolatiers peppered across Otago) within the terminal. While you're there pop your head into Kapa for cutting edge kiwi designs from jewelry to sunglasses, accessories and more.
SnowsBest was hosted by Air New Zealand.