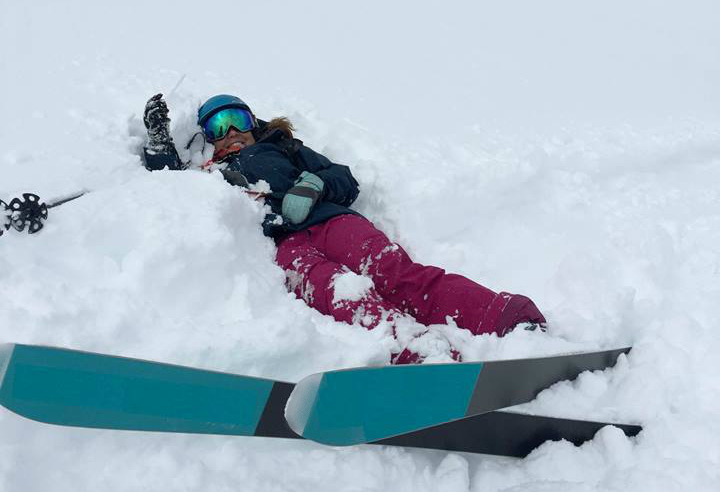 Am I really going to write about myself in third person? God, no. Here's 7 things you didn't know about MissSnowItAll, oops, I mean, me.
You know, so you don't have to ask.
I started skiing as an adult
Ok, not a fully functioning adult, but an adult on paper none the less. I was required by the government to vote, I could drink legally but not responsibly, I could even pay my own rent, just, but I couldn't ski. Clearly my spoon was merely silver plated not solid.
Unless you count that one time at uni when my friend's boyfriend took me to Thredbo, threw me in one two hour beginners class then forced me and my friend to the top of Cruiser where I cried the whole way down. It took over a decade to get me back on snow again.
The Prime Minister of New Zealand humiliated me on the ski slopes
It was Helen Clark's fault. It was in Queenstown and I was on what we travel journalists call 'a famil' but our jealous industry friends call a junket and our non industry friends call a free holiday. It was my first time on snow since 'that Thredbo moment' and I had been given a private ski instructor at The Remarkables and Coronet Peak for three days.
He kept telling me how great I was. Silly me believed him. How was I to know that was his job, to build confidence and give positive feedback?
I took him at his word and when I met the CEO of Destination Queenstown and he asked me if a) I could ski and b) would I like to ski with the Prime Minister of New Zealand at the opening of a new chairlift at Cardona the next day, I replied. "Will she be able to keep up?"
All that stood between me and the PM the next day was a short wide access cat track to the blue groomers down to the new chairlift where she would cut the ribbon, ride the chairlift with me and I would ski down by her side, careful not to ski in front of her with twin tips.
But that access track was at least a sixty degree pitch and as wide as a toothpick, as it should be after a mere three days on the bunny slopes. To get down I had to ski, while sobbing in fear, between the legs of one of my hosts.
By the time I had tumbled down the groomers, arse over tit, to the chairlift, my ski buddy Helen and her cross country eighties ski attire had already cut the ribbon, ridden the lift and skied back down into her helicopter before she flew off into the sky.
My tourism 'friends' laughed themselves stupid at me as we rode the chair to the top. I vowed to each of them I would return that season to ski every run they could see from the lift.
Thus began my new life obsession and future career as I returned to Thredbo for a week of ski clinics before returning to New Zealand for more tuition. I proceeded to pizza my way down every run at Cardona, as promised.
I thought Jaigerbombs were called Jaigiebombs
I still do.
I didn't know who Shane McConkey was before I met him
Chris Davenport invited me, early on in my ski writing career, to join him and four of his mates on a ski camp in Chile (I had to Google Chris Davenport too). I said yes.
All he told me was make sure you're fit, you'll need to hike. This confused me as what were chairlifts for? But I booked my flight, employed a personal trainer and started trail running every day.
The day before I arrived I thought I had better Google these mates of Dav's he had mentioned. When I Googled 'Mike Douglas' I learned that he was either dead or married to Catherine Zeta Jones.
Then I Googled Shane McConkey. Turns out he was a big deal. Then I broke my leg. So much for training.
I love Deer Valley
I know it's not 'politically correct' to love a ski resort that isn't known as extreme and excludes half of our snow loving community, snowboarders, but I just can't help myself. It's the best. No, really, it is. If I could open it up to my snowboarding friends I would, but then I'd be banned because I did and I would miss out and well, Deer Valley is my stress relief.
When those silver fox men in British racing car green walk towards me to carry my skis, I hand them over with glee, and my poles, and my boots, and my bag and anything else that's weighing me down. Once I even asked if they would ski for me. They laughed with those twinkling grandpa eyes and big pearly white teeth that live in a jar after dark.
The average guest age at Deer Valley is 576 so on a powder day while they're in the lodge pouring whiskey into their hot chocolate or taking Euro turns down the groomers, I've got all the fresh stuff to myself for hours.
I know that Stein Eriksen's do the best burgers, St Regis have a ski in ski out Bloody Mary with wasabi foam, that the Montage has free s'mores with marshmallows the size of your head at 4pm and that stepping into the Veuve Yurt keeps my inner Russian princess happy.
There's no lift lines because they cap the number of lucky skiers allowed on the mountain each day and you don't have to fight a thousand people to get the freshest chicken Asian salad for $12 at Silver Lake Lodge for lunch.
Yes, yes, this is ski Disneyland for adults and clearly I have been drinking the kool aid. It's delicious.
Ski Patrol have saved me three times
There was that one time I was cliffed out above an ice waterfall at Red Mountain, then they hauled me off the mountain in Portillo after breaking my leg. They also gave me refuge that one time I had 'the screaming barfies' (look it up) and spent twenty minutes lying and groaning on the Telluride ski patrol hut floor. Oh the shame.
I have custom made skis I don't ski on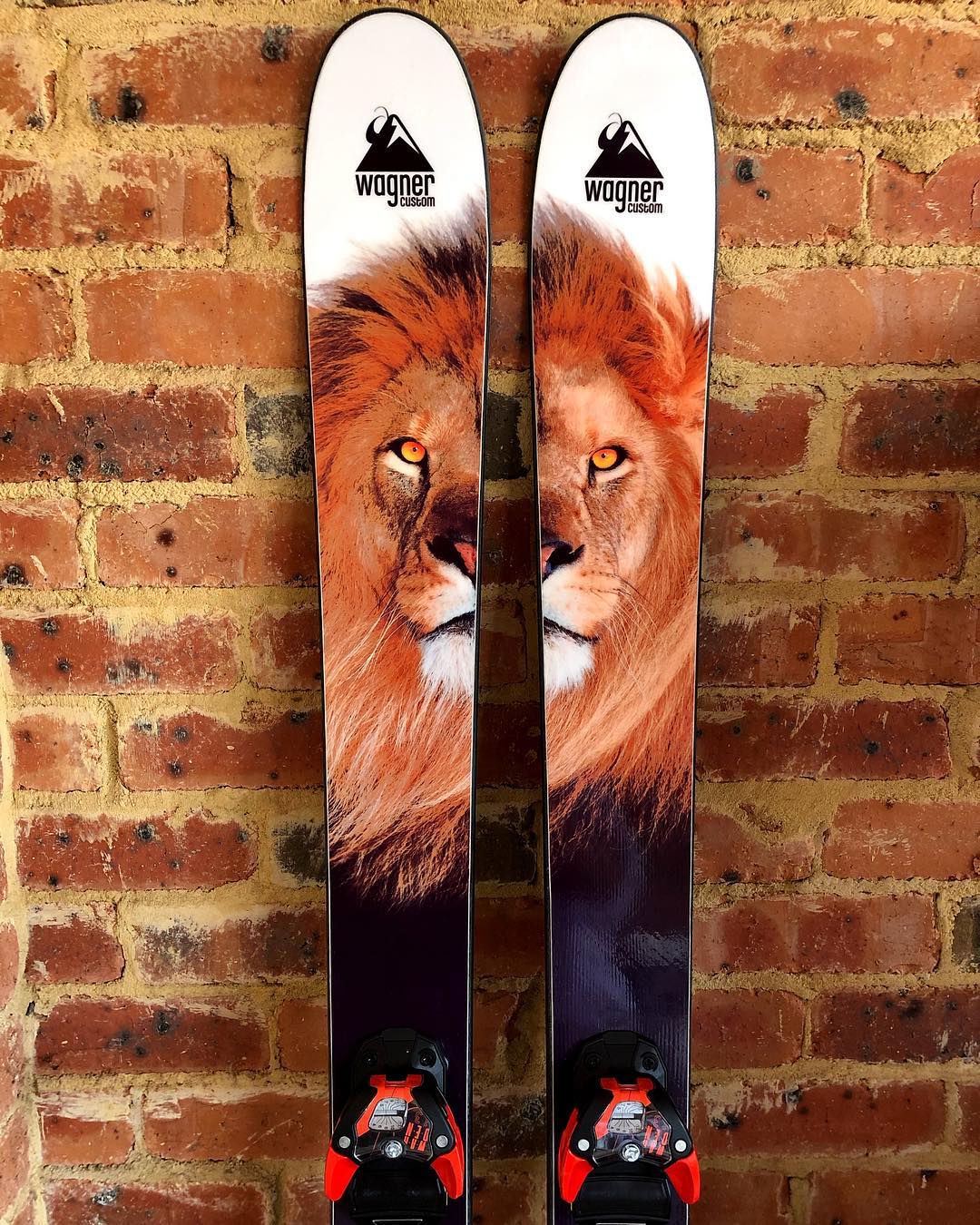 Imagine having a pair of skis made just for you and the way you like to ski, with graphics you've designed in collaboration with the company. Wagner skis will do this for you. They did for me. Call me what you will.
I took these beauties out on a powder day in Vail for 30 minutes before taking them back in. They are so goddamn beautiful I just couldn't trust myself with them, terrified I would scar my lion that I loved so very much. I haven't dared ski on them since though they travel with me wherever I call home each winter. I know, I know. Ijiot.
I had a cocktail named after me in Queenstown
It was on the menu at The Spire Hotel bar on Church Lane and it was called Rachael's Undoing. The description said "named after our favourite Australian journalist because after two of these she comes undone."
What's in it? I don't remember. Hence the name.