Oh, Switzerland. Stunning alpine vistas, impeccable groomed runs, European-style off-piste and some of the best après going, not to mention the fondue. Stay in a ski-in, ski-out abode and ensure you get the most of your ski days.
Each of the hotels on our list below will have you out of your comfy hotel bed and onto the slopes in less time than it takes to say, "I can no longer button up my ski pants due to the amount of Swiss chocolate I've recently had."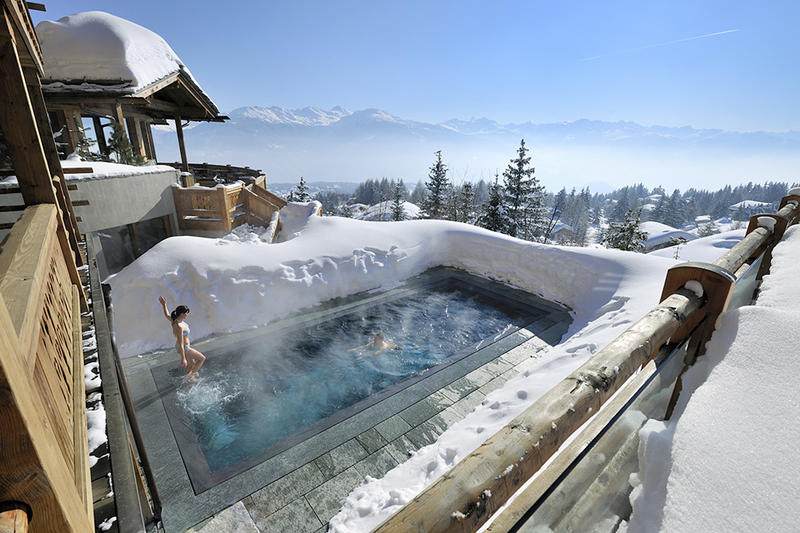 This hotel has a heated outdoor pool that is essentially on the ski slopes, which should demonstrate exactly how ski-in, ski-out it truly is. In Crans-Montana, enjoy skiing, cross-country skiing, ice skating, sledding, tubing, snowbiking, snowscooting, dog sledding and even scavenger hunts – then come back and relax in one of 15 suites or apartments, with whirlpool tubs and plasma screens in the bathrooms.
Don't feel like taking a dip in the outdoor pool? Try the indoor one instead.
Hellooooo W Hotel. This is one of only five hotels in Verbier that offers up ski-in, ski-out access to the slopes, and as you can see from the photos, it's a special kind of paradise where the decor and the amenities combine for a phenomenal holiday. With 123 rooms and suites and four W Residences, three restaurants, two bars, a spa, a gym, a pool and the ski concierge that'll get you sorted and out on the slopes in no time.
Maybe one of the W's best features is their whatever/wherever service – pull a dream out of your wildest imagination and they'll do whatever they can to make it happen, 24/7, whether it's a super-special proposal or a snowmobiling experience to beat all snowmobiling experiences, or anything in between.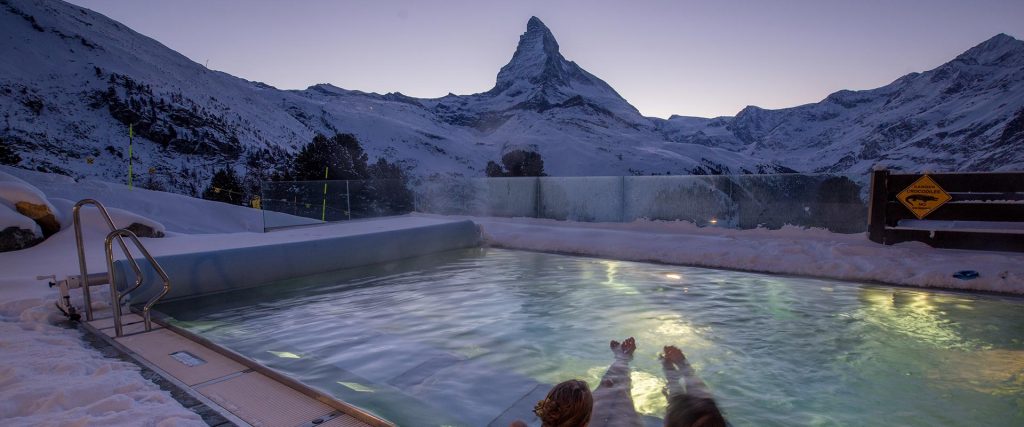 This hotel was originally built and opened in 1884, although it was freshly renovated in 2016 to offer all-new features to its guests. Enjoy the highest outdoor spa in Europe at the Riffelalp, which sits at the foot of the Matterhorn and offers some of the best views in Switzerland – as demonstrated in the photo above – along with a bunch of kid-friendly features, including a supervised children's table at dinnertime, and a games room.
Five words: private access to a cable car. See that tunnel in the photo above? It's your personal tunnel from your hotel directly to the Corvatsch cable car station, meaning that you don't even have to step into the great outdoors to get onto a lift. While at the hotel, enjoy gorgeous views from the rooms and suites, or sign up for a variety of winter activities beyond skiing, including tobogganing, bobsleigh, horse riding, hang-gliding and even winter parachuting.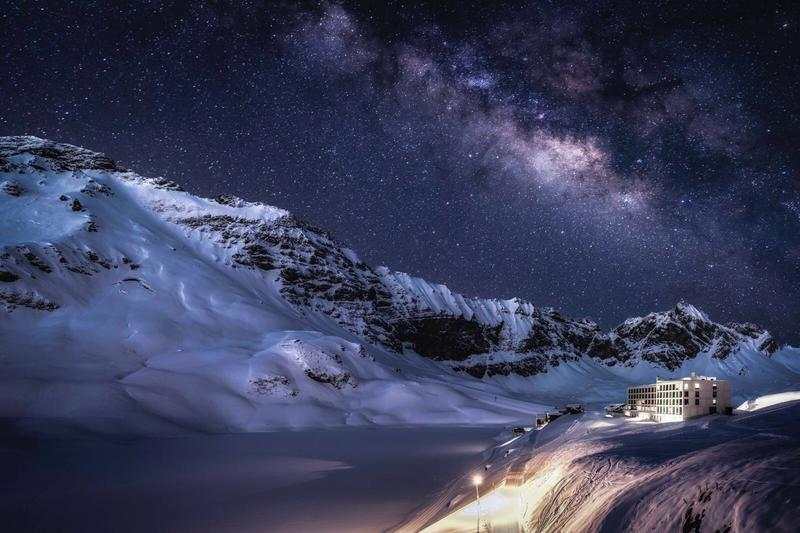 This lodge & spa is nestled right into a car-free health resort that offers up 32km of piste, along ice fishing, snowshoeing and the longest toboggan run in Central Switzerland. Don't go past a spa package here, which are all about alpine wellness and include access to a variety of saunas, steam baths and even a refreshment buffet. There's also a variety of restaurants on offer that showcase everything Swiss cuisine has to offer.
Live large and enjoy every minute of it at this luxury chalet hotel, which is right on the slopes and offers a range of kid-friendly activities – including a cinema, kids club and a ski instructor who will collect your kids from your choice of accommodation, from basic rooms to six-bedroom suites. The activities on offer are also just about endless, ranging from heli-skiing to bathing in thermal baths, visiting a chocolate factory or trying some torch-lit night skiing.
This wellness hotel is all about inspiring you to live your best life… while in the Swiss Alps, lapping up the surroundings, which are all about this gorgeous mish-mash of Asian and Alps-inspired decor.
When you're not enjoying time in your room or trying out one of the four restaurants and bars, be sure to spend some time in the Tibetan Relaxation Lounge, complete with an indoor pool and an outdoor pool that offers an amazing view of your surroundings. Ski-in, ski-out to the slopes and then come back for a pilates class, a yoga class or a customised spa treatment.
Ultima Gstaad promises to cocoon you in relaxation, warmth and comfort – which is exactly what you want out of a ski holiday when you're not making the most of the 220km of ski slopes available at this resort. Or the curling. Or the winter biking. Or the snowshoeing. Or exploring the shops and boutiques. Or exploring the museums, galleries and variety of events on offer.
Once you're done in the great outdoors, pay close attention to each and every item in this hotel, because it's carefully selected for the best possible hotel experience – from the chandelier in the lobby to the colours of the interior, everything's got a story.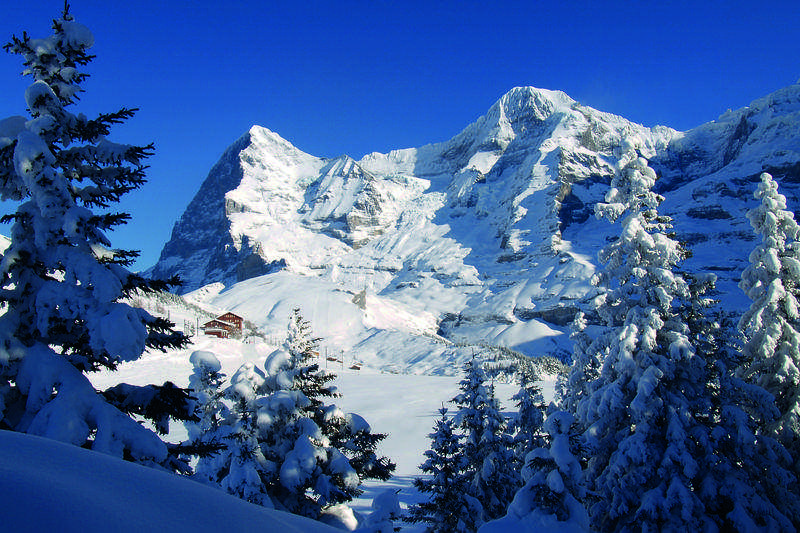 Sit back, relax and enjoy the views – and the lack of wifi at this hotel. With one of the best views in the Alps, it's the ultimate spot to unwind and enjoy lunch on the terrace while taking in the surroundings, including the rooms, which are individually decorated in classic Swiss style.
Want more? We've got Switzerland covered here.