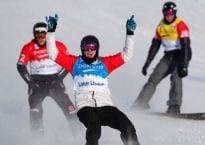 #teamoutcast gets the exposure the AOC tried to stop as 'no comment' from Jarryd Hughes says anything but. 
Just what is #teamoutcast? It is the hashtag used by Australian athletes, including Torah Bright, on social media in the lead up to Sochi to signify they are not part of the major OWIA funding athlete pathway to Sochi. They may receive minor funding based on their results but not the big gun money channeled elsewhere.
Our sources have consistently told us that the AOC informed athletes that #teamoutcast is not to be used during the Winter Olympics on any social media. No doubt because the story behind the hashtag exposes an Australian Olympic snowboard team that is divided by the politics of OWIA funding choices.
It was inevitable that Torah Bright would be asked about #teamoutcast at every opportunity by Australian media in Sochi as she and other athletes have been using the provocative tag throughout the FIS World Cup season. She went on the record at a recent press conference at Sochi as saying:
"I would also love to see the development of the younger generations coming up. I am not going to be around for too many more years to come and team outcast is about making sure not just the top ones are taken care of but everyone else coming up too is taken care of."
Now boardercross athlete and FIS 2013/2014 world cup number two, Jarryd Hughes has gone on the record, or not, with "no comment" to sports journalist Andrew Webster at the Sydney Morning Herald when asked about Alex Chumpy Pullin. The piece was front page on the SMH home page and has since been picked up by other media outlets.
Pullin is a two time boardercross world champion and as such is the understandable main recipient of OWIA funding with a rumoured $1.2 million worth thus far with combined funding scholarships from different state and national sporting organisations that are also rumoured to equate to be worth $300 000 of training, travel, coaching salaries, race tech salaries, physio and more a year. Update 20/2/14: The Sydney Morning Herald has reported half that amount over four years as quoted by the OWIA President Geoff Lipshut.
The AOC and OWIA consistently refute claims that #teamoutcast receive no funding as reported by Nicole Jeffrey at The Australian in a piece that fully outlines transparent funding figures to Hughes and Bright and other #teamoutcast members. Funding is given based on results, the better the results the more the money and Bright also chooses not to partake in the OWIA funding scheme.
Chumpy, who is a crowd favourite, is coached almost exclusively by the head olympic Australian snowboard team coach and member of Ski and Snowboard Australia's national snowboard committee, Ben Wordsworth.
Chumpy's team mate and training partner, NSWIS Scholarship holder ranked number 29 in the current World Cup boardercross season, Cameron Bolton, gets to train globally on the road with Chumpy and Ben and therefore access the same training advantages as the reigning world champion receives due to his OWIA funding. The same advantages that #teamoutcast do not automatically qualify for.
There may lie the source of much of the 'us and them' problem.
But is social media really the place to air government funding gripes and team jealousy prior to an Olympics and is the week of boarder cross competition in the Olympics the time to be saying 'no comment' which is a red flag to any media bull?
Let's cut Hughes some slack, he is only eighteen and this is his first Olympics and we have been told he did not want to do any media at the games and informed the AOC of such but found himself caught out in a mixed zone where media can shoot questions. Tough lesson learned. Media trainers apply here.
Seasoned athlete Torah Bright (and Hughes mentor) played perfect Australian team mate in this interview with Anthony Sharwood from News.com.au prior to her boarder cross final tonight.
"Chumpy's been great and everyone's been awesome with sharing their knowledge with me. I'm just excited to talk to everybody and get their feedback and just dream of going really, really fast tonight" said Bright to Sharwood.
But then Bright is an experienced media professional and knows when to speak up and when not and has been highly vocal on other matters at Sochi. Many think she has more to say and is biding her time but 'many' may have their own agenda.
Meanwhile Hughes, whose 'no comment' may simply be a young deer in media headlights or a tactical psych out spoke to Snow It All before the Olympics about #teamoutcast.
"If you're in #teamoutcast you know who you are, you need to know the secret handshake and the moves to a pretty crazy dance which was unleashed at the Andorra World Cup" said Hughes in this blog post.
"As athletes you need to have a bit of fun and also strong support from like minded people who inspire you, believe in you and trust in you oh and the General is the only one who can make you part of the team!
Let's assume that Torah is the General.
One thing is for certain, the male boardercross event at Sochi is now going to be one hell of a Hughes vs Pullin show thanks to media reactions. If the tension is a psychological play by Hughes then Pullin isn't reacting as he was reported by Yahoo as being relaxed in the lead up and by Nine MSN as being glad there is competition within the group. He also revealed his focus on physical endurance when speaking after training this week.
Pullin is the gold medal favourite and number one on the World Ranking List and Hughes is number thirteen but in the current World Cup season Hughes is number two and Pullin number forty five due mainly to Pullin choosing not to compete in many of the events as he prepares for his Sochi onslaught.
There may be more to this story.
Talk amongst snowboard circles for the past season has been about one Australian athlete who is said to have legally protested the AOC funding pathway in the belief they were eligible for funding they did not receive.
Watch this space as #teamoutcast unfolds, implodes or simply fades away.
Read more on this: Medaling parents
Listen to our chat with Francis Leech on ABC Grandstand about #teamoutcast, athlete funding and more.
Is this just a case of disgruntled athletes and sour envy green grapes or real funding concern? Is social media an appropriate place to air grievances? Post a comment on the blog below.